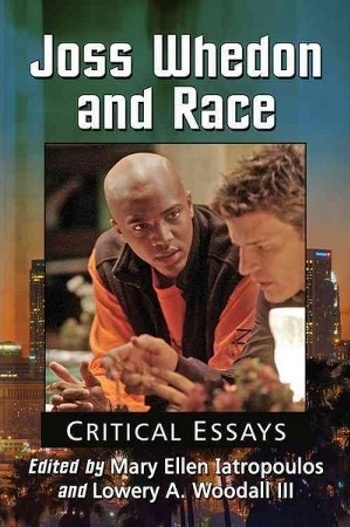 Joss Whedon and Race: Critical Essays TP
Publisher: McFarland
Release Date: November 2016
Price: $39.95
Creator(s): Mary Ellen Iatropoulos and Lowery A. Woodall III, editors
Format: 340 pgs., Trade Paperback
ISBN: 978-0-7864-7010-5
Age Rating: Not listed
ICv2 Rating: 3.5 Stars out of 5
This is an excellent book for starting arguments between Joss Whedon fans. The basic premise seems to have been to solicit essays from PhD candidates who were also Whedon fans, each with a different academic viewpoint, and get them to put forth controversial ideas. If that was indeed the plan, it succeeded.
The difficulty is that the essays are presented in such a fashion as to point out the conflicting viewpoints in a disturbing manner. For instance, two essays on
Dollhouse
have such different ideas of what Joss Whedon intended the story to mean that it seems as if asking him might have been a good idea. Whedon's worlds are so engrossing that the essayists seem to assume that every detail of every story has meaning, but disagree on what that meaning might be. Even when Whedon has a character say something specific as a plot point, some of the essayists discount that statement in favor of their own favored theories.
As a result, many of the essays seem to be arguments in favor of Whedon telling a different, less commercial story in one or more of his creations. Plot points are criticized for not being different plot points. Social constructs are criticized for not being different social constructs. The Reavers in
Firefly
are either a metaphor for the Native American experience, or the Mexicans, in radically conflicting interpretations of that story.
Dollhouse
might be about the African American experience in slavery, or the Jewish experience during the holocaust, or maybe just about the boundary between humans and robots.
Still, many of the essays are thought-provoking and interesting, as they examine the positions of race, class, religion and other "differences" within television overall, even if the focus is more narrowly the works of Whedon. The book is not easy reading, and often presents frustrating, narrow-vision viewpoints, but serious fans of television and/or Joss Whedon will find things worth reading. The price of the book, unfortunately high, will reduce its appeal.
--
Nick Smith: Library Technician, Community Services, for the Pasadena Public Library in California.Here's