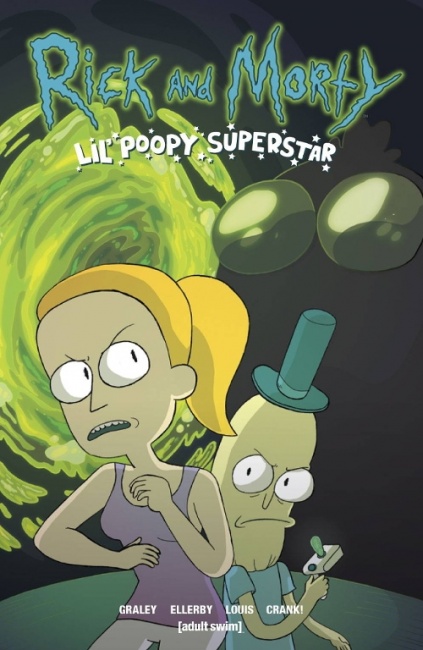 Rick and Morty: Lil' Poopy Superstar TP
Publisher: Oni Press
Release Date: February 22, 2017
Price: $19.99
Creator(s): Sarah Graley with Mildred Louis and Marc Ellerby
Format: 128 pgs., Full-Color, Trade Paperback
ISBN: 978-1-6201-0374-6
Age Rating: 15+
ICv2 Rating: 3 Stars out of 5
Fans of
Rick and Morty
may find this to be an interesting source of extra stories, but the book is not going to appeal to everyone. The original series began life as a parody of
Back to the Future
, but quickly wandered away from that, perhaps in order to minimize the number of potential lawsuits. Thus, the cartoon series became the adventures of a thoughtless, creepy mad scientist and his nominally reasonable grandson. This spinoff story causes Morty's sister, Summer, to wander off on her own adventures that are even more surreal and less believable. She acts the way she did in the first season, but various plot clues put it later in the series, which seems odd and confusing for people who actually care about the continuity of such a chaotic story.
For those not already fans of the series, this book will have little appeal. Everything is very narrowly focused on show in-jokes and references. That, combined with the fact that Summer and her traveling companion, Mr. Poopybutthole, just aren't that interesting may limit the demand for the book. Summer does have one or two good moments as a character, but they are limited by the structure of the series.
The artwork captures the deranged humor of the show, but also its very limited artistic style.
--
Nick Smith: Library Technician, Community Services, for the Pasadena Public Library in California.