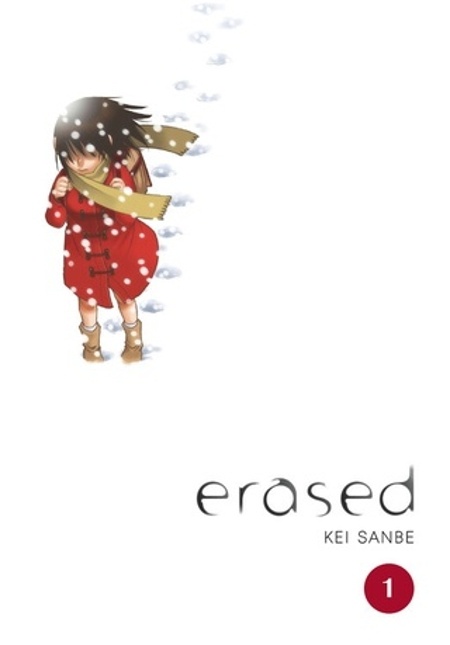 Erased Vol. 1 HC
Publisher: Yen Press
Release Date: February 15, 2017
Price: $30.00
Creator: Kei Sanbe
Format: 384 pgs., Black & White, Hardcover
ISBN: 978-0-3165-5331-5
Age Rating: Teen
ICv2 Rating: 4 Stars out of 5
This is an odd fantasy story with powerful story twists. The basic idea is that the main character has an odd quirk. When certain bad things happen near him, he has to relive a few moments over and over until he can figure out what the bad thing is, and try to fix it. As a result, he has probably saved several lives, but like the main character in
Quantum Leap
, he has little choice in the matter. This may be related to some weird things that happened when he was a child, but as the story progresses, it may also be related to his mother.
When something really bad happens, instead of blipping back a few moments in time, he suddenly finds himself reliving his childhood, which is somehow connected to everything.
Rather than a relatively simple time travel story, this involves both reliving events and re-examining childhood from an adult perspective. The two combine to make this a much more interesting story.
This is not the only manga to examine the past in this fashion, but this is certainly a very good one. The artwork is good, but not exceptional, and readers of manga will recognize the various tropes and clichés used to propel the artwork. The writing is the strength of this story. Teens and adults will find it interesting, but the level of violence should keep it out of the hands of younger readers.
--
Nick Smith: Library Technician, Community Services, for the Pasadena Public Library in California.