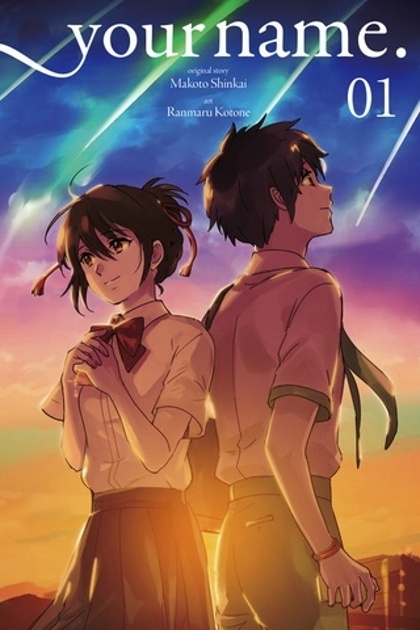 Your Name Vol. 1 TP
Publisher: Yen Press
Release Date: June 28, 2017
Price: $13.00
Creator: Makoto Shinkai (story); Ranmaru Kotone (art)
Format: 176 pgs., B&W, plus 4 pgs. color, Trade Paperback
ISBN: 978-0-3165-5855-6
Age Rating: Teen
ICv2 Rating: 4 Stars out of 5
If you haven't seen or at least heard of the anime version of this story, run right out and watch that. This is a case of a story created as an anime, and while this is a very good adaptation, it still lacks some of the emotional power of the anime, at least in this part of the adaptation. Still, this story can stand alone, without seeing the anime, for a teen audience or above.
That said, it's a manga that you could hand to someone not familiar with the usual tropes and shortcuts of a manga story, and just have them read what is on the page. They will find a strange story about two teen characters, a boy and a girl, who mysteriously swap in and out of each other's minds and bodies for a day at a time. That part of the story is an interesting vision of expectations and perceptions. For instance, the girl has wondered what it would be like to live with more freedom, in a different environment or as a boy. In fact, when faced with that option, she chooses to "live small," enjoying little things rather than an array of grand choices. Mentally and emotionally, she's still herself, just in a bigger, more diverse setting.
The structure of this manga is such that we see little of what happens when the boy "becomes" the girl character, and that aspect was somewhat under-developed in the anime as well. Developing the girl character more strongly in this half helps the story later, so that's not a bad thing.
Ranmaru Kotone has done an excellent job with faces, in this story, and that's a big help as well. That is another reason why this would be a good manga for beginners. Just warn them that the continuation will have some strong emotional content. Part one is the easy, comfortable part.
--
Nick Smith: Library Technician, Community Services, for the Pasadena Public Library in California.