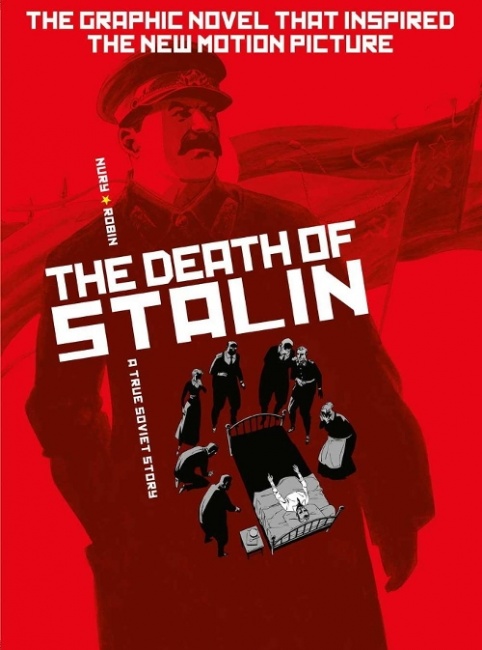 The Death of Stalin HC
Publisher: Titan Comics
Release Date: July 5, 2017
Price: $24.99
Creator: Fabien Nury (writer); Thierry Robin (artist)
Format: 120 pgs., Full-Color, Hardcover
ISBN: 978-1-7858-6340-0
Age Rating: N/A
ICv2 Rating: 4 Stars out of 5
Later this year, a British film will tell this story, almost too difficult to believe, but based on the real political wrangling surrounding Stalin's death in 1953. It is also based on this graphic novel. No superhero bash, this is about politics and political power wielded as weapons at a horrific level.
Stalin might have been able to survive the serious medical affliction, but he had recently held a purge of the best nearby physicians. The surviving ones were, not surprisingly, hesitant to treat him, especially since some of the other leading Soviets were more interested in political power than whether Stalin survived.
Turning this into an interesting story seems like a difficult challenge, and further turning it into a graphic novel an even further stage of difficulty. In this case, writer Nury and artist Robin have managed to keep the story flowing and to keep it interesting, for the most part. For those not interested in the history of the period, and its effects on the Cold War, it will drag in places, for the simple lack of empathetic characters. There are no good guys in the story, other than perhaps Stalin's daughter, and she's barely in the book. That said, if you want to read a simple overview of the struggle for power in the Soviet Union, and the lengths to which people would go in that setting, then this is a brief overview.
The movie version has some truly appalling casting, which may be what makes it worth watching. Michael Palin as Molotov???
The book doesn't have to do that. Historical figures are portrayed as they were, warts and all. For adults and older teens interested in Cold War history.
--
Nick Smith: Library Technician, Community Services, for the Pasadena Public Library in California.