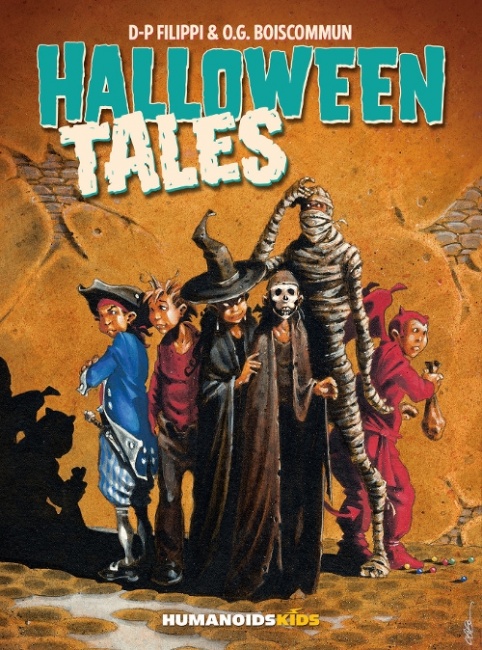 Halloween Tales HC
Publisher: Humanoids
Release Date: September 13, 2017
Price: $24.95
Creator(s): Olivier Boiscommun and Denis-Pierre Filippi
Format: 156 pgs., Full-Color, 7.9"x10.8", Hardcover
ISBN: 9-781-5946-5654-5
Age Rating: YA/Teens
ICv2 Rating: 4 Stars out of 5
Known primarily for its excellent catalog of European science fiction, Humanoids has been diversifying its lineup in the past few years with English language translations of horror, mystery, and fantasy. As part of that initiative, Humanoids is moving into the Young Adult category with its recent Gregory and the Gargoyles. Part of that new move also includes the latest addition,
Halloween Tales
.
Divided into three stories—"Halloween," "The Story of Joe," and "The Book of Jack"—
Halloween Tales
is written and illustrated primarily by Olivier Boiscommun with Denis-Pierre Filippi authoring "The Book of Jack" and Boiscommun on art duties.
With the targeting of a YA audience,
Halloween Tales
veers more towards the mystique and beauty of the holiday rather than opting for horror or graphic violence. Where "Halloween" is the tragic tale of a girl coming to terms with the loss of her brother and poetic reassurances of a spectre who guides her along her journey, "The Story of Joe" takes the melancholy into new directions as the protagonist befriends fantastical creatures. Lastly, "The Book of Jack" is a heist tale of a young child pressured into breaking into a secluded mansion and retrieving an object of mystery and intrigue.
Visually, Boiscommun's art is very disconcerting and works brilliantly for these stories as his illustrations lend themselves well to the grotesque and bizarre.
Halloween Tales
is a smart move for Humanoids as a venue to introduce a new audience of readers to European comics and stories that often defy the static, cookie cutter comics of the American superhero scene.
--
Nathan Wilson