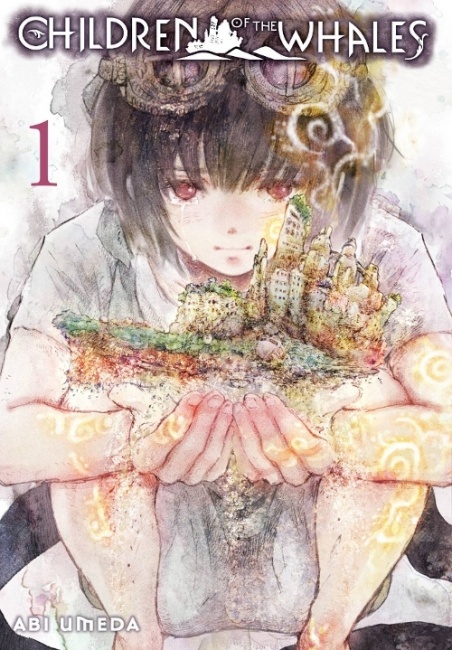 Children of the Whales Vol. 1 TP
Publisher: VIZ Media
Release Date: November 8, 2017
Price: $12.99
Creator: Abi Umeda
Format: 202 pgs., B&W, Trade Paperback
ISBN: 978-1-4215-9721-8
Age Rating: Older Teen
ICv2 Rating: 3.5 Stars out of 5
Like much of the VIZ Signature imprint, this is a quirky story not really likely to be a best-seller, but still worth reading. It is science fiction in a very odd setting.
The story takes place on a village/vehicle [nicknamed "Mud Whale"] that travels across a vast desert, seemingly at random. It supports a population of a few hundred, as it has for over 90 years. Most of the people have psionic powers, but have very short life spans. The powerless minority lives much longer, and acts as both a ruling class and the preservers of memory. The problem is that they don't tell the others much of what's really going on, or the real history of their community. What the reader sees of the culture seems very odd, ranging from their isolation to their habit of repressing strong emotions. In this story, everything is a plot point.
Things go horribly wrong when they finally interact with the outside world. This first volume has many clues setting up the series, but few answers. The world-building is sketchy, but that seems to be deliberate, as the reader is kept in the dark to the same degree as the main characters. Character development and relationships are slowly built, but events begin rushing quickly, which is a little jarring.
The artwork is a little more detailed than that in most manga, and well-suited to the story. The cover art is beautiful, but won't make a bit of sense until you read the story.
The age rating is thus far for some violence, but also the pacing and style, which may not appeal to younger readers. It is for older teens and adults, especially manga fans who like complex science-fictional stories with odd cultures.
--
Nick Smith: Library Technician, Community Services, for the Pasadena Public Library in California.