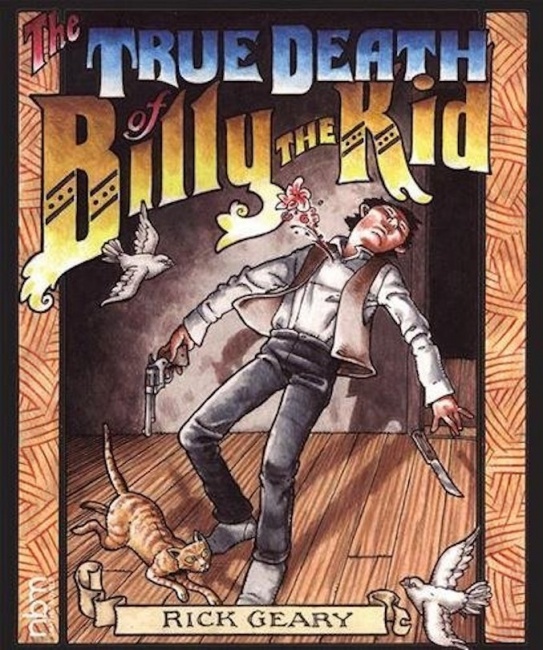 The True Death of Billy the Kid HC
Publisher: NBM
Release Date: March 1, 2018
Price: $15.99
Creator: Rick Geary
Format: 64 pgs., Black & White, Hardcover
ISBN: 978-1-6811-2134-5
Age Rating: 12 and up
ICv2 Rating: 5 Stars out of 5
Billy the Kid is one of the most storied outlaws of the Old West, the topic of a multitude of books and movies. Do we really need another retelling of his story? The answer is yes, because Geary's book serves the admirable purpose of laying out the facts of his life without romanticizing it or dwelling on the many controversies that surround it (there's a bibliography in the back for that). The visual aspect helps the reader sense the environment, the geography, and some of the unknowns, giving this book the feel of watching a documentary.
Geary starts his story with Billy (who used several surnames) sitting in the Lincoln County, New Mexico, jail in 1881, then quickly flashes back to show how he came to the present day of the story—condemned to death by hanging for the murder of a sheriff. Although he is shackled hand and foot, isolated in a special cell, and under constant guard, Billy manages to escape from jail, only to be gunned down by Garrett a few months later. Most of the book focuses on the escape and the final encounter between Garrett and Billy, slowing down to almost a second-by-second narration.
Geary's black-and-white drawings have a flatness that puts the reader at arm's length from the violence, which is actually fairly extreme—an awful lot of people get killed in this book. Still, while he maintains a cool storytelling voice, Geary betrays a bit of affection for his subject, saying, "It has always been said of [Billy the Kid] that he has more friends than enemies," which is one reason why he managed to stay at large for three months. There's another clue to Geary's feelings on the front cover, where the blood spurting from the dying Billy's chest takes the shape of a flower.
This book was originally funded via Kickstarter, but NBM (the publisher of most of Geary's other work) has picked it up for publication.
The obvious appeal of this book is to Geary fans; he uses the same dispassionate, just-the-facts-ma'am storytelling style here as in his murder stories. Those who are interested in tales of the Wild West will find plenty to enjoy here, and the book is even a good pick for students, as Geary's account is both economical and factual.
-- Brigid Alverson