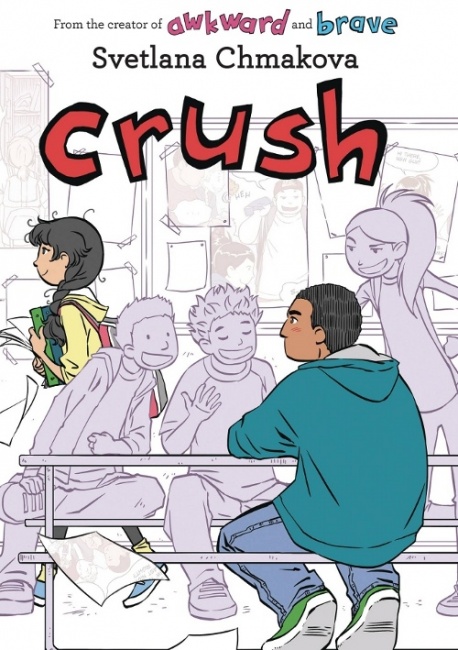 Crush GN
Publisher: JY (Yen Press)
Release Date: October 30, 2018
Price: $11.00 (TP) / $24.00 (HC)
Creator: Svetlana Chmakova
Format: 240 pgs., Full-Color, 6"x8", Trade Paperback/Hardcover
ISBN: 978-0-3163-6324-2 (TP) / 978-0-3163-6323-5 (HC)
Age Rating: All Ages
ICv2 Rating: 5 Stars out of 5
While the publisher lists this book as being "all ages," the real intended audience is kids in middle school or about to enter it. The reason is that this particular volume in Chmakova's ongoing series is about the idea of first crushes, first dates, first relationships and a host of other things related to that age. After
Awkward
and
Brave
, though, I was worried that she couldn't pull off a third volume of comparable quality. I shouldn't have worried. This is a book that will fly off the shelves, in the hands of the target audience.
The cover creates the first brilliant artistic moment, as only the central character and the object of his crush are in color, and his longtime friends are only shadowy outlines. Since friendship is another key element of this story, that creates lots of plot points. Who are your real friends, and why? That is an important question in the book.
The central character, Jorge, is big and fairly athletic, but not a stereotypical jock. He's a good student and cares about people. His weakness is that he's totally unprepared for the onset of emotional attachment, relationships, dating and all of that stuff, so his first crush hits him like a ton of bricks, and it is fascinating to watch him work through the results of that impact. It's also a relatable story, for those who are older than the target audience but still remember their early teen years.
The idea that Svetlana Chmakova could create this book and have a new baby is even more amazing, but the notes in the back are worth looking at, in order to learn about her sense of design. She even designed the various backpacks in the story, which is an astonishing level of artistic commitment.
--
Nick Smith: Library Technician, Community Services, for the Pasadena Public Library in California.