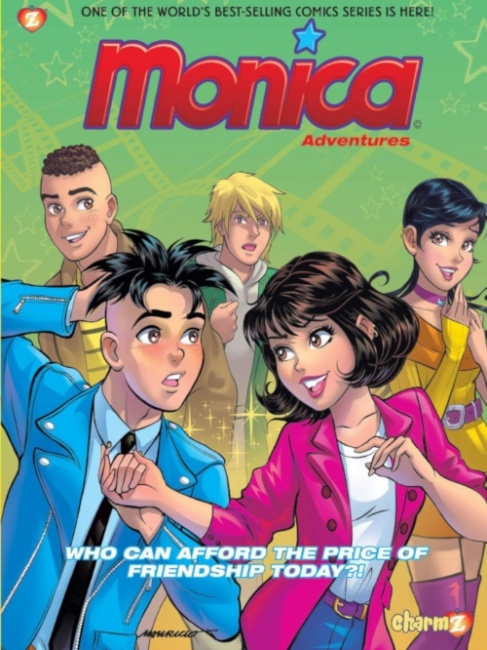 Monica Adventures #1: Who can afford the price of friendship today?! TP
Publisher: Charmz
Release Date: January 15, 2019
Price: $8.99
Creator: Mauricio de Sousa
Format: 128 pgs., Black & White, Trade Paperback
ISBN: 978-1-5458-0218-2
Age Range: 10 - 14 years
ICv2: Rating 3 out of 5 stars
When childhood friends Monica, Maggie, Smudge, and J-Five start high school there's a lot of changes they'll have to adjust to. From the unspoken crush between Monica and J-Five to the fact that if they want to go see the hot new movie they'll have to pay their own way. Which means the girls will have to get part-time jobs and J-Five has to make the ultimate sacrifice - selling his comic book collection.
The characters in
Monica Adventures
are so relatable and the situations they get into so universal it's understandable if the casual reader doesn't immediately realize its (as the back cover tells us) a "Brazilian Teen Comics Sensation." For instance, when J-Five needs to sell his precious superhero comics, he goes to a comic book ship which will seem awfully familiar to anyone who's ever been inside one.
It's a relatively realistic slice of life story without any contrived cliche plot twists ably supported by the simple but effective art that should appeal to its intended audience. Having read the first volume, I can see why the publisher is promoting the series as a "modern-day Archie." Just as I can see no reason why it shouldn't do well with kids 8-12.
- Steve Bennett: Writer and retail services consultant.