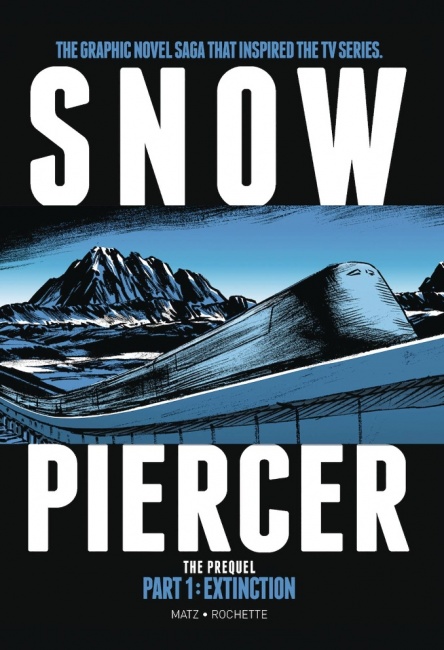 Snowpiercer the Prequel: Extinction Vol. 1 HC
Publisher: Titan Comics
Release Date: September 25, 2019
Price: $19.99
Creator(s): Matz (writer); Jean-Marc Rochette (artist)
Format: 96 pgs., Full-Color, 8.5"x11", Hardcover
ISBN: 978-1-7858-6883-2
Age Rating: Mature
ICv2 Rating: 3.5 Stars out of 5
This is part one of an apparent three-part prequel to the film. As such, it has a number of strengths and a few problems. This isn't surprising, since the film was more warmly greeted by critics than by audiences. Audiences thought that the film was good, but critics thought that it was great.
The writing is the book's greatest strength. Many people had problems with suspension of disbelief to get into the film, but this version attempts to address the actual events leading up to the story, including the building of the train system. It still doesn't make a lick of sense as described in the film or the graphic novel, but at least the graphic novel makes it a little more plausible, enough to give the reader something from which to suspend disbelief. The apparent good guys and bad guys all have a basis within the story, and readers can see things leading toward the catastrophe.
The artwork is a step lower in quality. Not bad, but not as enticing, and the artist draws every face in the story with an odd form of shading that readers may find distracting.
Fans of the film, or of post-apocalyptic SF stories in general, will find this to be an interesting story, worth picking up. The sex isn't all that graphic, but the violence is a bit more so, and creepy enough to justify the Mature Audiences suggestion.
--
Nick Smith: Library Technician, Community Services, for the Pasadena Public Library in California.