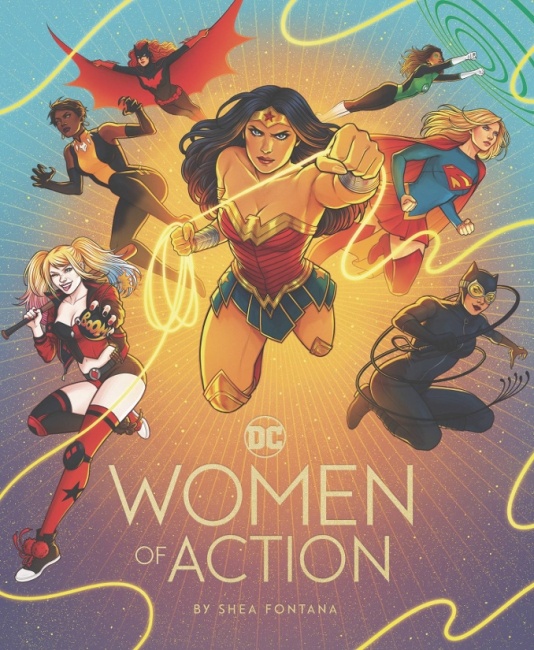 DC: Women of Action HC
Publisher: Chronicle Books
Release Date: October 2019
Price: $29.95
Creator(s): Shea Fontana (writer); numerous illustrators
Format: 160 pgs., Full-Color, 8"x10", Hardcover
ISBN: 978-1-4521-7394-8
Age Rating: N/A
ICv2 Rating: 4.5 Stars out of 5
This is an odd book at first glance, with short biographies of both the fictional women of the DC universe and of some of the women creators and company executives who have been partly responsible for the success of DC comics over the years.
As a reader goes through the book, though, the information is brief but very informative, and accompanied by about 50 excellent illustrations [of the characters, not the creators and executives…]. For readers not familiar with a time period's comics, or who are confused by the multiple reboots of the DC universe, there are reminders of characters changes and story events of significance. The reformation of a villain or a hero being ripped from one time period to another could be confusing, but this book does a good job of explaining those things, along with handling the confusions created by the re-use of hero names… the various versions of Batgirl are an excellent example. The creation of both Batgirl and Harley Quinn for television before they appeared in comics is another excellent bit of comic book history.
All but the youngest readers would get something out of this book, but the reader's interest in DC comics and comic-related media would determine how interesting it would be. Someone whose only knowledge of comics comes from the Marvel movies might not be as interested. Still, the production values and artwork make it a very attractive book. The real-world biographies might lead readers to try for creative careers themselves.
--
Nick Smith: Library Technician, Community Services, for the Pasadena Public Library in California.