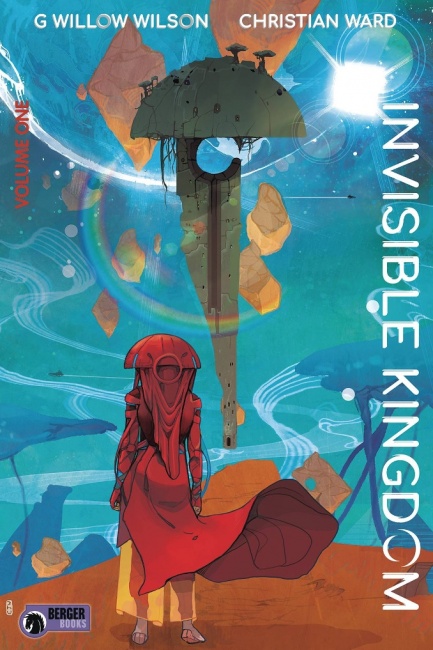 Invisible Kingdom Vol. 1 TP
Publisher: Dark Horse Comics (Berger Books)
Release Date: October 23, 2019
Price: $19.99
Creator: G. Willow Wilson (writer); Christian Ward (illustrator)
Format: 136 pgs., Full-Color, 7"x10", Trade Paperback
ISBN: 978-1-5067-1227-7
Age Rating: N/A
ICv2 Rating: 4 Stars out of 5
This story comes from the new Berger Books imprint of Dark Horse Comics. Her long history of putting good books and series in front of readers gives this particular series extra momentum, as do the cover blurbs written by folks ranging from Gail Simone to Nnedi Okorafor.
The story is space fantasy rather than hard SF, but that's not a bad thing. This is a story about politics, corruption, power and violence in a science fiction setting. The starship captain is reminiscent of the ones from
Firefly
and other similar science fiction stories. She's tough and interesting, and there are clearly a lot of things in her background that can be explored in future stories.
In this story, though, she's in command of a ship that's on the wrong side of some powerful bad guys, all because she accidentally noticed some odd evidence of corruption that had been sort of hidden on her ship. She gets tangled up with a religious follower who has stumbled across the same strange finances from a different direction, and the story heats up quickly. There is a strong "what's going to happen next" feeling as the reader turns each page.
That said, there were odd story weaknesses that felt a bit forced, and not everyone will like the style of art used in this story. Overall, though, it is starting off as an exciting adventure that will find an audience among adult and older teen readers of SF, but also overall readers of adventure stories.
--
Nick Smith: Library Technician, Community Services, for the Pasadena Public Library in California.