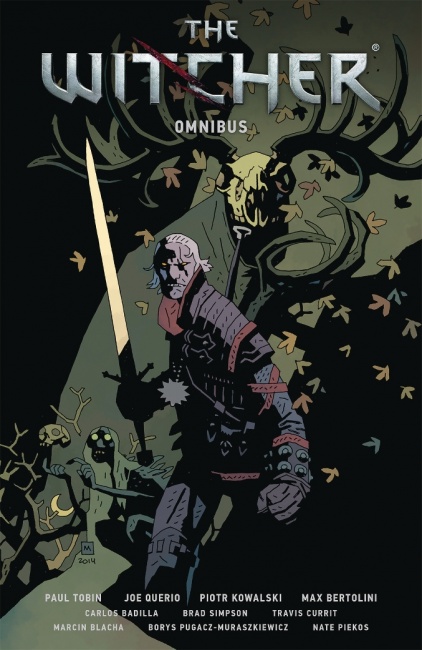 The Witcher Omnibus Vol. 1 TP
Publisher: Dark Horse Comics
Release Date: November 20, 2019
Price: $24.99
Creator(s): Paul Tobin (author); Joe Querio, Piotr Kowalski, Max Bertolini (artists)
Cover: Mike Mignola
Format: 440 pgs., Full-Color, 7"x10", Trade Paperback
ISBN: 978-1-5067-1394-6
Age Rating: N/A
ICv2 Rating: 4 Stars out of 5
This series is based on a dark fantasy video game, and it is possible that fans of the game will really enjoy the book. The book stands on its own, however, as the stories somewhat flesh out the world of the games. More details of the world would have been nice. The only other weakness is that the stories have the potential to become repetitive, since the core of the stories is that the main character is a professional monster hunter, one who gets paid to put an end to things that are very dangerous. Witchers aren't supposed to get caught up in normal life, or protect people from other people, no matter how bad the bad guys are, so watching the ways in which this plays out becomes interesting.
Like a lot of other stories, this one fails to address how people survive when there's not a Witcher around, because there seem to be a lot of monsters in the stories. The four tales in this book were somewhat reminiscent of the Solomon Kane stories of Robert E. Howard, but with fewer religious trappings. Thus, the main character hunts monsters, gets rewards, spends rewards, and then hunts more monsters. While that may be based on the game, it also reflects how mercenary warriors have lived in much of real history... you fight, you get paid, you spend the pay, and you fight again.
Because the artists vary from story to story, it was a pleasant surprise to see that all of the artists were of comparable quality.
There is enough nudity, sex and brutal violence that the book is clearly intended for adults and possibly some older teens who like the game.

The printing quality is worth noting, as the heavy paper brings out the color artwork, but it makes the book physically very dense for a trade paperback.

--Nick Smith: Library Technician, Community Services, for the Pasadena Public Library in California