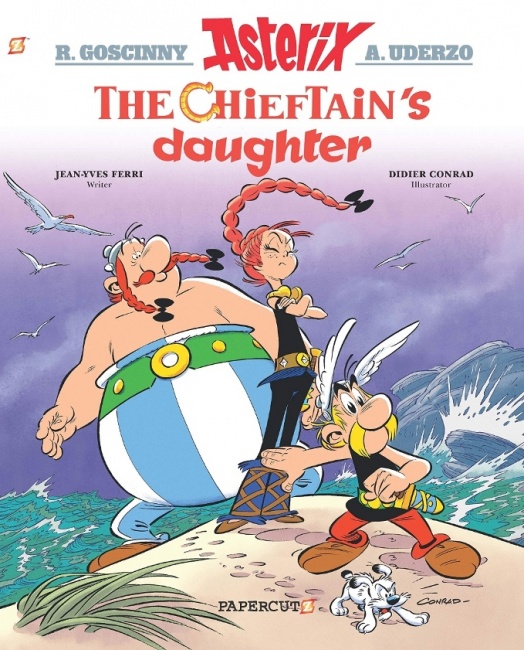 Asterix: The Chieftain's Daughter GN
Publisher: Papercutz
Release Date: July 14, 2020
Price: $9.99
Creator(s): Jean-Yves Ferri (writer); Didier Conrad (artist)
Format: 46 pgs., Full-Color, 7.5"x9.5", Hardcover
ISBN: 978-1-5458-0569-5
Age Rating: 7-12
ICv2 Rating: 4 Stars out of 5
After the passing of both creators of the
Asterix
series, fans worried that there would be no more Asterix tales, or at least no good ones. Fear not, for this new team has done a good job of continuing the series, blending history with the pseudo-history and humor of the
Asterix
series. The series is best suited to all but the youngest readers, who simply won't get some of the jokes.
For those who have never read one of these volumes, you've missed a great deal. The series has been translated into many languages for sixty years, with films and animated TV series in Europe. The thing is, the translations involve a fairly complicated process, since many of the character names contain jokes, and other references in each story often involve complex gags, such as hieroglyphics humor in stories involving Egypt. English translations in recent years have been only the British version of the language, leaving us American-speakers behind on the names and jokes. These new Papercutz editions, are in "American English," ranging from slang to names, and that will make for a slightly easier entry point for newcomers to the series.
This volume centers on the previously-unknown daughter of a Gaulish hero, and she has his stubbornness, but otherwise is her own person, leading to a fun story involving assumptions and pressure from those who want her to be just like her father. The daughter is a great character, and strong female characters are rare enough in this series that she was an excellent addition to the story, even though she may not be back.
Didier Conrad does a great job of matching the quality of Uderzo's art, and Jean-Yves Ferri is up to the quality demanded by readers of Goscinny. Oddly, the edition is slightly reduced in size from the original editions. The artwork doesn't suffer, although a few details may be harder to pick out.
(see also, "
Review: 'Asterix Omnibus' Vol.1 GN
")
--
Nick Smith: Library Technician, Community Services, for the Pasadena Public Library in California.