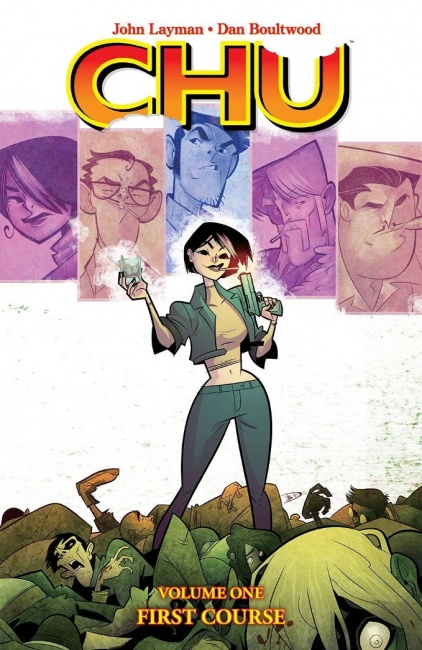 Chu Vol. 1: First Course TP
Publisher: Image Comics
Release Date: January 20, 2021
Price: $9.99
Creators: John Layman (writer); Dan Boultwood (artist)
Format: 128 pgs., Full-Color, 6" x 8.5", Trade Paperback
ISBN: 978-1-5343-1774-1
Age Rating: Mature Readers
ICv2 Rating: 3.5 Stars out of 5
Anyone who has not read at least some of the
Chew
series, also by John Layman, will be at a disadvantage when starting to read this series. Although time is spent recapping the basic concepts of Tony Chu's psychic power, the full understanding of his whole family's variations on this will have more impact if you've already read about it in use. The whole idea of having a psychic power that's really useful but sometimes really disgusting to use has a mixture of creepiness and humor woven through it.
Tony's power is called "cibopathy," which means that he gathers information from anything that he eats, with the minor exception of beets, which apparently have no ability to convey psychic impressions. He uses this ability as a police detective, and this has led to some very disturbing methods of investigation. His sister, Saffron, is a wannabe master criminal, and her power is even more peculiar. She can gain information from anyone she eats with, as long as she eats the same thing at the same time. Author John Layman has come up with a delightfully strange set of ways to use this for criminal purposes.
This volume is really the setup for a series, which is its only real flaw. It seems that you have to read this book in order to enjoy what comes next. Boultwood's artwork is less angular and jarring than the artwork for the main
Chew
series had at first, which may be a plus, but the idea that you need to read part of the
Chew
series and then volume 1 of
Chu
in order to get the background for the rest of
Chu
may deter some readers. It has the potential to be an interesting battle of wits between criminal sister and detective brother. It would be nice to see it get there, but be prepared for some creepy eating scenes. Older teens and adults will mostly enjoy it.
--
Nick Smith: Library Technician, Community Services, for the Pasadena Public Library in California.