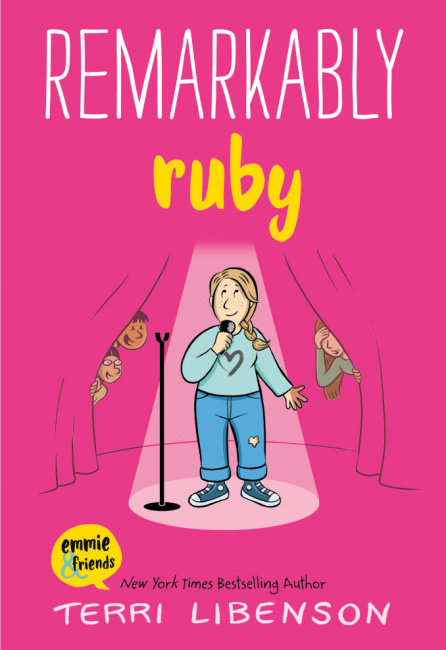 Remarkably Ruby GN (Emmie & Friends)
Publisher: Balzer & Bray
Release Date: May 3, 2022
Price:$13.99 (TP) $13.99 / $24.99 (HC)
Creator: Terri Libenson
Format: 384 pgs., Text & Color, 5.5" x 8", Trade Paperback/Hardcover
ISBN: 978-0-0631-3918-3 (TP) / 978-0-0631-3919-0 (HC)
Age Rating: 8-12 yrs. old
ICv2 Rating: 4.5 Stars out of 5
This is a very good book, and would interest kids who have enjoyed the Chmakova or Telgemeier graphic novels, but the format is a little odd. Each book in this series focuses on two main characters. The title character has a story that is told with more text and fewer illustrations, so technically that half is heavily illustrated fiction as opposed to purely graphic fiction. A second character in the book has a story that is told in graphic fiction form. Each character shows up in the other character's half of the book, so it's not a strict boundary, but bouncing back and forth between formats seems like it would be confusing.
The weakness that this creates is that the text-heavier section is not as quick or lively as the graphics-heavier half, and with the chapters alternating, the text-heavier one opens the book. Kids looking for a pure graphic novel may be put off by this, which is unfortunate. For readers ready to try this, though, Terri Libenson has created a form of storytelling that works extremely well.
In this case, Ruby is a middle school girl who had an early growth spurt, enough so that she seems older and more intimidating than she is. For years she had been friends with Mia, a girl who is enough older that she's a class ahead in school, but they have drifted apart. Ruby has few social skills, and a medical condition with embarrassing side effects. Mia is so tightly wound that she's driving everyone away from her in her drive to succeed at her goals.
The story is about everything from trying new things that might seem outside your normal boundaries to having patience with your friends. It's also about avoiding the school cafeteria chicken nuggets, based on their color in this story.
The parents in this story seem a little clueless about their daughters, but the humor is based on believable parental stuff, rather than anything like neglect. The various interactions, good and bad, are something that kids of the same age as the characters are encountering in their lives.
Aimed at middle school-aged readers, younger kids familiar with the concepts might also enjoy it.
--
Nick Smith: Library Technician, Community Services, for the Pasadena Public Library in California.
Click here
for more ICv2 Kids Week articles on kids comics and graphic novels!