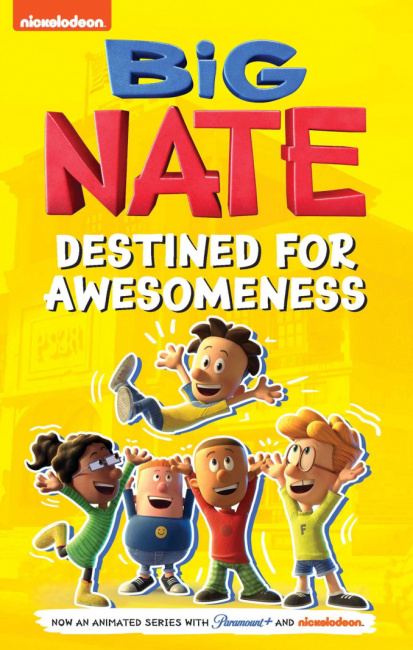 Big Nate: Destined for Awesomeness TP
Publisher: Andrews McMeel Publishing
Release Date: August 30, 2022
Price: $12.99
Creator: Lincoln Peirce
Format: 224 pgs., 5.25"x8.25", B&W and Full-Color, Trade Paperback
ISBN: 978-4-8053-1695-5
Age Rating: 7-12
ICv2 Rating: 3.5 Stars out of 5
This is a direct back-to-book adaptation of some of the animated episodes of
Big Nate
(Paramount+ and Nickelodeon), and the animation style doesn't really convert well onto the printed page. The pseudo-3D style exaggerates the characters from the comic onto the TV screen, and putting those exaggerated versions of the characters back onto the page sometimes works, but not always. Oddly, the cat works better than the people, in one of the three stories.
That said, the humor of
Big Nate
comes across in these tales, and the story about him trying to avoid getting one more detention for the week, because one more would lead him to an unknown but legendary doom, was hilarious in this version. Also, it put Nate's misdeeds in context, as another "prankster" had some really awful and destructive "pranks" on his schedule. A prank has to be something that doesn't really get anyone hurt, physically, or destroy anything permanently, or it's just not funny. Nate's "rival" in this story doesn't understand that boundary, it seems.
The style of art doesn't do it any favors, but some kids may enjoy the conversion to color artwork. Fans of the humor in
Big Nate
may also enjoy the exaggerated style, and some kids who only know it from TV may be lured onto the printed pages, as the book includes sample pages from the original version.
--
Nick Smith: Library Technician, Community Services, for the Pasadena Public Library in California.