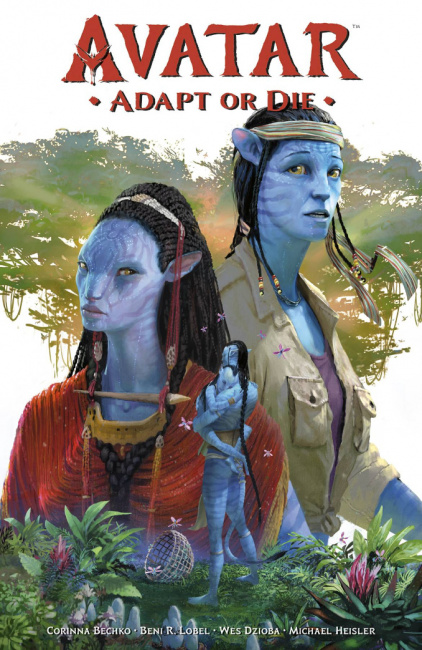 Avatar: Adapt or Die TP
Publisher: Dark Horse Comics
Release Date: February 22, 2023
Price: $19.99
Creator(s): Corinna Bechko (Writer); Beni R. Lobel (Artist)
Format: 128 pgs., Full-Color, 6.5" x 10.25", Trade Paperback
ISBN: 978-1-5067-3071-4
Age Rating: N/A
ICv2 Rating: 4.5 Stars out of 5
This story is a prequel to the two
Avatar
movies, but readers will need to have seen at least the first one for things in this story to make sense. This is a minor weakness, but one that can be confusing, if potential readers think they should read this before seeing the first movie. Of course, if they haven't seen it by now, that's another problem.
Early in the experiment of using Avatars to interact with the native culture, scientist Dr. Grace Augustine has been assigned the task of convincing the Na'vi to allow their children to learn more about the human way of life. Yes, this is very much like the "schools" that the U.S. and Canada subjected Native American children to, and yes, you're supposed to know about those, too. There's already an "evil mining company guy" but there is not yet open warfare between humans and Na'vi. Things go wrong when an apparent infection starts affecting both the Na'vi and the Avatars.
The artwork is outstanding, and Lobel did an excellent job of turning imagery from the movies into artwork on paper. Bechko's story and style also did justice to the films, and even though the credits suggest that the whole thing is "based on events from the films," it's mostly the setting and starting situation that are derivative. The story here and its resolution are both original and interesting, and readers will quickly see how things could have gone better. On the other hand, if humans and Na'vi hadn't had a conflict, the movies couldn't have made money.
Written for teens and adults, anyone old enough to have seen and understood the movies will be able to enjoy this book.
-
Nick Smith