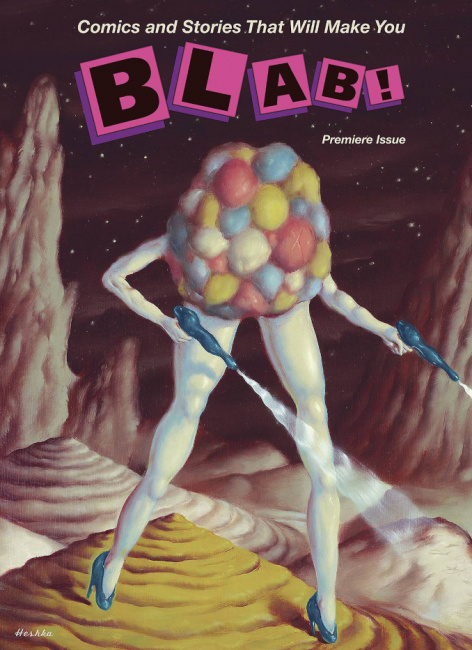 Blab! Vol. 1 TP
Publisher: Dark Horse Comics
Release Date: April 26, 2023
Price: $19.99
Writer(s): Monte Beauchamp, Noah Van Sciver, Jeffrey Steele
Artist(s): Noah Van Sciver, Giselle Potter, Ryan Heshka, Greg Clarke
Cover: Ryan Heshka
Format: 112 pgs., Full-Color, 8"X11", Trade Paperback
ISBN: 978-1-5067-3524-5
Age Rating: 16+
ICv2 Rating: 3 Stars out of 5
While containing graphic content by Noah Van Sciver and others, this is really a trade paperback underground zine of mixed content quality. Thanks to Dark Horse Comics, the
physical
quality is excellent.
Fans of Noah Van Sciver will find two interesting stories, both with 2021 dates not explained in the information in the zine. One is a biographical piece about a Golden Age comic book artist whose life eventually fell apart. That piece is quite interesting if you like comic book history. Sasha Velour, possibly the artist and drag star, but also not explained, did a graphic piece about film creator F. W. Murnau, illustrated in a very Golden Age art style. This piece is oddly biased in favor of Murnau in terms of his legal battles against the Stoker estate over his "borrowing" the story of Dracula. The editor included much of his own work, including an interesting but peculiar piece on gorillas in history and popular culture, which finished with a reprint of a Golden Age comic story by a very creepy artist whose family basically applauded when he deserted them. While the comic story fits with the gorilla section, another choice might have been better.
Biographical graphic stories about Beatrix Potter and Superman creators Siegel and Shuster are both worth reading, and are interesting inclusions in this melting-pot of an issue.
Ads from older comic books, a public domain reprint from a quirky attack on religion [especially Catholicism] and a few other things fill out this issue.
Is it great? No. Is it interesting? Potentially. A little information on the creators and the goals of
Blab!
would have been nice inclusions. The price is somewhat high for the contents, but presumably based on a relatively short print run. Some of the contents make it best suited to an adult audience.
--
Nick Smith