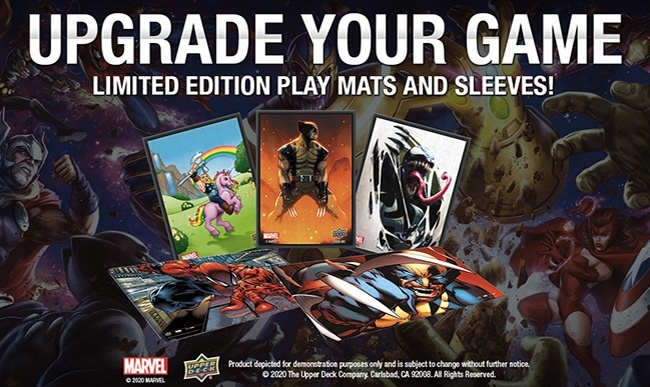 Sponsored
. Upgrade your work or game space with Marvel mats and sleeves from Upper Deck.
Choose from fan-favorite Marvel characters including Wolverine, Thanos, Black Panther, Spider-Man, Thor, Ms. Marvel, Black Widow, Venom and more. Priced at just $19.99 per mat or 65 sleeve pack, these high-quality oversized mats and original art sleeves make a perfect gift for the Marvel fans on your list.
Wolverine, Spider-Man, and Thanos rubber-backed mats measure 24" x 13.5" and are an eye-catching addition to any game room or office. Mats come rolled in ready-to-wrap boxes. Sleeves fit standard sized cards (and stockings).
"By Odin's Rainbow Pony!" Don't miss Rainbow Thor on a Unicorn limited-edition sleeves, available exclusively at
UpperDeckStore.com
until they gallop away for good…
Click on Gallery below to see full-sized images of the Marvel sleeves and mats.