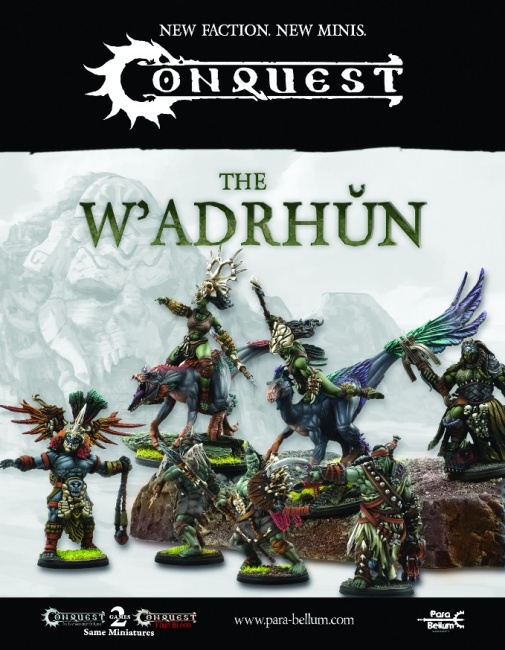 Sponsored
. From the Wastelands beyond the Claustrine Mountains, the W'adrhûn are pushed to the east by some unseen force. Survivors, hunters, beast-tamers but above all warriors, this fledgling race is determined to carve a place for itself in the world. And they have the dinosaurs to do it...
The W'adrhŭn are
Conquest's
new and shiny fifth faction - and they're finally here! Tackling the fantasy orc-archetype with a typical "Para Bellum twist", these dino-riding warriors have been much anticipated by the community of
Conquest
. With impressive beasts, beautiful minis and a unique play-style based on faction-specific rules, the W'adrhûn are here to improve the gameplay of not one, but two games of
Conquest
!
Welcome W'adrhŭn Bundle
We have created a trade bundle, anticipating that this is an excellent time for retailers to restock, OR for new retailers to join the #ConquestCommunity! This bundle has:
Over 80 pieces.
FREE store use exclusive First Blood Playmat and T-Shirts for the retail team.
A great stock list assortment of all factions.
POP materials including Game ON postcards stores can send to customers welcoming them back to gaming as they reopen tables.
Over $€1950 at retail value.
Special retailer net price - only €$650 - over 65% off!
This bundle also includes Conquest sponsored local advertising for participating stores. Social channels will feature Conquest shopping ads directing new Conquest fans to the FLGS in their selling areas. These ads will feature Conquest and the W'adrhŭn releases for 2 weeks.

Available at participating Conquest distributors, and directly through Para Bellum:
https://www.retailer.para-bellum.com/buy-conquest

Click on Gallery below to see full sized images.