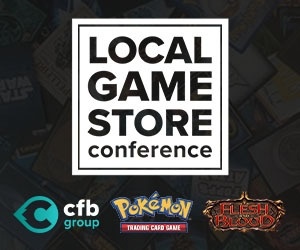 Sponsored
. The CFB Group is hosting its second Local Game Store Conference this Saturday, May 22nd. With hundreds of game stores from around the world in the industry attending, and a panel including members from The Pokemon Company,
Flesh and Blood
, and more - this is an event that you will not want to miss!
LGS Con II is free for any game stores or consumers of the industry who want to attend, and still open for
registration here
.
Get everything you need to take your store to the next level with strategy advice from all aspects of the industry, including information on new product lines from Michael Waddell of MetaZoo, and tips on organized play structure from Stephanie Flores and Courtney Kim of The Pokemon Company. If you are connected to the collectibles industry in any way, make sure to tune in!
The event will be taking place prior to the ChannelFireball Marketplace launch. However, you can still sign up for the marketplace
here
.
Click on Gallery below to see some of the guest attending.