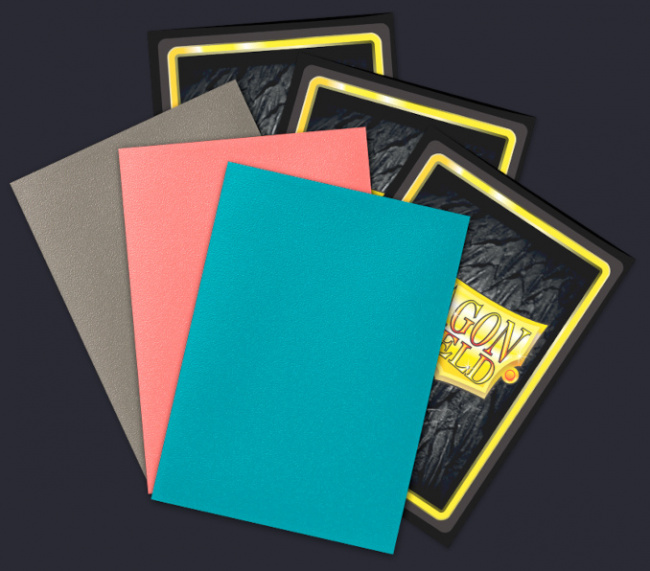 Sponsored
. "Sleeves that are actually flawless… an A+." That's how The Professor of Tolarian Community College described the first run of Matte Dual Dragon Shield sleeves in his October 7, 2021, YouTube review. Those first five colors, Snow, Lightning, Eucalyptus, Lagoon, and Orchid, were long in development before they were ready to go to market, but the wait, it seems, was worth it. Dragon Shield does not release products unless we are one hundred percent confident that they will live up to the expectations of our customers. As gamers ourselves, we have those same expectations of greatness and hold ourselves to a high standard. Now, we are extremely excited to introduce the second wave of "flawless" sleeves with three brand new Matte Dual colors: Peach, Crypt, and Glacier!
In case you aren't aware,
Dragon Shield Matte Dual
sleeves have a lightly colored matte texture back with a black interior that ensures they are perfectly opaque, regardless of lighting conditions. This opacity allows us to use a more delicate pastel pallet for the backs (the side that faces you while you play).
Take our new
Peach
sleeves for example. They have an exquisite, almost summery feel to them thanks to their lighter shade of pinkish orange. The new
Crypt
sleeves provide a light ashen gray that evokes the feeling of exploring deep dungeons with hidden secrets, whereas the chilly blue hue of our
Glacier
sleeves will make your playing experience comfortably frosty.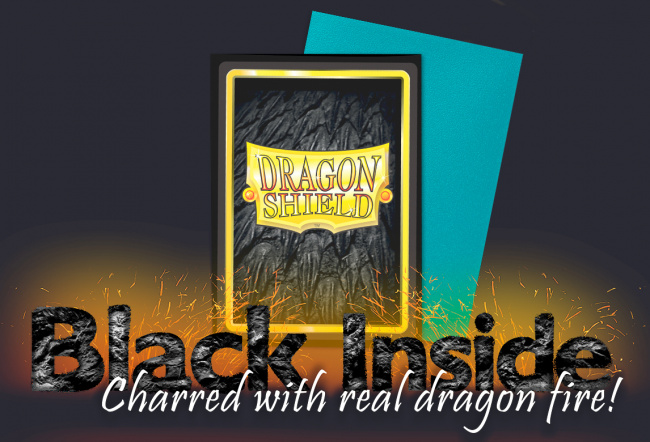 Sleeves with black interiors offer players several benefits. Prior to the innovation of black interiors in the
Matte Dual
sleeves, trading card players might not be able to enjoy lighter-colored sleeves. Many games, including
Magic: The Gathering
, frequently use cards with artwork on both the front and back of the card. Traditional card sleeves with white interiors were so light that players could see the artwork through the sleeve, providing them with an unfair advantage by knowing what card they would draw next turn.
Even if your game of choice does not use double-sided cards, potentially seeing the condition of a card through the sleeve might be viewed as disqualifying knowledge by a judge. Any additional information that you have over an opponent during gameplay that did not arise as a result of the game could put your participation at risk in a tournament setting. As a result, honest card players would typically stick to dark colors like black, jet, purple, or non-glare silver.
While many of us love those darker shades, they can get a bit… tedious. How many packs of Matte Black does any one person need? Occasionally, it is nice to brighten up the room with a pop of color. With
Matte Dual
, those color restrictions are finally easing. And with the newest launch of
Peach
,
Crypt
, and
Glacier
, players have three new options. Like the previous
Dual
sleeves,
Peach
,
Crypt
, and
Glacier
are new colors to the Dragon Shield line, not repackaging of older colors. These are three brand new options that even the long-time Dragon Shield fan will love.
Besides the practical tournament benefits of black sleeve interiors outlined above, black interiors provide a better canvas for black-bordered cards. Whether you prefer to keep your cards stored safely in a binder or proudly play them, the black surrounding the card borders adds an extra cleanliness to the look and feel of handling your cards.
Dragon Shield sleeves would not be Dragon Shield quality if not for an emphasis on sublime shuffling. We spend countless hours tweaking our sleeves, testing different materials and finishes, to make sure that our sleeves always provide that smooth, silky shuffle our customers know and love. One of our company values is to protect what you love, and so we take the utmost care to make sure the material strength is best-in-class without losing the finer details, like the shuffle feel.
All our
Matte Dual
sleeves are designed to work flawlessly with double-sleeved cards. We recommend using our
Perfect Fit Sealable Inner Sleeves
for the
most
protection possible. The
Perfect Fit Sealable Inner Sleeves
come in clear and smoke with an extended, thin flap designed to slide harmlessly into the back of the main sleeve, thereby locking your card in place. Combine these sleeves with the
Matte Dual
sleeves and your card has four-corner protection. (For a more thorough examination, check out The Professor's May 4, 2019, review of the
Perfect Fit Sealable Sleeves
, in which he dunks a sealed card in a fishbowl of water to see how "sealed" our sealable sleeves are. Spoiler alert: Pretty darn sealable in another A+ showing).
Our standard Matte Dual sleeves are available in one hundred count boxes, with standard being defined as 2.5" x 3.5", or a regular
Magic: The Gathering
or Poker card, as well as smaller-sized sleeves perfect for games with smaller cards, like
Yu-Gi-Oh!
Protection for smaller cards will release at the same time as our more traditional standard boxes and come in packs of sixty instead of a hundred.
We cannot wait for you to try out our newest entries to the
Matte Dual
sleeve line. Tag us on Twitter @dragonshield_ with pictures of you using these three new colors! We'd love to see what kinds of decks you're using them with. Until next time, see you around the game shop.
-
The Scriveners Guild of Arcania