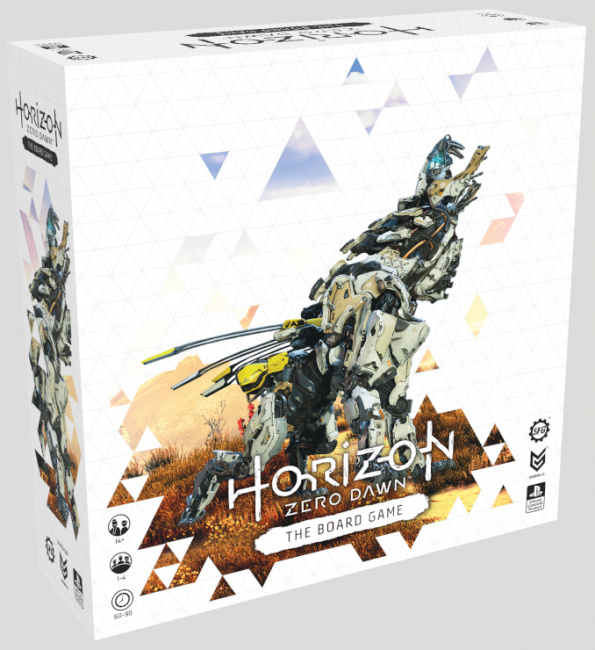 Sponsored
. Seeing really is believing when it comes to
Horizon Zero Dawn: The Board Game
. Just like the fabulously popular video game it's based on, this semi-cooperative board game for 1-4 players boasts a huge box full of detailed minis and gorgeous content, wrapped in a distinctive visual style that draws people in from their very first glance.
And that quality goes further than skin-deep – we think
Horizon Zero Dawn: The Board Game
achieves the much-coveted marriage of accessibility for new players with enough complexity to keep veterans coming back for more.
As with all our video game-to-tabletop adaptations, it captures the essence of a game that's entranced millions of players the world over. And what is that essence? Well, rather than try to translate the sprawling majesty of
Horizon Zero Dawn's
open world into a board game, we wanted to distill the excitement of its unique machine-hunting combat into a digestible, entertaining tabletop format.
So, that's exactly what we did. Players can relive their favorite video game moments with highly-detailed machine and hunter minis, visceral combat, and upgradeable hunters with unique abilities, skill trees, and customizable equipment.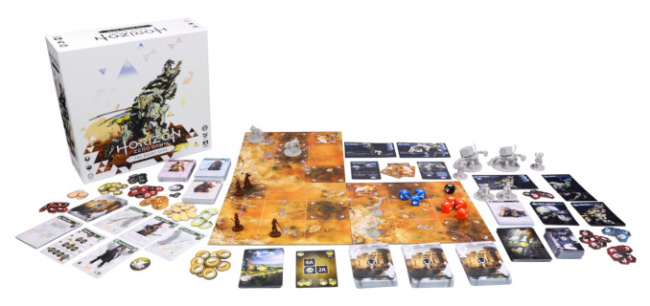 And the compelling gameplay gives players the freedom to customize their hunter according to their preferred playstyle, you don't have to be a die-hard fan of the video game to join the hunt, either!
We won't go into the nitty gritty of gameplay here (but if the nitty gritty is what you want, there's a wealth of information on
our website
!)
Horizon Zero Dawn: The Board Game's
success at tabletop shows and conventions speaks for itself.
Ross Thompson, our Head of Trade Marketing, is a regular fixture at tabletop shows and has witnessed
Horizon Zero Dawn: The Board Game's
popularity firsthand:
"It's been awesome seeing people check out
Horizon Zero Dawn: The Board Game
at conventions this year. There's no doubt we've seen a surge in interest following the release of
Horizon Zero Dawn: Forbidden West
, sequel to the original video game. It's fair to say not everyone who loves the video game even knows about the board game, so it's always a lot of fun to be there when they find out. We sold out of copies of the game at GenCon, and it was a big hit at Adepticon too!"
So, why has it hit the mark with event-goers?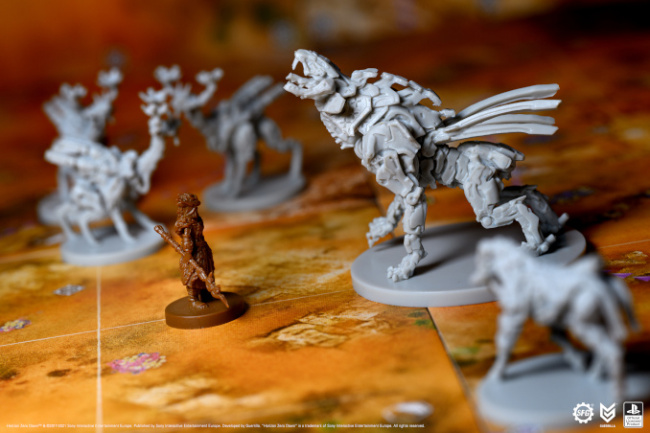 Well, for a start, we can show off the full range of stunning minis
Horizon Zero Dawn: The Board Game
and its expansions have to offer. These lovingly-sculpted models depict a multitude of iconic characters, fearsome machines, and signature tribes from the video games.
After all, it's one thing to say the
Stormbird
mini is huge, highly-detailed, and fixed on a massive 150mm base, but quite another to see its majesty in person!
The public also gets a chance to speak to our staff at events, from game developers to sculptors to illustrators. We're passionate about video and tabletop games, and that shows! After all, why would you want a game made by someone who didn't know what gamers want?
We did say seeing is believing with
Horizon Zero Dawn: The Board Game
, but that's not totally true. As well as continuing success at retail, it enjoyed a wildly successful Kickstarter campaign where it raised over $1.6m from nearly 10,000 backers. That just shows the strength of the brand, and backers' confidence in Steamforged Games to deliver the goods… Literally and figuratively!
So, how can
you
join the hunt?
Pre-order now
: Contact
jo@steamforged.com
Find out more
: Visit
https://steamforged.com/collections/epic-encounters