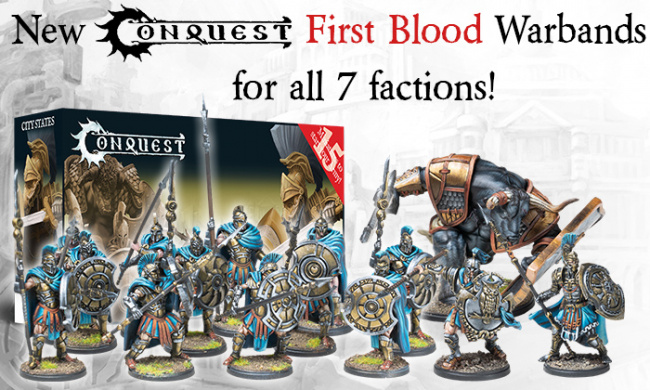 Sponsored
. Available for all 7 factions currently available in the
Conquest
universe, including the new
City States
- our take on the Greek Army.
First Blood Warbands
have 3 Squads of 4 highly sculpted miniatures, a dynamic figure of a Brute or from the Cavalry, an Officer to lead the squads, and a Character through which the player leads their
Conquest
.
Our
First Blood
is a unique play type that has the fast pace and smaller table size typical of a Skirmish style of game, with the very advanced lore and detailed miniatures that
Conquest
has become well known for. This boxed set also comes with a
First Blood II Rulebook
, along with the bases and stands for each of the figures, assembly guides and a
First Blood Path of Conquest
brochure all for MSRP of US$69.99.
While this is a perfect
Warband
to start your
First Blood
play, these figures are also ready to grow into the Last Argument of Kings mass fantasy battle game as well.
Available April 28 worldwide. For more information, please reach out to
daryl.mckay@para-bellum.com
.
Click on Gallery below for full-sized images.