Sponsored
. Come take a seat, weary traveler, tell us your story, then listen to a tale of our own. You are among friends here, as we share good times and bad. Everyone has a place…
Round the Table
!
The Legend Story Studios partnership with renowned gaming icon the Professor (Tolarian Community College) brings a fresh multiplayer experience to local game stores.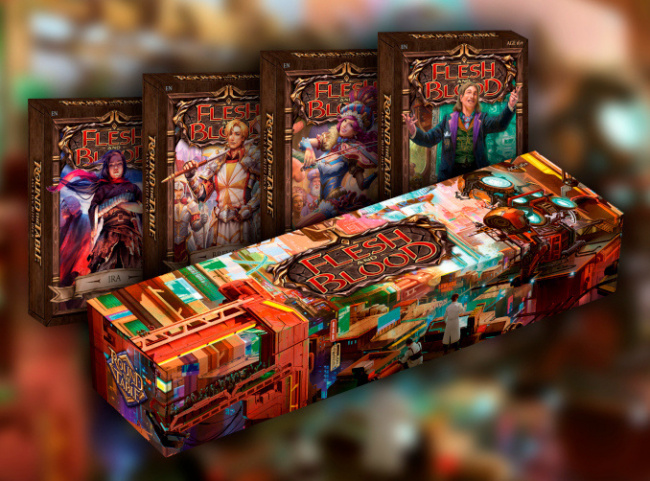 A perfect stocking stuffer for the holiday season, the
Flesh and Blood
box set
Round the Table: LSS x TCC
plunges players deep into the politics, bargaining, and banter of Ultimate Pit Fight, featuring the Professor himself as a playable hero!
Round the Table: LSS x TCC
contains four ready-to-play Blitz decks with more than 100 new cards, a themed rubber playmat, all wrapped up in a handy 1000ct storage box!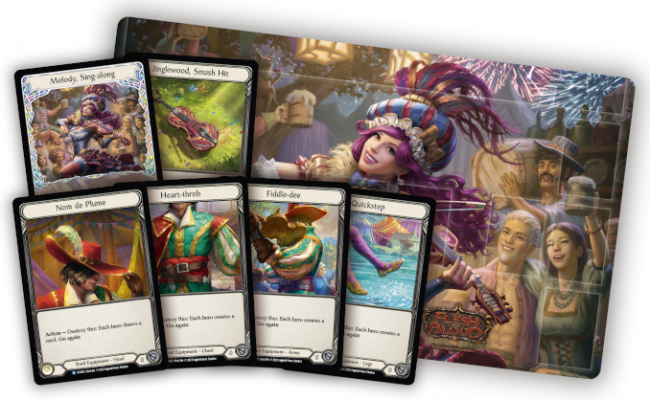 Round the Table: LSS x TCC
is supported by a
Social Play Prize Kit
, which awards beautiful one-of-a-kind promo cards to players who pick up and play the set at their local game store. The
Social Play Prize Kit
is available free of charge to local game stores who run regular events, and contains a wide selection of goodies that will keep players coming back time and time again. It's incredibly easy for players to shuffle up and play, have a blast, and score awesome prizes, without needing to be a pro.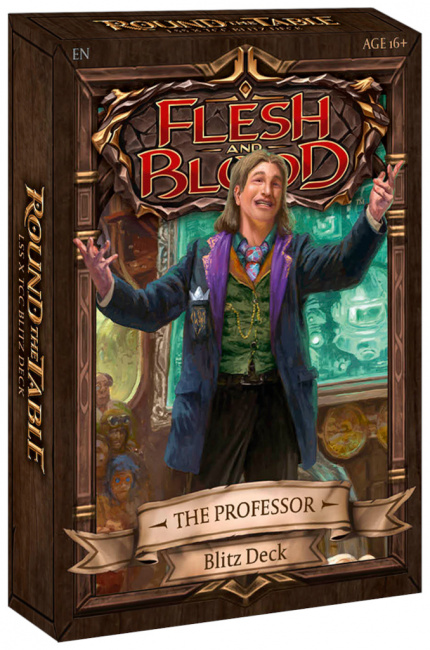 Play as the Professor and build your own mech suit to stomp the competition with state-of-the-art Evo equipment! This box set captures what the Professor means to so many people: community, friendship, and fun. A Mechanologist hero, the Professor becomes stronger the more friends are sitting with him round the table!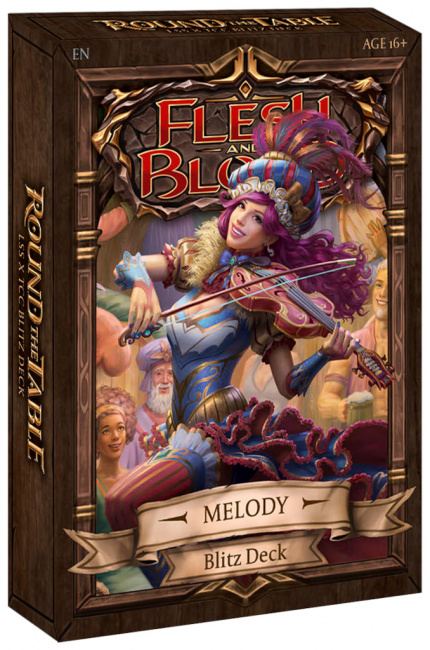 Delight the table with Melody, a lively Bard who sings tunes for the crowd while building up to the final act of a lifetime! Melody plays songs that create bonuses for other players, keeping gameplay upbeat and exciting, while making a handful of copper from her adoring fans. But don't let her grand performance get too out of hand, or you might be blown away!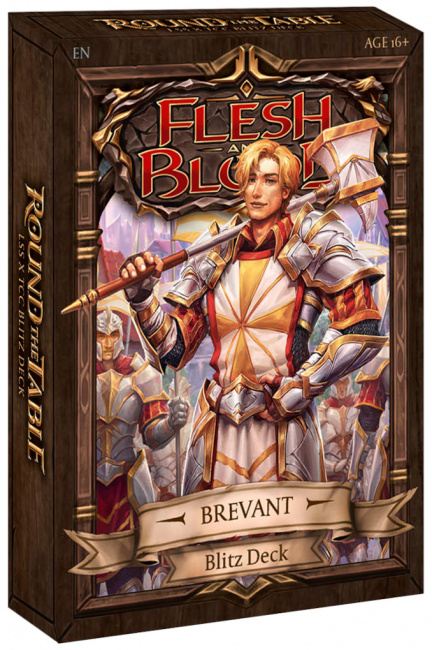 Come to the rescue with Brevant, a chivalrous Guardian who defends other heroes in need! A knight in shining armor, Brevant has the unique ability to come to the aid of other players, saving them from peril while powering himself up. Make sure you're in his good books if he's setting up for a big swing, because the last thing you want is to face a towering smackdown!
Seek vengeance with Ira, the Ninja with a bloodsoaked past! As the well-known starter hero for
Flesh and Blood
, featuring in the
Learn to Play Ira Welcome Deck
, we recommend less experienced players give Ira a try. But just because she's simple to play doesn't mean she can't pack a punch! New Ninja cards in the set bolster her Crouching Tiger style to shred through her enemies.
Flesh and Blood
is designed to be enjoyed at all levels of play, from the world-famous $1,000,000 pro play circuit, to casual games across the kitchen table. This new box set expands casual play to a whole new level, offering a unique gameplay experience where players can come together to make and break deals, pull off crazy shenanigans, and have a rowdy time without any competitive edge.
For players thinking about giving
Flesh and Blood
a try,
Round the Table: LSS x TCC
is the perfect starting point. With pre-built decks, simple mechanics, and stunning foils, it has everything players need to hop right into a game and play over, and over, and over!
Round the Table: LSS x TCC
will also strongly appeal to fans of multiplayer tabletop games, as it perfectly captures that familiar spirit of social gaming. Not only that, players will recognize the Professor as one of the world's leading figures in social gaming culture.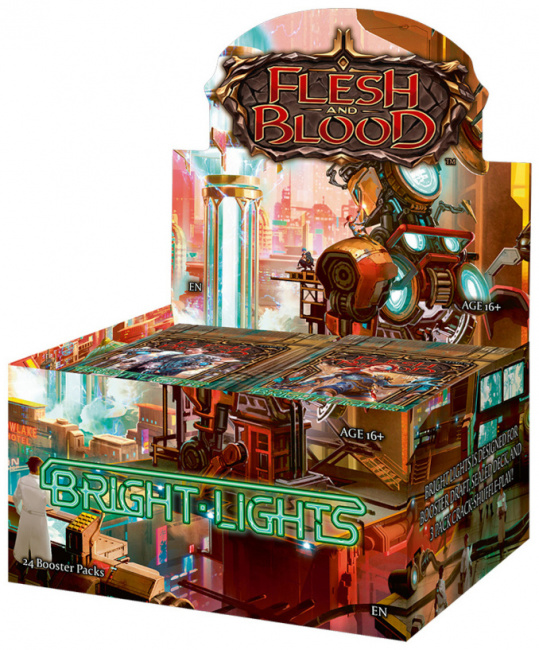 Fans who are already deep in the
Flesh and Blood
scene will also get a kick out of this set, with several game-changing cards to support existing heroes, as well as tying directly into the highly anticipated upcoming expansion booster set,
Bright Lights
!
Bright Lights
is an all-Mechanologist set taking place in the bustling streets of Metrix, where heroes are drawn in by flashing neon signs promising that you too can "become more than human!"
Round the Table: LSS x TCC
offers the perfect launchpad into Metrix for local game stores who are starting out with
Flesh and Blood
, helping build a community of social play that will lead into more exciting ventures for years to come!
Click on Gallery below for full-sized images.