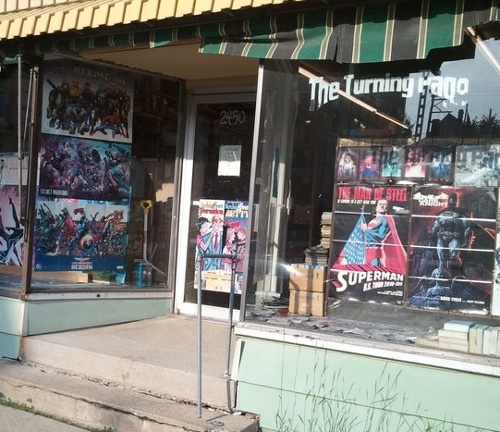 David Beard, a longtime customer and friend, writes in to share some of his fond memories of the late comics retailer Ron Killian, owner of The Turning Page located in Milwaukee, Wisconsin.
Just a month after announcing the closing of The Turning Page, the comic shop on the East Side of Milwaukee where I spent thousands of hours as a kid and young adult, the shop's owner, Ron Killian, passed away.
Ron began selling comics in an antique mall before becoming one of Milwaukee's earliest direct-sales comics shops. In the 1980s, he carved a niche by importing
Doctor Who
toys, books, games and magazines and supporting the local and regional
Doctor Who
fan clubs. Ron enjoyed pulp fiction and science fiction, and every Saturday, the shop was filled with the sounds of polka.
I shopped there from a very young age. My grandmother and I would walk to the shop once a week in the summers when I was in sixth and seventh grade. In eighth grade, I attended Catholic East Elementary, a school right across the street from The Turning Page and would stop by after school to hang out.
Ron was massive, with tattoos from his time in the military on forearms that were as wide around as my thigh. And yet, he was gentle.
Ron encouraged me to send a letter to Will Eisner, and I did, and got a reply -- which amazed me. Ron encouraged me to send a submission to
Amazing Heroes
magazine -- I was 13, I barely understood how to write. It was rejected. Who cares? It was awesome to try.
In my high school years, if I wasn't home by 4:30, my family knew to call the Turning Page. In summers, I hung out even more.
After I moved to Saint Paul for graduate school, I visited Ron on every trip I ever made to Milwaukee, even on trips where I did not see my family.
I brought beer, once -- a young man's attempt to cease being a child to his father-figure. We drank those beers in the shop after close on a quiet Tuesday night.
When he was hospitalized maybe a decade ago, for a heart attack, I went to Milwaukee to see him in the nursing home where he was recovering. He was startled to see me. I don't think he ever really understood how much I loved him.
Ron's death is the loss of an anchor to the Milwaukee comics community and to this friend and collector.
--
We remember Ron as a pioneering direct market comic retailer, and an early supporter and customer of Capital City Distribution. R.I.P. – ed.
The opinions expressed in this Talk Back are solely those of the writer, and do not necessarily reflect the views of the editorial staff of ICv2.com.