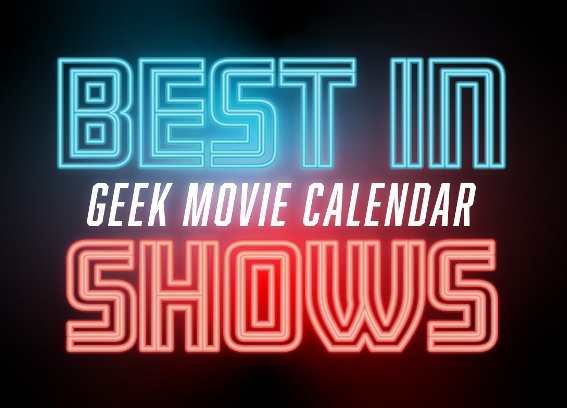 Best in Shows is an ICv2 calendar of geek movies listed by release date, with info and links. Dates are continuously updated as they change. Each year has a separate calendar page; see "
Best in Shows Index
" for geek movie calendars for other years.
Ant-Man and the Wasp: Quantumania
February 17, 2023
The third
Ant-Man
feature is expected to star Paul Rudd and Evangeline Lilly, with Peyton Reed directing (see "
Progress on 'Ant-Man 3'
").
Shazam!: Fury of the Gods
March 17, 2023
The release date for the film has been changed four times, and finally settled on this date in August 2022. Both Helen Mirren and Lucy Liu have been cast to play roles in this film (see "Lucy Liu in 'Shazam'").
John Wick 4
March 24, 2023
Lionsgate pushed back the fourth installment of the adventures of the retired hitman played by Keanu Reeves twice from its originally planned release date in 2021.
Dungeons & Dragons: Honor Among Thieves
March 31, 2023
The movie based on Hasbro subsidiary Wizards of the Coast's role playing game property has now moved from Warner Bros., which fought a court battle to preserve its rights to the IP, to Paramount, which now has an overall deal with Hasbro (see "'Dungeons & Dragons' Film Moves to Paramount, Gets Date").
Super Mario Bros Movie
April 5, 2023
This film began development back in 2018 and is based on the classic series of Nintendo video games. The movie will feature an all-star voice cast including Chris Pratt, Anya Taylor-Joy, Charlie Day, Jack Black, Keegan-Michael Key, Seth Rogen, Fred Armisen, and more.

Guardians of the Galaxy 3
May 5, 2023
On November 11, 2019, it was revealed that the date was reserved for an untitled Marvel Studios movie, which was identified as the third Guardians of the Galaxy film in May of 2021.
The Little Mermaid
May 26, 2023
This live action remake will star Halle Bailey and Melissa McCarthy.
Spider-Man: Across the Spider-Verse
June 2, 2023
Delayed more than once, the sequel to the hit 2018 animated feature (Spider-Man: Into the Spider-Verse) hit this date in a Sony date shuffle in April 2022.
Transformers: Rise of the Beasts
June 9, 2023
This film, which will be directed by Steven Caple Jr. and feature Ron Perlman as Optimus Primal, was pushed back a year from its original June 2022 date.
The Flash
June 16, 2023
Warners moved this film to 2023 in an early 2022 shuffle, after multiple earlier moves. The Flash standalone film is a continuation of the solo Justice League hero flicks. It started shooting in April of 2021 (see "'Flash' Shooting Starts").
Elemental
June 16, 2023
This new Pixar animated feature takes moviegoers on a trip to Element City, where beings made of air, earth, wind, and fire all interact.
Indiana Jones and the Dial of Destiny
June 30, 2023
Disney has changed the release date for the fifth Indiana Jones feature film at least four times, most recently in the coronavirus shuffle in October 2021. Steven Spielberg will return to direct, and Harrison Ford will don his iconic fedora once more. The current script is being written by Jonathan Kasdan, son of Lawrence Kasdan, who penned Raiders of the Lost Ark. Mads Mikkelsen also joined the cast with Phoebe Waller-Bridge (see "'Indiana Jones' Casting").
Nimona
June 30, 2023
This is an animated feature film based on the graphic novel by ND Stevenson, which will get a limited theatrical release ahead of its streaming debut June 30, 2023 on Netflix (see "Hollywood's Latest Issues").
Mission: Impossible 7
July 14, 2023
The seventh in the Tom Cruise series ended up here after multiple moves. It was originaly scheduled for 2021, and was moved to this date in January 2022 due to the impact of the pandemic on production.
Barbie
July 21, 2023
Margot Robbie will star as the title character, with Ryan Gosling, Kate McKinnon, Alexandra Shipp, America Ferrera, Simu Liu, Hari Nef and Will Ferrell.
Shortcomings
August 4, 2023
This film is romantic comedy directed by Randall Park that is based on Adrian Tomine's 2005 graphic novel (see "Hollywood's Latest Issues").
The Haunted Mansion
August 11, 2022
This is the reboot of The Haunted Mansion movie, which is based on the popular attraction at the Disney theme parks.
Blue Beetle
August 18, 2023
Warner Bros. nailed down the date for this release in December 2021, switching from an HBO Max release to theatrical. The film will be the first from DC based on a Latino superhero.
The Exorcist
October 13, 2023
The first of three new Exorcist movies is planned for theatrical release; the other two may not be (see "'Exorcist' Trilogy").

Five Nights at Freddy's
October 27, 2023
Universal Pictures released a teaser trailer for Five Nights at Freddy's (see below), a new movie based on the popular media franchise. The new movie stars Josh Hucherson, Matthew Lillard, and Mary Stuart Masterson.
The Marvels
November 10, 2023
The date for the sequel to the box office smash Captain Marvel has changed several times, most recently in a big Disney date shuffle in October 2021. Like the first in the series, it will star Brie Larsen.
Trolls Band Together
November 17, 2023
Anna Kendrick and Justin Timberlake return as the lead voices in the threequel.
Godzilla Minus One
December 1, 2023
This movie is a post-WWII movie where Godzilla attacks an already devastated Japanese landscape.
The Boy and the Heron
December 8, 2023
Hayao Miyazaki announced his retirement, then made this movie, already described as "another Miyazaki masterpiece," which is opening with preview showings beginning Thanksgiving week.
Wonka
December 15, 2023
The date for this film, starring Timothee Chalamet, was moved back to December in an early 2022 shuffle. The story will focus on an early adventure of the title character.
Aquaman and the Lost Kingdom
December 22, 2023
The Aquaman sequel has been moved a couple of times, most recently in August of 2022. Black Manta is back, seeking revenge on Aquaman for killing his father in the first movie.
Click here for Best in Shows – 2024!