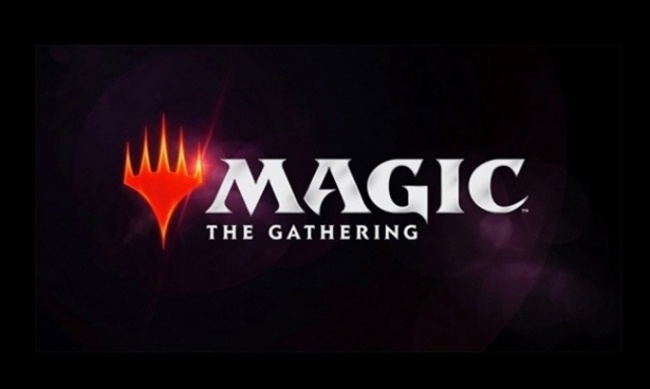 Wizards of the Coast announced
Universes Beyond
, a sub-brand series for
Magic: The Gathering
, that will include
Magic
expansions featuring
Lord of the Rings
and
Warhammer 40,000
. Products for this sub-brand series are slated to begin releasing in 2022.
Last fall's Secret Lair X The Walking Dead (see "Preview: 'Magic: The Gathering' 'Secret Lair X The Walking Dead' Contents and Images") was apparently only a test run for what WotC has in store for fans of Magic: The Gathering in 2022. Universes Beyond allows fans of Magic to play a game of Magic featuring characters, worlds, and stories outside the traditional Multiverse of Magic: The Gathering. These Universes Beyond sets will still have traditional Magic cards, but the cards will be branded slightly differently with a unique holofoil stamp and are not legal for Standard play.
The first two licenses WotC will explore with this new Magic sub-brand are Lord of the Rings and Warhammer 40,000, which had both been CCGs in the past (see " Warhammer 40k CCG at Printer", and also "LOTR Starter Decks Sell Out"). They will make Commander Decks for Warhammer 40K, Lord of the Rings product in an unspecified format. [note: corrected from an earlier version that said both would be Commander Decks - 2/28/21, 5:30 CT - ed.]
The adoption of Universes Beyond opens Magic sets up to several possibilities for license collaborations, as their parent company Hasbro has toy licenses for Disney brands as well as a healthy catalogue of in-house licenses such as My Little Pony, Transformers, and G.I. Joe, some of which have already appeared on Magic cards (see "'My Little Pony' 'Magic: The Gathering' Card Set Will Be Sold To Raise Money For Extra Life Charity").
Wizards of the Coast also left the door open for producing re-skinned treatments of Magic: The Gathering cards featuring licenses, like the Godzilla cards found in Ikoria (see "Godzilla Pantheon to Appear in 'Magic: The Gathering - Ikoria: Lair of Behemoths'"). They will default to letting the cards "stand on their own", but if a "charming re-skin opportunity" comes up, they may take advantage of it. On another related note, the upcoming Adventures in Forgotten Realms set will not be part of Universes Beyond; it will still be a Standard set (see "Wizards of the Coast Drops 'Magic: The Gathering's' Release Schedule For 2021"), although as of the publication of this article, Forgotten Realms has not been canonized as part of the Magic Multiverse (although WotC did say they may do so in the future). [Note: This was corrected from a statement that Forgotten Realms was slated to be canonized 2/28/2021 2 CT, ed.]