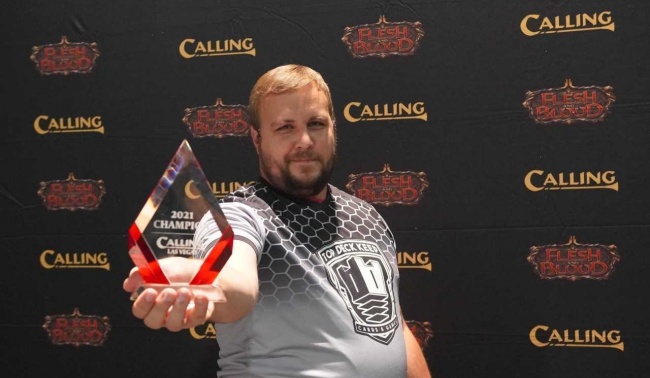 Legend Story Studios announced that their The Calling Las Vegas main event, for
Flesh and Blood TCG
, fielded 750 players. The Calling Las Vegas events took place at the Las Vegas Convention Center on September 10-12 (see "
Legend Story Studios and ChannelFireball Team Up Again
").
This event offered $10,000 in cash prizes as well as professional tournament invitations and Golden Cold Foil prize cards. The event was also the world premiere of the new Tales of Aria set (see "'Tales of Aria'"), which was unveiled on Friday, September 10 at a six-round sealed Swiss event. The Classic Constructed main event played out over the course of two days, and featured a finals showdown between two decks featuring Monarch heroes, Tyler Horspool's Prism deck and Sebastiano Cavallo's Chane deck. Tyler Horspool ended up winning the championship and took home the top prize of $1200, a Golden Cold Foil Extended Art Fyendal's Spring Tunic, and Professional Tournament Invite.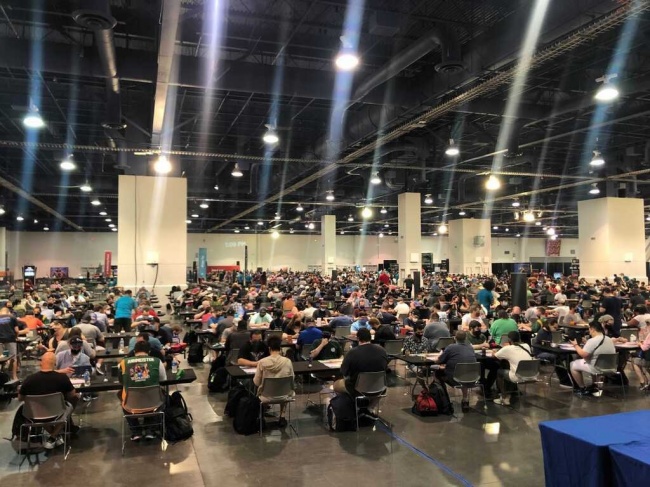 The Calling Las Vegas represents a major landmark for
Flesh and Blood TCG
, as far as U.S. organized play is concerned. The main event fielded 750 players, making it was one of the largest in-person TCG tournaments to take place in the U.S. since the start of the COVID-19 pandemic. With Wizards of Coast cancelling the
Magic
Pro and Rivals Leagues after the 2021-2022 season (see "
'Magic: The Gathering' Play
"), the success of The Calling Las Vegas event opens up space and opportunity for LSS to firmly establish their own competitive professional TCG structure in the U.S.
On the FLGS level, the competition, prizes, and potential glory of a competitive pro tour may function as an incentive for players to buy Flesh and Blood product, as was once the case with Magic: The Gathering and their PPTQ system (see "Old Players and New"). LSS has strong TCG partners, TCGplayer (see "Local Game Stores") and CFB, as well an organized play support system for retailers, which makes Flesh and Blood TCG a solid contender to live up to its tagline as being the "The New Classic TCG."
Click on Gallery below for full-size images and winning decklists!
(Photo Credits: @chosler, @goberthicks, @cspranklerun, and @TappyToeClaws.)