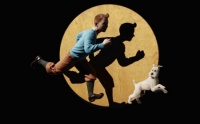 Confessions of a Comic Book Guy is a weekly column by Steve Bennett of Super-Fly Comics and Games in Yellow Springs, Ohio. This week, Bennett talks about the latest comic-based movie to open in the U.S.
As previously mentioned while growing up going to the movies on Christmas wasn't specifically forbidden for religious reasons it was certainly unthinkable so now that I'm on my own I can finally live my dream and celebrate Christmas Day the way Jewish people do--with a Chinese buffet and a movie. And it will probably come as no big surprise this year's selection was
Adventures of Tintin
(it apparently lost its
Secret of the Unicorn
subtitle crossing the Atlantic). Don't worry, I don't plan on reviewing it as plenty of people already have, so I won't be writing about how accurate the adaptation is or if I found the CGI animation 'creepy' (i.e. the whole "Uncanny Valley" thing). And certainly not the movie's American marketing, though I certainly could.
Like how, except for that inexplicable cross promotion with Purina Dog Chow it seemed as if the producers were trying to keep the movie's release a state secret, especially from kids (if ever there was a film that needed the support of the tweens it was
Adventures of Tintin
, so the almost complete lack of promotion on Nickelodeon and The Family and/or Disney Channel does seem a bit strange). They certainly kept the fact that it was based on a (if I'm allowed to use the term when talking about Tintin) comic, though I can understand why. I suppose the thinking was it was going to be tough enough promoting a kid's movie lacking both fart and booger jokes which focuses on the partnership between a teenage boy and a drunken middle aged sea captain without bringing up the whole funny book angle. Not to mention the fact it's hard selling a massive American audience a 'period' (even if the 'period' was unspecified) movie set in Europe with European heroes.
And although they had literally years of lead time as far as I can tell the movie's producers did absolutely nothing to promote the reading of Herge's Tintin graphic novels. Which I'll acknowledge wasn't technically their job but which could have helped promote the movie. And I know I've ridden this hobbyhorse before but I'd also like to suggest that at least one of the reasons why Herge's
Tintin
has never broken the States has a lot to do with, well, Tintin. By which I mean the creaky decades old translation, the decidedly un-American looking lettering, dialogue boxes instead of balloons, etc.; would it have killed them to spend the money to adapt the material for the American market? Though the fact that it made 250 million worldwide and opened in 5th place in America it's kind of hard to argue with their 'least that they could do' strategy.
But I will say this, I liked it, I even liked the 3-D and I generally prefer my films flat (when I arrived at the box office with my usual lack of planning left me with dilemma; see the 3-D version that was playing in ten minutes or wait an hour and a half for the next non-3-D showing so I bit the bullet and took the plastic glasses). Though it's worth noting that the 3-D looked like like crap throughout all of the 3-D trailers that preceded
Adventures of Tintin
and it took two different people complaining before the theater actually did anything about it.
So I liked it, but then, I'm the guy who liked the
Speed Racer
movie so take that opinion under advisement. Critics have complained how there's too much action (as if such a thing was even possible), it never slows down, etc., like they actually believed that Tintin and Captain Haddock were going to abandon their quest at some point and sit quietly and talk about their feelings. I've repeatedly said that more and more what I'm looking for at the movie is something that I've never seen before, and that certainly applies to
Adventures of Tintin
. But unfortunately that doesn't seem to be the case when it comes to the majority of Americans, which is how we get things like
Alvin and the Chipmunks: Chipwrecked
. And just so you know I'm no snob: if they make a big screen live action/CGI version of Clyde Crashcup I am totally there.
Due disclosure compels me to reveal that I did not in fact, as I said in last week's column, receive nothing for Christmas (see "
Confessions of a Comic Book Guy--I'm Getting Nothing For Christmas
"). I downloaded the soundtrack to one of my favorite 60's movies
What's New, Pussycat?
and got the latest Cinematic Titanic movie
War of the Insects
from the EZ Takes site. On the other hand I didn't get anything I'd ever have to dust, which was fine by me, but as trends go not exactly good news for retailers.
The opinions expressed in this column are solely those of the writer, and do not necessarily reflect the views of the editorial staff of ICv2.com.