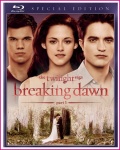 The fourth installment in the Twilight franchise debuts on Saturday and threatens to steal all the home entertainment thunder, but there are some gems due out on Tuesday including the white-hot miniseries Downton Abbey, the brilliant U.K. cop drama New Tricks, and a quartet of classic movies that are debuting in new hi-def transfers.
Theatrical Movies
Clearly the top release of the week and the first monster DVD debut of the year is The Twilight Saga: Breaking Dawn, Pt. 1 (Summit, "PG-13," $30.99, BD $33.99), which is so big that it gets its own special release day on Saturday the 11th. The Twilight saga has lost none of its box office power and the fourth video installment of the franchise is likely to be one of the bestselling home entertainment releases of the year. Summit does a nice job of packaging this product for the real Twilight fan with lots of extras included with both the 2-disc DVD and the BD releases including an elaborate six-part "Making-Of" documentary.
As expected there aren't a lot of other big releases ready to go head-to-head with Twilight. A Very Harold and Kumar 3D Christmas (New Line, "R," $28.98, BD $35.99, BD+3D $44.95), is the least successful ($35 million domestic) film in the stoner comedy franchise. Don't expect Noel Coward, but if your taste is broad enough to include raunchy stoner comedy this film will definitely deliver some laughs.
Better a stoner comedy than Anonymous (Sony, "PG-13," $30.99, BD $35.99), a well-mounted and well-acted film in service to a historical distortion, the proposition that William Shakespeare didn't write the plays attributed to him. With so many drama and intrigue-filled historical sagas that have never been brought to the screen, and with so many deserving works of fiction that could adapted, to say nothing of original screen stories, it is a terrible waste to put the resources of a film like Anonymous in the service of a lie. The Bard himself penned the perfect one-sentence review for Anonymous--Much Ado About Nothing."
An equally bad film that fails in spite of a great cast that includes Julia Roberts, Willem Dafoe, Ryan Reynolds, Emily Watson, and Ioan Gruffudd is Fireflies in the Garden (Sony, "R," $30.99), a turgid, dysfunctional family saga that is a more painful experience than a root canal. This dog's breakfast of a film earned a mere $70,000 during its disastrous theatrical release. The fact that a film with a cast like this is not being released in the Blu-ray format tells you all you need to know about this turkey.
TV on DVD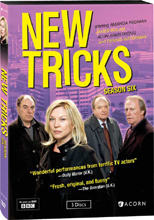 The top live-action releases come from across the pond this week led by that 800-pound miniseries guerilla
Downton Abbey Season 2
(PBS, 480 min., $44.99, BD $49.99). With its brilliant cast, expensive production values, and an astute mixture of upstairs and downstairs melodramas,
Downton Abbey
has been setting all sorts of modern viewership records for PBS. Don't worry about how original this series is—the producers certainly didn't reinvent the wheel with this one—just enjoy the ride.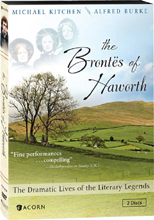 Although its production values can't be compared with
Downton Abbey
,
The Brontes of Haworth
(Acorn Media, 260 min., $39.99) miniseries, which aired back in 1973 and exhibits the technical deficiencies of its era, has an advantage—its story is the real life tragic saga of the Bronte family, whose literary talents were as formidable as their fates were tragic. Poet and playwright Christopher Fry does an excellent job of distilling the Bronte family history, and the strong cast headed by a young Michael Kitchen as Branwell Bronte is simply superb in this series that still has the power to delight literate audiences.
But for those who enjoy a highly entertaining crime series there is nothing better than
New Tricks Series 6
(Acorn Media, 470 min, $39.99), the latest American DVD release of the popular U.K. series that is seen on many PBS stations here. Amanda Redman plays a principled career police officer who heads up a geriatric unit of ex-detectives charged with cleaning up cold cases. Their personal stories prove to be as interesting as the cases they solve in this "thinking man's Matlock," which deftly moves from state-of-the-art forensic investigation to relaxed comedy.
Also due this week is Northern Lights: The Complete Collection (Acorn Media, 713 min., $59.99), a collection of slice-of-life comedy dramas about two mates, whose enduring relationship is often strained by competition, but survives in large part due to the patience and perseverance of their two wives, who just happen to be sisters.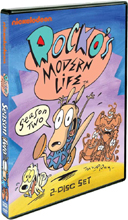 The best U.S. releases this week are animated topped by
Rocko's Modern Life Season 2
(Shout Factory, 286 min., $19.93), which collects the second season of the animated series created by Joe Murray that ran on Nickelodeon from 1993-1996. This saga of an anthropomorphic wallaby is a surreal satire that is (somewhat surprisingly for Nickelodeon) liberally larded with adult humor and double entendres—and it's these elements that make the show especially interesting (and funny) today. The other TV animated release this week is the single-disc
Curious George Saves the Day
(Universal, 108 min., $16.98).
The most interesting live-action U.S. release is C.S.I.: Grave Danger (Paramount, 85 min., $24.99), which collects the award-winning final episodes of the 2005 season that were directed by Quentin Tarantino and proved to be the highest rated episodes in the series so far. Older series due this week include the Father Dowling Mysteries: Season 1 (Paramount, 474 min, $28.99), the 1960s western Laramie: The Complete 2nd Season (Timeless Media, 1650 min., $39.98), and the groundbreaking Policewoman: The Complete 2nd Season (Shout Factory, 1000 min., $44.99) that stars Angie Dickinson.
Anime
The top release this week is
Sengoku Basara 2: The Complete Series
(Funimation, "14+," 325 min., $64.98), the 12-episode (plus an OVA) anime adaptation by Production I.G. based on the samurai action video game from Capcom. Also new this week is
Arakawa Under the Bridge Season 2
(NIS America, "13+," 316 min., BD $69.99), which includes all 13 episodes of the second season of the 2010 anime series produced by Shaft that was based on the
seinen
manga by Hikaru Nakamura. Also new is the single-disc release
Mobile Suit Gundam Unicorn Part 2
(Bandai, "13+," 120 min., $29.98).
Among the re-releases this week the top choice is the Right Stuf's excellent new edition of Gasaraki: The Complete Series (Nozomi Entertainment, "13+," 625 min., $49.99), the classic late 1990s mecha series from anime powerhouse Sunrise. Other re-priced re-releases due this week include Code Geass: Lelouch of the Rebellion Complete Season 2 (Bandai, "13+," 625 min., $49.98), the Kyoto Animation series, K'On Complete Collection (Bandai, 330 min., $39.98), Mobile Suit Gundam 00 Complete Season (Bandai, "13+," 625min., $49.98), Mobile Suit Gundam 0079 Complete Collection 2 (Bandai, "13+," 500 min., $49.98), and Xam'd Complete Collection (Sentai Filmworks, "14+," 650 min., $79.98, BD $89.98), which was previously released in two parts, each of which went for $59.98 (the BDs were $69.98 for each part).
Classics on Blu-ray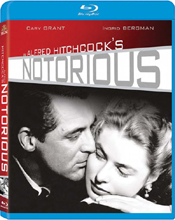 The Lady and the Tramp
may not be one of the very best of the Disney animated features, but this 1955 film was the first widescreen Disney animated feature. The new
Lady and the Tramp Diamond Edition
(Disney, "G," $39.99) features a spectacularly good high-definition transfer that makes this the home entertainment version to have. All the detail and the textures created by the Disney animators are preserved in this new pristine transfer.
The quality of a transfer is dependent in large part on the quality of available source material, and since Disney has done an exemplary job of preserving its films like
Lady and the Tramp
high quality hi-def versions are possible. The same holds true for the new Blu-ray edition of
Rebecca
(MGM, not rated, BD "$24.99), the 1940 Alfred Hitchcock film based on the Daphne DuMaurier novel.
Rebecca
was always a popular feature and the original negatives were fairly well-preserved, which means that the new
Rebecca
Blu-ray is actually one of the better moderately-priced hi-def versions of 1940s films. Yes, there are a few scratches and other blemishes, but in general
Rebecca,
which is one Hitch's most interesting and consistently entertaining 1940s films, looks far better than it ever has on DVD.
The same can also be said of Notorious (MGM, not rated, BD $24.99), which is one Hitchcock's very best films. Once again this transfer is not without a few blemishes, yet this is far and away the best home entertainment version of the film yet released. Starring Ingrid Bergman, Cary Grant, and Claude Rains, Notorious remains a gripping spy drama with superior performances from the entire cast and plenty of the director's signature "touches." If you like Hitchcock movies and have never seen Notorious, buy this version and you are in for a real treat.
The third Hitchcock film recently released on Blu-ray, Spellbound (MGM, not rated, $24.99) does not fare quite as well in terms of its Blu-ray transfer. Here it is clear that the original source material was not quite up to snuff. The transfer is solid, but it does tend to vary a bit, and it is certainly not as sharp as in the two Hitchcock films discussed above. Since Criterion has released a version of this movie, there is at least the possibility that Criterion could release a Blu-ray edition, and given that label's track record for quality, cinephiles might want to wait. For ordinary viewers, however, this version will do quite nicely. Spellbound, which stars Gregory Peck and Ingrid Bergman, might be one of the most purely "Freudian" films produced in Hollywood, and the story's psychological aspects occasionally get in the way, though I must say upon viewing the film again, even with its flaws, both visual and narrative, it remains a very interesting and entertaining movie, and in the dream sequences designed by Salvador Dali there is the confluence of two of the cagiest and most adroitly self-promotional artists of the 20th Century.

--Tom Flinn

The opinions expressed here are solely those of the writer and do not necessarily reflect the views of the editorial staff of ICv2.