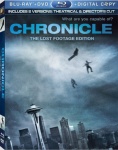 This week's top home entertainment offerings include an unlikely "found footage" superhero saga, an existential survival story worthy of Jack London, a sun-blistered neo-noir, and a gritty TV western saga set in a railroad town call Hell on Wheels.
Theatrical Movies
The top pick from this week's collection of interesting genre films is Josh Trank's Chronicle (Fox, "PG-13," 84 min., $29.98, BD $39.99), a teenage superhero epic that was made for $12 million and grossed $124 million worldwide. Three teenagers acquire telekinetic powers and attempt to adjust to their newfound abilities, while their struggles and triumphs are being recorded by another teen in what has to be seen (despite its flaws) as the best of the current wave of (mostly execrable) "found footage" films. A lot of the power of this film is based on its steadfast determination to illustrate Lord Acton's famous proverb about the effects of power, and since it isn't based on a comic book universe its "heroes" have something their more illustrious printed page counterparts don't--the ability to fail. Fox wants Chronicle director Josh Trank to helm its Venom movie--if he does, he will have a hard time making it as fresh and original as Chronicle, which earned a sterling 86% positive rating on Rotten Tomatoes.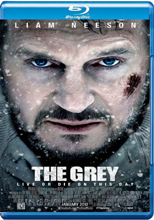 The Grey
(Open Road Film, "R," $29.98, BD $34.98) is a powerful survival adventure starring Liam Neeson that is set in the Alaskan wilderness. The computer-generated wolves don't act like real wolves, who don't present nearly the menace to man that the creatures in the film do, but this sort of existential movie doesn't really need a reasonable premise to be effective (if you don't believe me, watch
The Incredible Shrinking Man
). Joe Carnahan's contemporary take on a Jack London survival tale starts with a heck of a plane crash moves on like a freight train from there.
The Grey
managed an excellent (for a genre film) rating of 75% positive on Rotten Tomatoes.
Janet Evanovich's Stephanie Plum novels are hugely successful, but the adaptation of her first Plum novel, One for the Money (Lionsgate, "PG-13," $29.95, BD $34.98) flopped at the box office where it just made $36.9 million worldwide against a cost of over $40 million. Critics absolutely loathed this film, which received only a 2% positive rating on Rotten Tomatoes. Audiences liked the film a lot more than that, and fans of the book should think about checking the film out on DVD. It's no masterpiece, but it's not the "paint-by-numbers" disaster that the critics, who often appear to be the victims of herd mentality, called it either.
Quite a bit better, though not necessarily any more enjoyable, is Rampart (Millennium Films, "R," $29.99, BD $34.99) a sun-bleached neo-noir set in L.A. with a searing performance by Woody Harrelson as a cop, whose life is turned upside-down and out-of-control when he is caught on tape beating a suspect.
The art house movie of the week is Albert Nobbs (Roadside Attraction, "R," $27.98, BD $39.99) in which Glenn Close portrays a woman who passed as a man in 19th Century Ireland. Close first played this role on the stage in 1982 and has been fighting to get it on screen ever since. Unfortunately its stage play origins tend to haunt this film, which is primarily memorable for Close's brilliant portrayal.
TV on DVD
Not a lot of new "TV on DVD" titles this week though some animation buffs might find Freak Show (Olive Films, 157 min., $39.95) interesting. This short-lived 2006 series follows the adventures of a group of carnival oddities with names like The Bearded Clam, The World's Tallest Nebraskan, and Log Cabin Republican, who are actually operatives for the CIA.
Aaahh!!! Real Monsters (Shout Factory, 300 min., $19.97) is a much more conventional animated series developed by Klasky Csupo for Nickelodeon that aired in the 1990s and followed the exploits of three young monsters attending a monster school run by a monster known as The Gromble. Even more conventional is Scooby-Doo! 13 Spooy Tales from Around the World (Warner Bros., 286 min., $19.98), which includes 13 episodes of globetrotting adventures featuring the entire Scooby gang.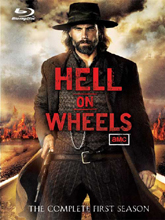 The most interesting new TV release of the week is
Hell on Wheels: The Complete 1st Season
(eOne Entertainment, 450 min., $39.98, BD $44.98), a gritty western that aired on cable channel AMC and has been renewed for a second season. The hero of
Hell on Wheels
is an ex-Confederate officer who is roaming the West in search of the Union soldiers who killed his wife. His travels take him to the roaring railroad town of Hell on Wheels where he meets up with a construction gang working on the transcontinental railroad in this series that actually takes the history of the West seriously.
Of interest primarily to fans of The Hangover star Zack Galifianakis is Dog Bites Man: The Complete Series (Olive Films, 200 min., $39.95), a semi-improvised 2007 comedy series about an inept local TV news team.
Vintage TV series due this week include the 1950s sitcom Hazel: The Complete Third Season (Shout Factory, 780 min., $34.93), which starred the talented Shirley Booth, and Riverboat: The Complete Series (Timeless Media, 2130 min., $39.98), an NBC western that aired from 1959-1961 and starred Darren McGavin and the young Burt Reynolds.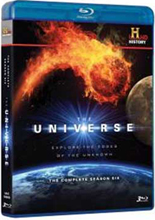 The top documentary release of the week is
The Universe: The Complete Season Six
(A&E, 658 min., $39.95, BD $44.95), which includes 14 episodes that aired in 2011. This History Channel series looks especially great on Blu-ray where the CGI effects depicting the birth of galaxies and other celestial events are rendered extremely well as are the interview segments. The main trouble with this series (and with most of the "science" and "history" shows on the commercial cable networks) is its tendency to sensationalize science with episodes like "Catastrophes That Changed Planets" and "Worst Days on Planet Earth" that dwell on the apocalyptic, and then there is the inevitable UFO episode as well as a "God and the Universe" episode that won't likely please either the religious or the atheistic. Still this is an often compelling series, and if it tends to repeat itself, perhaps it is just because we have so little concrete knowledge about the actual universe that it's hard not to repeat yourself, especially after six seasons.
Anime
There are no major anime releases this week, but there will be a bunch of big titles next week including the latest from Studio Ghibli.

--Tom Flinn

The opinions expressed in this column do not necessarily reflect those of the editorial staff of ICv2.com.