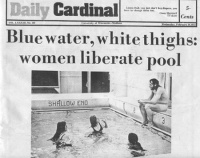 World According to Griepp is an occasional column by Milton Griepp, President of ICv2, comiXology board member, Vice President of the Comic Book Legal Defense Fund, and 35-year veteran of the geek culture business. This column looks at an amazing 1973 piece by Steven Grant that documents the origin of geek cullture.
I was cleaning out some stuff from my parents' house last weekend (one of the sad tasks that comes after your parents pass away, which mine did a couple of years ago) and came across a pretty amazing column in an early 1973 issue of the Daily Cardinal, the student newspaper of the University of Wisconsin. I was a student at UW then, and for some reason lugged a big pile of papers back to my parents' house the following summer, where they remained for nearly 40 years. The cover story on the February 28, 1973 issue was "Blue water, white thighs: women liberate pool," about the protest swims by women at the men-only pool at the Red Gym, where men were in the habit of swimming nude in single-sex isolation. Articles on Vietnam peace talks, the arrest of Karl Armstrong (who was part of a group that had bombed Sterling Hall on campus in an anti-war protest a few years prior), and the mayoral campaign of Paul Soglin, then running for his first term as the youngest Madison mayor in history; ads for movies like Deliverance, Sleuth, Sounder, and Cabaret; and an ad for an upcoming Pink Floyd concert completed the editorial and advertising environment for the amazing column in the issue.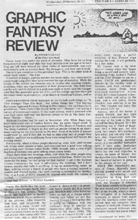 The column was by Steven Grant. Yes, that Steven Grant, best known for writing
Punisher
and other Marvel titles in the 80s, writer of Capital Comics'
Whisper
, and more recently writer of
2 Guns
, which is being made into a Universal film (see "
'2 Guns' Premiere Set for August 2013
"). That was before we met, but he was obviously very much into comics as a student, as evidenced by "Graphic Fantasy," his column in the student newspaper.
The reason the column is amazing is that it captured in a single piece the roots and formation of geek culture, at least as regards comics. "Madison Fandom had its start in November, 1972," Grant wrote. He describes a meeting of fans promoted by announcements in the Daily Cardinal and The Haunt of Fandom, a local fanzine.
"It began as five nervous people sitting in an apartment waiting for the first knock on the door. None of us knew if anyone would show up, and if they did, we had no idea what sort of people they would be, and how we would keep them from being bored stiff before the evening ended. Fortunately, about a dozen people showed up, wine, beer, and various soft drinks were passed around, and everyone had a good time talking and poring over various comic books. Oddly enough, only a very slight fraction of the time was spent talking about comic books. There have been two meetings since, and while the older people may not always show up, new people come around all the time. There's no real name for the group; no real group for that matter... It has no membership roster, no dues, nothing except a bunch of people who have a mutual interest in comics and related media."
In the intro, Grant talked about what fans saw in comics. "A number of people, and the number increases daily, stay interested in comics long after they have reached the age of maturity... College age fans have put the comic books in perspective: as products of American Culture, and as art. Conversations that dominate do not include such things as 'Is Thor Stronger Than The Hulk,' but rather things like 'The Harvey Kurtzman Approach to Story-Telling in the Comics.'"
The rest of the column reviews some of the comics of the day: the new run by John Buscema as artist on Conan, replacing Barry Smith (Grant liked Smith better); DC's Fafhrd and the Grey Mouser adaptation in Sword of Sorcery ("sleeper of the year"): Marvel's War of the Worlds, with art by Neal Adams (he likes it) and by "a talented newcomer named Howie Chaykin;" and Marvel's Worlds Unknown, a science fiction adaptation book with a "real-life-down-on-the-knees-and-beg-type plea from Roy Thomas to buy the magazine" ("So buy it," Grant writes. "It only costs $.20.").
Grant was smart enough to not only be living the birth of geek culture, but also to note it and document it. The meetings he described were the formative moments, for that time and place, of a community of fans that affirmed each other's appreciation for comics and related pop culture. That community, formed in gatherings like this across the country, some before and some after the ones he described, has grown in size and influence to the point where it now accounts for a major percentage of the total entertainment produced by Hollywood. Now fans gather not just in apartments, but at huge events like the San Diego Comic-Con and New York Comic Con. And for bonus points, he also spotted Howard Chaykin on the way up (Grant would later be selected by Chaykin to script American Flagg when Chaykin left the book). Pretty impressive for a college student.