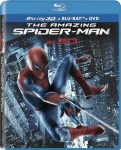 It's a strong week for home entertainment releases led by Marc Webb's successful Spidey reboot, plus there's also one of the best new seasonal films in decades, and the first Blu-ray editions of Lon Chaney's twisted classic The Penalty, Billy Wilder's Sunset Boulevard and an anime Little Nemo in Slumberland.
Theatrical Movies
Marc Webb's successful rebooting of the Spider-Man franchise in The Amazing Spider-Man (Sony, "PG-13," $29.99, BD/DVD $40.99, 3D/BD $54.99) earned $752 million (against a production cost of $230 million) and found favor with 73% of the critics on Rotten Tomatoes. Since it's been only five years since the final film in Sam Raimi's Spider-Man Trilogy debuted, it seemed awfully soon to revamp the franchise and retell the origin story of Marvel's most popular character, and much of the criticism of the movie dwells rather unfairly on its lack of narrative originality. But by focusing on the Gwen Stacy storylines from the comic, Webb did manage to add in some new elements, and in Andrew Garfield and Emma Stone he found two very talented leads that can stand comparison with Tobey McGuire and Kirsten Dunst in the Raimi trilogy. The domestic total of Webb's reboot was down 23% from the weakest of Raimi's Spider-Man films (#3), an indication that there was some resistance on the part of audiences to seeing yet another version of the Spider-Man origin story. Be forewarned that this saga has been told before. Those expecting something entirely new will be disappointed, but those who like the character should be impressed with Garfield's take on Peter Parker, which is quite a bit different from Tobey McGuire's, and by Webb's patience in devoting the early sections of the film to character development rather than just stringing together a bunch of mindless action sequences.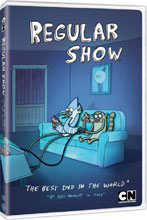 Sony is quite confident that the new
Spider-Man
movie will top the home entertainment charts, but Spidey might get a run for his money from the studio's other release this week,
Arthur Christmas
(Sony, "PG," $30.99, BD/DVD $40.99, 3-D BD/DVD $54.99), a new Christmas "classic" from Aardman Animation (
Wallace & Gromit
). Actually
Arthur Christmas
represents the first collaboration between Aardman, which contributed the narrative and the character designs and Sony Pictures Animation, which handled the computer animation. Critics loved
Arthur Christmas
, which received a 93% positive rating on Rotten Tomatoes. The film didn't make money at the box office, earning just $147 million worldwide, which is not enough to defray its $100 million cost. But like
It's a Wonderful Life
and a number of other classic Christmas movies, it will be up to
Arthur Christmas
to turn a profit after its theatrical run, and this is one of the few contemporary seasonal films that is actually worth watching—especially if there are kids in the household--so a big run on disc is quite possible.
Those who like indie, slice-of-life romantic comedies might well enjoy Your Sister's Sister (MPI, "R," $24.98, BD $29.98), which stars Emily Blunt and Mark Duplass in a complex "relationship-heavy" saga set among the slackers of the Pacific Northwest and directed by Lynn Shelton (My Effortless Brilliance).
TV on DVD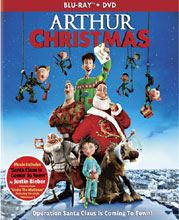 The pace of releases in this category has finally slowed down, but there are some gems this week, particularly in the animation genre. The best of the lot is the
Regular Show: Best DVD in the World
(Warner Bros., $19.82), which collects 16 choice episodes from the innovative, Emmy-nominated Cartoon Network series that parents can enjoy just as much as their kids do.
Other key animated releases include The Bugs Bunny Looney Tunes Comedy Hour: Hilarious Ham (Warner Bros., 126 min., $19.98), which collects 18 classic cartoons featuring the swinish stuttering satrap of Termite Terrace, Porky Pig, the seasonally-oriented SpongeBob SquarePants: It's a SpongeBob Christmas (Nickelodeon, 88 min., $14.99), which collects a quarter of yuletide-themed episodes, and which of course is infinitely preferable to the Alvin & the Chipmunks: Christmas With the Chipmunks (Bagdassarian Productions, 88 min., $20.99).
The top contemporary live-action release is Entourage: The Complete Series (HBO, 2640 min., $249.99, BD $299.99), which includes all 96 episodes of the multi-Emmy Award-winning series on 18 discs. The other major contemporary release is Law & Order: The Eleventh Year (Universal, 1008 min., $36.98).
Fans of obscure genre TV might want to check out Wolf Lake: The Complete Series (eOne Entertainment, 500 min., $39.98), which collects the entire short-lived 2001 series (only 5 episodes were shown on CBS) including the never-aired pilot episode of the werewolf-themed horror series that starred Lou Diamond Phillips and Mary Elizabeth Winstead.
There's a holiday-tinge to a couple of this week's vintage TV offerings that include The Carol Burnett Show: A Carol Burnett Christmas (eOne Entertainment, 240 min., $19.98), and The Dean Martin Show: A Dean Martin Christmas (Time Life, 48 min., $12.98).
Non-holiday vintage TV releases include The Life and Times of Grizzly Adams: Season 1 (Timeless Media, 600 min., $29.93), and Elvira's Movie Macabre: Mega Movie Marathon (eOne Entertainment, 1080 min., $34.98), which includes 10 "Grade Z" horror movies like I Eat Your Skin, The Werewolf of Washington, and Jesse James Meets Frankenstein's Daughter, plus one really good horror film, George A. Romero's Night of the Living Dead.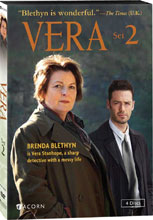 The best U.K. release this week is
Vera: Set 2
(Acorn Media, 370 min., $59.99), a great collection of four feature-length mysteries starring the Oscar-nominated Brenda Blethyn as the disheveled DCI Vera Stanhope, a sort of female Columbo who is a lot sharper than most of the criminals she comes into contact with realize. With strong stories based directly on the detective novels of Ann Cleeves,
Vera
is a real delight for murder mystery fans looking for something a little different.
Anime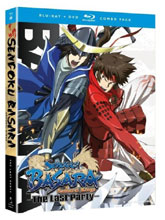 It's a busy week for anime releases led by
Sengoku Basara The Movie: The Last Party
(Funimation, "!4+," BD/DVD Combo $34.98), a movie adaptation of the anime series based on the popular crowd-fighting martial arts video game set during the feudal Sengoku period. Also of great interest is
Horizon in the Middle of Nowhere: Season 1 Collection
(Sentai Filmworks, "14+," 325 min., $59.98, BD $69.98), a 13-episode 2011 anime TV series from Sunrise that is based on the popular series of science fiction light novels by Minoru Kawakami that are set on a devastated future Earth where only Japan is inhabitable.
Also new this week is Psychic Squad Collection 4 (Sentai Filmworks, "14+," 325 min., $49.99), which includes the final 13 episodes of the 2008-2009 anime series from SynergySP that is based on Takashi Shiina's popular manga Zettai Karen Children.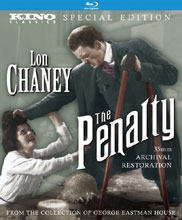 There are also some excellent new editions of previously released material including a new Blu-ray edition of the 1980s anime movie adaptation of Winsor McCay's classic comic
Little Nemo
.
Little Nemo: Adventures in Slumberland
(Eastern Star, "All Ages," 95 min., $29.95) was a troubled production that was designed for the American market and which took more than five years (1984-1989) to complete. The great Hayao Miyazaki did work on this project at the beginning, but left long before it was done. The character designs are closely based on McCay's orginals, and while this film is definitely no masterpiece, it is certainly worth seeing for both anime fans and comic strip devotees.
Right Stuf is back with a new litebox edition of Maria Watches Over Us: Season Two—Printemps (Right Stuf, "13+," 325 min., $39.99), which features the same high quality production as the original 2008 edition, which was priced $10 higher. Viz Media is releasing a new edition of Inuyasha: Season One (Viz Media, "13+," 675 min., $24.98), which includes the first 27 episodes of anime based on Rumiko Takahashi's popular manga that are now available at a much lower price than ever before.
Classics on Blu-ray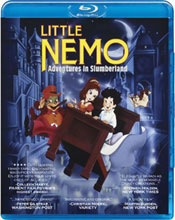 When is it a good idea to buy the Blu-ray version of a silent film? The answer is, when the original surviving prints or negatives are in good enough condition to merit the hi-def treatment. That is certainly the case with the new Blu-ray edition of
The Penalty
(Kino, Unrated," $34.95), a 1920 Lon Chaney film that provided one of the 1920s star's breakout roles. He plays Blizzard, a double amputee who is the mastermind of the San Francisco underworld. The apparatus that Chaney wore to simulate the amputation of his legs was incredibly painful (as is explained in one of the BD's excellent extras). Mastered from a beautiful print,
The Penalty
looks fabulous in this new Blu-ray version with its original tinting intact and just a couple of shots marred by scratches or the decomposition of the original nitrate stock. Forget fever pitch excesses of the story, a sort of a
Red Dawn
for the 1920s, which is based on a right wing (for the time) novel by Gouverneur Morris about a revolution of the criminal underclass led by Blizzard who has taken the hookers from his bordellos to work in sweatshops making straw hats that he will use in lieu of "uniforms" for his ragtag battalions, and soak in the intensity of Chaney's extraordinary performance. The San Francisco location work is stellar and it is fascinating to see scenes of the city that was just a little over a decade after the great earthquake. It is also intriguing to see atmospheric low key lighting used so effectively in this early crime film.
Billy Wilder's 1950 classic Sunset Boulevard (Paramount, Not Rated, $26.98) is simply one of the best film noir ever made in Hollywood thanks to iconic performances from Gloria Swanson, Eric Von Stroheim, and William Holden. This savage look at an industry that devours its past and squanders the human capital it hoards has simply never been topped.