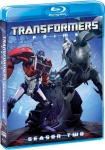 There's a bit of a lull on the home entertainment front this week, but there are still some interesting offerings including "collector sets" that would make great holiday gifts for fans of Doctor Who and Game of Thrones, plus the second season of the Emmy Award-winning Transformers Prime animated series, the new Ken Burns Dust Bowl documentary, and the final anime chapters in Rumiko Takahashi's classic Inuyasha saga.
TV On DVD
Things continue to wind down in this category, but there are some interesting animated releases. Transformers fans will definitely be interested in Transformers Prime: The Complete 2nd Season (Shout Factory, 480 min., $29.93), which collects all 26 episodes of the latest animated series featuring the never-ending conflict between those transforming Autobots and Decepticons. This computer-animated series is very well done and it has won numerous Daytime Emmy Awards. It airs on Hasbro's The Hub cable net, so some fans haven't seen it, but it has definite appeal for Transformers fans—and Season Two builds to a very satisfying (and very combustible) climax.
For those who love Charles M. Schulz's Peanuts comic strip there is The Charlie Brown and Snoopy Show: The Complete Series (Warner Bros. 402 min., DVD-R $29.95), which collects all 18 episodes of the 1980s animated series that was nominated for an Emmy.
Those who enjoy more modern computer-animated fare might like Dragons: Riders of Berk (Fox, 88 min., $14.98), which includes 4 episodes of the Cartoon Network series that is based on the popular Dreamwork's feature How to Train Your Dragon.
It's not a cartoon, but the super-sentai adaptation The Mighty Morphin' Power Rangers: The Complete Series (Shout Factory, 3060 min., $119.95) contains all 155 episodes of the live-action kids' series plus plenty of extras. This massive 19-disc box set was previously sold only at Comic-Con and would certainly be a great gift for the Power Rangers fan.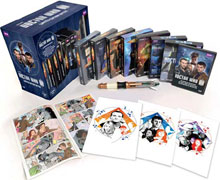 Speaking of great gifts, mention should be made of
The Doctor Who Limited Edition Gift Set: Seasons 1-6
(BBC, 4200 min., $249.95), which includes the first six seasons of the revived
Doctor Who s
eries covering the exploits of the 9th, 10th, and 11th Doctors (Christopher Eccleston, David Tennant, and Matt Smith). Who fans will love the 3
Doctor Who Specials
included in the set, which are coming to DVD for the first time—and who wouldn't want a replica
Sonic Screwdriver
to say nothing of 3 original art cards, and the comic book,
Doctor Who at Comic-Con
.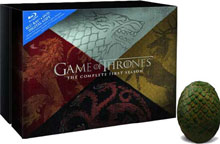 Also designed to fit nicely under the Christmas tree is the
Game of Thrones: Complete First Season Collector's Edition
(HBO, BD/DVD Combo $99.98), which comes with a collectible
"Dragon's Egg" Paperweight
and a Blu-ray bonus disc that includes the first episode of
Season 2
.
Documentary filmmaker Ken Burns' The Dust Bowl (PBS, 160 min., $24.99, BD $29.99) airs on PBS on the very same week it is due on DVD. With tons of photos and even groundbreaking documentary films like Pare Lorentz' The Plow That Broke the Plains, Burns' Dust Bowl documentary should have plenty of visual material to draw on—and with all the meteorological calamities of the past year perhaps Americans are finally ready to take the dangers of man-made global climate change seriously. Maybe they will even begin to realize that it could cost a lot more to ignore this problem and suffer the consequences than it will to start doing something about it. now
Vintage TV series out this week include McMillan & Wife: The Complete Series (VEI, $134.95), The Danny Kaye Show: Christmas With Danny Kaye (Inception Media, 90 min., $14.98), and Different Strokes: The Complete 4th Season (Shout Factory, 570 min., $29.93).
Anime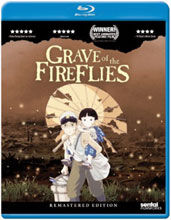 There is a nice selection of old and new items this week including the Blu-Ray edition
Grave of the Fireflies
(Sentai Filmworks, "13+," 89 min., BD $29.98) Isao Takahashi's brilliant and heartbreaking antiwar classic about two orphaned brothers forced to fend for themselves in the horrendous final days of World War II.
Grave of the Fireflies
is simply one of the best anime feature film (and best animated features) ever made.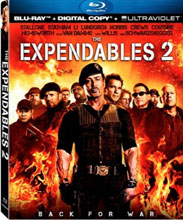 The new series debuting this week are also intriguing, especially
Inuyasha: The Final Act, Pt.1
(Viz Media, "13+," 325 min., $44.99, BD $54.99), which includes the first half of the 2009 TV anime that took up where the previous
Inuyasha
anime left off and dramatizes the final 21 volumes of Rumiko Takahashi's longrunning fantasy saga.
Also new is the Cluster Edge Collection 2 (Sentai Filmworks, "13+," 350 min., $49.98), which collects the second half of the 2005-2006 military science fiction series from Sunrise. For the Pokemon fans there is Pokemon Black & White Set 1 (Viz Media, "all Ages," 360 min., $19.97), which collects the first 12 episodes from the 14th season of the Pokemon animated series.
There are also some great re-release bargains, especially the Soul Eater Complete Series (Funimation, "14+," 1275 min., $59.98, BD $59.98), which collects all 51 episodes of the popular supernatural action comedy series, which were previously released in 4 separate volumes each of which originally cost $69.98. By all means get the Blu-ray, which is priced the same as the regular DVD and has far superior visual and audio quality.
For fans of real vintage anime series there is Galaxy Express 999 Complete Series Part I (S'More Entertainment, 950 min., $59.98), which collects the first 38 episodes of the groundbreaking anime series that aired from 1978-1981.
Theatrical Movies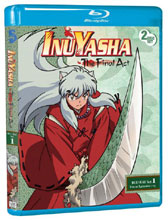 Those who enjoy those 1980s action/exploitation films starring larger-than-life heroes like Dolph Lundgren and Jean Claude Van Damme, and Chuck Norris will find much to enjoy in
The Expendables 2
(Lionsgate, "R," $29.99, BD/Combo $39.99), the second film in the "geri-action" franchise that features superannuated superstars like Sly Stallone, Chuck Norris, Arnold Schwarzenegger, and Bruce Willis recreating the action movie tropes of their youth. Actually Bruce and Arnold, who had glorified cameos in the first film, play much more important roles in
The Expendables 2
, which is actually more watchable than its predecessor due in no small part to their efforts (the truth is that there is a hierarchy of quality that is apparent on the screen, and that even in unpretentious genres like action films, casting really matters).
The Expendables 2
is a movie for those prefer explosions to exposition. It's dumb as a post and more fun than a litter of puppies (if muscles, macho wisecracks, and big guns get your rocks off). Just don't expect even a shred of plausibility or a hint of what the reality of armed conflict is really like.
Tom Flinn
The opinions expressed in this column do not necessarily reflect those of the editorial staff of ICv2.com.