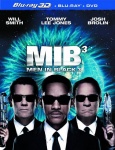 Once again the heart of the holiday shopping season sees the release of more big theatrical hits like MIB 3 plus films like the stop-motion animated Paranorman, and the gritty rural depression-era gangster saga Lawless that are potential cult hits. On the TV side there are more mega-disc "complete sets" for the dedicated fan as well as the first release of individual seasons of Stargate Atlantis on Blu-ray, and for anime fans, the first in a series of new anime movies that will adapt the complete Berserk manga.
Theatrical Movies
This week's bestseller will likely be MIB 3 (Sony, "PG-13," $30.99, BD/DVD Combo $40.99, 3-D BD Combo $55.99). Last summer audiences were looking movies that were "fun," which explains the mega-success of Joss Whedon's Avengers and the lesser but still solid performance of Barry Sonnenfeld's MIB 3, which earned $624 million worldwide (roughly a billion less than Whedon's film). The fact that MIB 3 earned a 69% positive rating on Rotten Tomatoes is a pretty good indication that the latest screen iteration of the property created by Lowell Cunningham and originally published by Aircel Comics is likely to please devotees of the first two Men in Black films. MIB 3's clever plot that has agent J (Will Smith) leap back in time to 1969 where Josh Brolin portrays the young 1960s version of Agent K (Tommy Lee Jones) allows the filmmakers to have an inordinate amount of fun with the conventions of time-traveling science fiction books and movies.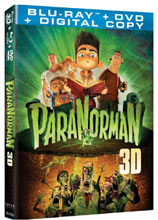 Paranorman
(Universal, "PG," $29.98, BD/Combo $34.98) is the latest stop-motion wonder from Laika Studios (
Coraline
), and this tale of a shy young boy who sees the ghosts who live around him is a potential cult hit on disc. A first rate vocal cast that includes John Goodman, Anna Kendrick, Leslie Mann, Jeff Garlin, and Casey Affleck complements the movie's evocative gothic designs that are sure to please the Tim Burton crowd. This film may be too intense for younger children, but the way it plays with the conventions of popular teen slasher movies and zombie films makes
Paranorman
just as interesting for teens and adults as it is for tweens. Those who might be offended should be aware that word "Hell" is used several times and one of the male characters talks about his "boyfriend."
Those who like their violence bloody and graphically depicted will likely enjoy Lawless (Anchor Bay, "R," $29.98, BD Combo $39.99), a gangster saga set in rural depression-era Virginia and based on a true story of a "moonshine war." Lawless was written by the Australian musician Nick Cave, who also provided the score for the film, which has an excellent cast that includes Tom Hardy (Bane in TDKR), Gary Oldman (Nolan's Batman Trilogy), Shia LeBeouf (Transformers), Jessica Chastain (Tree of Life), and Guy Pearce (L.A. Confidential). Director John Hillcoat, who helmed the recent adaptation of Cormac McCarthy's The Road, is a serious filmmaker who brings plenty of grit to this period bootlegger saga that more than earns its "R" rating for violence.
Also due this week is Sparkle (Sony, "PG-13," $30.99, BD $35.99), a remake of a 1976 film about a 1960s girl group, which is notable for the fact that it contains the late Whitney Houston's final film role as the protective mother of three talented girls who form a singing group that finds success as well discord and conflict in their meteoric rise to success, and The Apparition (Warner Bros. "PG-13," $28.98, BD $29.98), a "ghost" film, which could earn only a 4% positive rating on Rotten Tomatoes and is likely to please only the most devoted fans of that once esteemed horror genre.
The major art house release of the week is Burning Man (IFC, Unrated, $24.98), an Australian film that stars Matthew Goode in a searing performance as a successful chef with his own restaurant whose life careens out of control after a family tragedy. Director Jonathan Teplitzky creates a temporal mosaic of narrative fragments that eventually coalesce into a story that is both sobering and uplifting.
TV on DVD
Whoa there really isn't much happening in this category this week! The only contemporary shows getting releases are the ill-fated horse-racing drama Luck (HBO, 540 min., $69.98, BD $79.98), which was cancelled after a series of unfortunate equine deaths during its simulated horse races, and Hot in Cleveland: Season 3 (Paramount, 528 min., $29.98), the highest rated series in TV Land history (which isn't saying much).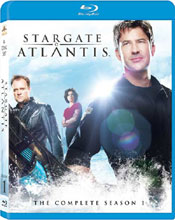 More interesting for geekcentric viewers is the release of all five seasons
Stargate Atlantis
on Blu-ray. Each season includes 20 episodes (880 min.) and carries a cover price of $39.98). A year ago Fox released all five seasons of
Atlantis
on Blu-ray in one big box set (see "
Conan, Supernatural Cartoons & More
"), but the individual seasons were not available on BD until this week.
Also intriguing is Perry Mason: The Eighth Season, Vol.1 (Paramount, 773 min., $55.98), which collects 15 episodes of one TV's very best mystery dramas. Mystery fans might also enjoy Without a Trace: The Complete 5th Season (Warner Bros., 950 min., $39.98).
Other vintage series due this week, which are clearly targeting holiday shoppers with deep pockets, include McMillan and Wife: The Complete Series (VEI, 4350 min., $169.99), Cagney and Lacey: The Complete Series (VEI, 5610 min., $189.99), and the Leonard Nimoy-hosted documentary series In Search Of…The Complete Collection (VEI, 3612 min., $149.99).
Anime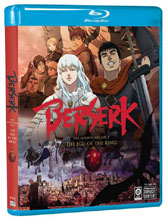 There are just three releases in this category, but direct market fans of the classic seinen martial arts manga Berserk should take note of
Berserk: The Golden Age Arc Movie 1: The Egg of the King
(Viz Media, "17+," $19.98, BD $24.98), a 2012 production that is the first in a series of anime movies that will eventually adapt the entire manga series. Given the small cost differential, it would make sense for
Berserk
fans, who are so equipped, to spring for the Blu-ray edition with its superior sound and visuals.
Also new this week is Intrigue in the Bakumatsu Collection 2 (Sentai Filmworks, "14+," 325 min., $59.98, BD $69.98), which includes episodes 14-26 of the 26-episode series created by Ryosuke Takahashi (Armored Trooper Votoms) and Sunrise that aired in Japan in 2006-2007. The historical drama is set during the final years of the Shogunate and features a hero who is the bearer of the legendary "Moon Tear Sword."
The week's bargain basement re-release is Gao-Gai-Gar Complete Collection: Seasons 1 & 2 (Media Blasters, "7+," 1225 min., $49.99).

--Tom Flinn

The opinions expressed in this column do not necessarily reflect those of the editorial staff of ICv2.com.