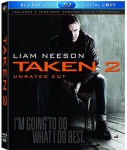 Taken 2, the worthy new entry in the balls-to-the-walls action film series leads this week's disc releases that also include the hilarious faux reality show Life's Too Short, and the latest season of the groundbreaking BBC supernatural series Being Human and Merlin.

Theatrical Movies
This week's top release will likely be Taken 2 (Fox, "PG-13," $29.98, BD/Combo $39.98), which stars Liam Neeson as a retired C.I.A. operative, who once again has to rescue his family from the clutches of nasty bad guys from the fringes of Europe. The two Taken movies produced by Luc Besson are non-stop action films that have performed well above expectations at the box office and Taken 2 should follow suit on disc once again.
Woody Allen has had something of a return to form lately (Midnight in Paris), and his light European touch continues in To Rome With Love (Sony, "R," $30.99, BD $35.99), a collection of four interwoven stories that recalls the great anthology Italian comedy/dramas of the 1950s and 1960s, though Allen's film is a little more travelogue than classic.
Art movie fans might be better off with Farewell My Queen (Entertainment One, "R," $24.98, BD $29.98), a very different look at the French Revolution that managed to earn an impressive 93% positive rating from the critics on Rotten Tomatoes.
Horror movie fans will have to make do with The Possession (Lionsgate, "PG-13," $29.99, BD $39.99), a rather pedestrian child possession-drama enlivened by strong performances from Kyra Sedgwick and Jeffrey Dean Morgan as the bewildered parents.
Also out this week is Won't Back Down (Fox, "PG," $22.98), a preachy but occasionally effective screed leveled at the American system of public education. The film's overly simplistic attempt to blame teacher's unions is never credible (bad teachers can be removed, but administrators have to do their homework and document the teacher's failures), but Maggie Gyllenhaal and Viola Davis give heartfelt performances and this film, in spite of its heavy-handed style, packs a punch because it deals with real serious issues.
TV on DVD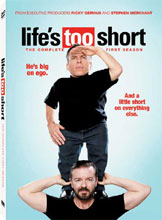 With mid-season series starting their runs this category is beginning to pick up again. The top release is
Life's Too Short
(HBO, 280 min., $29.98), the hilarious and totally politically incorrect series written by Ricky Gervais and Stephen Merchant. The focus of the series is veteran actor Warwick Davis (
Star Wars: Return of the Jedi, Willow
), who proves to be a very versatile and fearless performer as he provides us with a hilariously unlikely look "at the life of a showbiz dwarf." This is the kind of cringe-inducing humor that Gervais and Merchant (
The Office, Extras
) specialize in—it's not for every taste, but it is also important to note that more often than not the focal point of the humor in this "pseudo reality series" are the guest stars such as Johnny Depp, Helena Bonham Carter, Sting, and Steve Carell. Surprisingly it's Liam Neeson who proves to be the funniest of the guest thespians with a hilarious deadpan routine about wanting to become a stand-up comedian.
One of the most interesting U.K. fantasy series of recent years is Being Human, the story of three attractive young supernatural types (a vampire, a werewolf, and a ghost) who are striving mightily to live normal lives in a sleepy seaside town. Being Human: Season 4 (BBC, $49.98, BD $59.98) continues the action as the trio (and humanity at large) is menaced by an increasing powerful array of supernatural forces.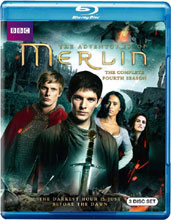 Those who enjoy fantasy TV series should like
Merlin: The Complete 4th Season
(BBC, 536 min., $49.98, BD $59.98), the magic-themed Arthurian series that airs in the U.S. on the Syfy Channel. This U.K. series was heavily influenced by
Smallville
and takes a similar tack with a very youthful version of Camelot.
House of Cards: The Complete Series—Remastered (BBC, $39.98, BD $49.98) is a brilliantly produced series about intrigue and infighting in the innermost corridors of power in Britain—and as such unfortunately has limited appeal here in spite of its sharply drawn characters and brilliant performances. Not too many Yanks will take the time to watch this series, but all Anglophiles should make the effort.
Other U.K. offerings out this week include the crime drama Waking the Dead: The Complete 7th Season (BBC, 683 min., $39.98), which follows the fascinating adventures of DCI Boyd and his cold case squad, and the mockumentary Twenty Twelve (BBC, 172 min., $34.98) that features Hugh Bonneville (of Downton Abbey fame).
Most of the more interesting U.S. TV offerings this week are either vintage series or animated shows. The Jackson 5ive: The Complete Animated Series (Classic Media, 506 min., $32.99, BD $39.99) collects the Rankin Bass series that aired in the earlier 1970s and featured fictionalized portrayals of the Motown Group that featured the very young (and talented) Michael Jackson.
Also due this week are The Wild Thornberrys: Season 2, Part 3 (Shout Factory, $19.98), which collects the imaginative Nickelodeon series, the 8-episode collection SpongeBob SquarePants: Extreme Ka-Rah-Tay (Nickelodeon, $14.98), and the surreal The Amazing World of Gumball, Vol. 2: The Mystery (Warner Bros. 132 min., $14.97).
There are a couple of very good vintage American TV debuts including the groundbreaking mystery series Perry Mason: The 8th Season, Vol.2 (Paramount, $55.98), and Simon & Simon: The Final Season (Shout Factory, $24.99), which collects the final season of the highly enjoyable, lighthearted private eye adventure series.
Anime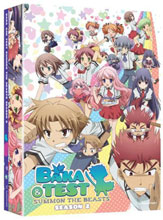 This week's offerings include more Blu-rays, which are thankfully quickly becoming the industry standard for major releases. This week's Blu-ray debuts include
Baka and Test Season 2: Summon the Beast
(Funimation, "14+," 325 min., BD/Combo $69.98), the second 13-episode 2011 series from Silver Link based on the series of light novels by Kenji Inoue about a teenager who leads the flunkies of Class F in a series of fantasy battles against their academic betters from Class A, and the risqué
Panty and Stocking With Garterbelt Complete Series
(Funimation, "17+," 325 min., $69.98), the outrageous fan service-filled Gainax series that debuted on conventional DVD last summer.
Also due this week on Blu-ray is Persona 4: Collection 2 (Sentai Filmworks, "14+," 365 min., $59.98, BD $59.98), an anime series from AIC that is based on the popular computer role-playing game about a teenager from the city who moves to the Japanese countryside where he becomes involved in solving a series of murders.