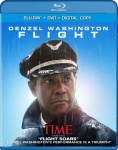 February's home entertainment offerings start off a bit on the weak side, but they do include a powerful performance by Denzel Washington, the first volume of the new Ultimate Spider-Man series from Marvel, and a wonderfully restored version of Disney 1953 animated classic Peter Pan.
Theatrical Movies
Denzel Washington has received an Oscar nomination for his portrayal in Flight (Paramount, "R," $29.99, BD $39.99) of an airline pilot whose life comes apart after his brilliance in avoiding a major catastrophe attracts unwanted attention. Admittedly it is a bit tough seeing Washington self-destruct, but it is powerful performance with plenty of nuances. Flight is an actor's movie with a basic storyline that has been treated again and again in the movies (The Lost Weekend, Days of Wine and Roses, Leaving Las Vegas). As hackneyed as its theme of addiction may be, the authenticity of Washington's performance is startling.
The rest of this week's offerings are of lesser interest. Here Comes the Boom (Sony, "PG," $30.99, BD $35.99) stars the likeable Kevin James (Paul Blart Mall Cop) in a contrived story about a high school biology teacher who enters a mixed martial arts tournament to earn cash for his school, while Alex Cross (Summit, "PG-13," $29.95, BD $38.99) gives Tyler Perry a chance to play James Patterson's Detroit police detective in film that could manage only a 12% positive rating on Rotten Tomatoes, which might have something to do with Perry's having to step into the very big shoes of Morgan Freeman.
Anyone who would like romantic comedy movies to take a different approach might want to check out Celeste and Jesse Forever (Sony, "R," $30.99, BD $35.99), an attempt to find humor in the fadeout rather than the bloom of romantic love. Rashida Jones, who is particularly effective, and Andy Samberg star in a film that will perhaps appeal more to female viewers, though for fans of the well-worn romcom genre any film that gets a 69% positive rating on Rotten Tomatoes is probably worth checking out.
TV on DVD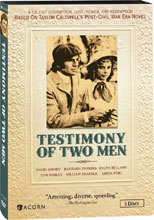 Once again the top domestic offerings in this category are all animated starting with
The Ultimate Spider-Man, Vol. 1
(Disney, 132 min., $26.99), which collects the first six episodes of the Disney XD series, which features input from key Marvel writers as well as veteran animation creators. Though hardly as groundbreaking as first advertised, this show is entertaining in its own right, and
The Ultimate Spider-Man
animated series also serves as an excellent introduction to the Marvel universe for young viewers.
The "Man of Action" group, which helped fashion the Ultimate Spider-Man series, also created the popular Ben 10, which continues to prosper on the Cartoon Network. The latest iteration is Ben 10: Omniverse Vol.1: A New Beginning (Warner Bros., 220 min., $19.97). This 2-disc set includes 10 episodes from the all-new series with its all-new Omnitrix and new alien heroes.
Also due this week is Animaniacs Vol.4 (Warner Bros., 528 min., $29.99), a three-disc collection which includes the final 24 episodes of the 1990s series produced by Stephen Spielberg's Amblin' Entertainment that took its cue from the anarchic humor of great Looney Tunes directors like Tex Avery and Chuck Jones.
The top domestic release is Southland: The Complete Second, Third, and Fourth Seasons (Warner Bros., 1144 min., $59.98), which includes all 26 episodes from seasons 2-4 of the hard-hitting cop drama that may have just been too raw for network TV (which explains why there were only 26 episodes in three seasons of a show that has bounced around considerably before finding its current home on cable).
Speaking of series that float between network and cable, there is Cougar Town: The Complete Third Season (Lionsgate, 520 min., $19.98), which includes all 15 episodes of the third season of the wacky sitcom series that has found a new home on cable (TBS). The first two seasons of the show are also being reissued at the $19.98 price point, which makes them very affordable.
Vintage domestic TV series out this week include Gunsmoke: The Seventh Season, Vol.2 (Paramount, 859 min., $36.98), which features choice episodes from the longest-running western series in TV history, The Virginian: The Complete 7th Season (Timeless Media, 1950 min., $59.98), which features episodes from TV's first 90-minute western series, and Alias Smith and Jones: The Complete Series Special Edition (Timeless Media, 2940 min., $29.83), which contains all 50 episodes of the 1970s western series.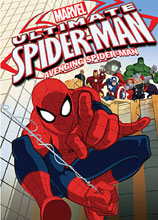 One of the more interesting of this week's releases is
Testimony of Two Men
(Acorn Media, 287 min., $59.98), which was the first mini-series produced in 1977 by Operation Prime Time, a consortium of independent American TV stations that joined forces to produce prime time programming for independent stations.
Testimony of Two Men
is based on Taylor Caldwell's novel about the life of a young surgeon in post-Civil War Pennsylvania.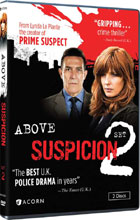 The top U.K. release this week is
Above Suspicion: Series 2
(Acorn Media, 138 min., $29.99). Based on the novels by Lydia La Plante (
Prime Suspect
),
Above Suspicion
is a superior police procedural which stars Kelly Reilly as D.I. Anna Travis, a smart freshly-promoted detective and the ubiquitous Ciaran Hands as her hardboiled boss DCS James Langton. Anyone who enjoyed
Prime Suspect
will definitely want to check out
Above Suspicion.
Anime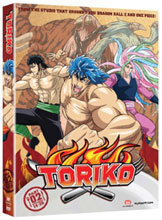 The top release in this category this week is
Toriko Part 2
(Funimation, "14+," $39.99), which collects a dozen more episodes from the popular adventure comedy series produced by Toei Animation, which has already created 92 episodes for the still ongoing series, which debuted in Japan in April of 2011. Funimation has been streaming episodes of this rollicking saga about a "Gourmet Hunter" who searches for rare, diverse foods to complete his elaborate meals. This anime series, which is now available with an English dub on this DVD, featured a cross-over special with
One Piece
, which remains the most popular anime/manga series in Japan.
Also new this week is Listen to Me Girls, I Am Your Father Complete Collection (Sentai Filmworks, "14+," 325 min., $49.98) which all 12 episodes (plus a special) for the slice-of-life/comedy anime TV series produced by Studio feel in 2012 that was based on the light novel series by Tomohiro Matsu about a university student who has to look out for his three nieces when their parents disappear in a plane crash.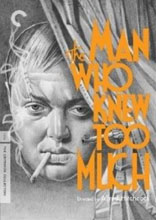 Re-issued series this week include the delightful Victorian romance
Emma
(Right Stuf, "7+," 300 min., $39.98) about a maid who falls in love with the eldest son of a wealthy family. This is another of those anime series that could have a much bigger audience among non-traditional anime fans if they could only have a chance to sample its considerable charms.
For traditional anime fans who like their dystopian science fiction served up with a heaping helping of robots, there is the Casshern Sins Complete Series (Funimation, "17+," 600 min. $29.98, BD $29.98), which collects all 24 episodes of the 2008-2009 series produced by Madhouse and available now for a very low price. Since they are the same price, the Blu-ray version is highly recommended.
Classic on Blu-ray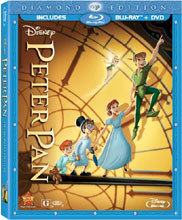 Disney's 1953 animated
Peter Pan Diamond Edition
(Disney, "G," BD/Combo $39.99) may not be one of the studio's greatest animated treasures, but this new digital restoration is extraordinary and the disc comes with some great extras including the excellent documentary feature, "Growing Up With Nine Old Men" that profiles some of the key figures in the history of Disney animation.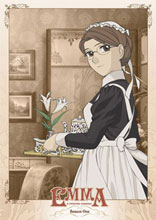 Alfred Hitchcock's 1934
The Man Who Knew Too Much
was one of the films that made his reputation in the thirties, though it has suffered by comparison Hitchcock's own 1950s remake, which the director and auteurist critics preferred. But the new restored version of
The Man Who Knew Too Much
(Criterion, "Not Rated," BD $39.95) reveals a charming film that has been victimized by poor quality early DVD releases that were based on public domain TV prints. While most modern viewers will likely prefer the Technicolor widescreen remake, the 1934 version has a streamlined plot and a wonderful performance by Peter Lorre in his first English speaking role.
--Tom Flinn
The opinions expressed in this column do not necessarily reflect the views of the editors of ICv2.com.