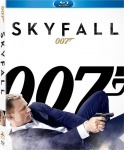 The big news this week is the home entertainment release of Sam Mendes' nifty James Bond film Skyfall, but there are some hidden treasures available too including Top Gear's survey of all the Bond cars, a "restored" lost Doctor Who classic, and a superbly re-mastered Blu-ray of White Zombie that reveals a film with the visuals (if not the acting) to rival the original Dracula and Frankenstein.
Theatrical Movies
The top release this week is the 23rd James Bond film Skyfall (MGM, "PG-13," $29.98, BD $39.99), the highest-grossing film in the franchise, and one of the most interesting. Sam Mendes' direction provides some psychological depth to the characterizations that the series, in spite of its other merits, has often lacked.
One of the more interesting movies made from a young adult novel in the past year was certainly The Perks of Being a Wallflower (Summit Entertainment, "PG-13," $19.98, BD $24.98). Summit deserves credit for allowing Stephen Chbosky to adapt and direct his own novel and he certainly manages to bring his portrait of teenage angst to the screen mostly intact with the help of an excellent cast of young actors including Emma Watson (Harry Potter), Logan Lerman, and Ezra Miller.
Art house movie fans should check out The Sessions (Fox, "R," $22.98, BC $28.99), the story of a polio victim who gets to experience, what they used to refer to as "the fullness of life" thanks to the help of a professional therapist played by Helen Hunt who received a Best Supporting Actress" Oscar nomination for her sensitive portrayal of a sex surrogate. Despite its subject matter, this film is far from prurient and presents a surprisingly mature (for an American film) and positive look at human sexuality.
Robot and Frank (Sony, "PG-13," $30.99) provides actor Frank Langella with at least 50 ways and opportunities to play a crotchety old man in this near-future sci-fi saga of a retired cat burglar who finds a friend in a domestic robot.
The other genre films on this week's slate are less interesting. Silent Hill: Revelation (Universal, "R," $28.98, BD $34.98) is a sequel to the 2006 film Silent Hill. Based on the survival horror video game Silent Hill 3, Silent Hill: Revelation received a paltry 6% positive rating on review aggregator Rotten Tomatoes. Better, though still flawed, is RZA's The Man With the Iron Fists, an American martial arts film that was shot in Shanghai and features Russell Crowe in a supporting role. While RZA, who created the soundtracks for Kill Bill and Afro Samurai, certainly loves martial arts films and knows the genre well, he is not yet a Quentin Tarantino, though he does show promise as a director.
TV on DVD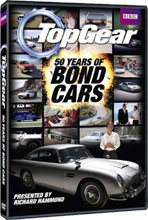 The 8th and final season of the Showtime series
Weeds
leads this week's domestic TV releases.
Weeds Season 8: The Final Season
(Lionsgate, $39.98, BD $39.97) features star Mary Louise Parker on the cover along with the question "Who Got Smoked?"—a fitting end to an influential cable series that at its best combined a heavy dose of satire with a delicious dark comedy that sprang from its heroine's unconventional and illegal means of achieving the "American Dream."
Another final season due on disk this week is Gossip Girl: The Complete 6th & Final Season (Warner Bros., 430 min., $39.98), the influential series that launched the careers of many of its young stars. Based on the books by Cecily von Ziegesar, Gossip Girl explored the tangled lives of a group of very privileged New Yorkers. All six seasons are available in giant 29-disc box set, Gossip Girl: The Complete Series (Warner Bros. $199.98).
The Showtime series, Nurse Jackie: Season Four (Lionsgate, 450 min., $39.98, BD $39.97) is a medical show starring The Sopranos Edie Falco that turns a jaundiced, often comedic eye on the frenetic operation of a big city emergency room. By all means get the Blu-ray, after all it's not only better quality, it's also a penny cheaper.
Some geek viewers will definitely want to check out
Top Gear: 50 Years of Bond Cars
(BBC, 135 min., $9.95) in which the show's rather brilliant resident gearheads discuss and drive the models used by 007 over the decades.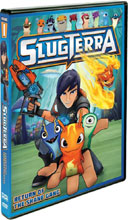 Animated offerings this week include
SlugTerra Vol.1: The Return of the Shane Gang
(Shout Factory, 110 min., $14.97). This Canadian produced, computer-animated series has a premise that parodies
Pokemon
with a cast of human character who collect, train, and duel with little critter called "slugs."
The live-action Big Bad Beetleborgs: Season 1, Vol.2 (Shout Factory, 510 min., $19.93) collects the 1990s Saban Entertainment series that was fashioned out of the Metal Hero tokusatsu series Juukou B-Fighter.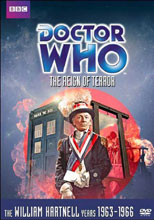 Perhaps the top "geek" release of the week is the vintage
Doctor Who
serial
Doctor Who: Story 008—Reign of Terror
(BBC, $24.98), which features the First Doctor (William Hartnell) in a story set during the bloodiest phase of the French Revolution. Only four of the six episodes of this saga remain in the BBC's vaults, so the two missing episodes were replaced by animated reconstructions based on the original scripts.
Vintage American series due this week include The Hardy Boys/Nancy Drew Mysteries Season 3 (Shout Factory, 510 min., $24.97), which collects the third season of the ABC series that ran from 1977 to 1979. The third season featured just the Hardy Boys who were played by Parker Stevenson and Shaun Cassidy. Other vintage series include the classic western Bonanza: The Official Fifth Season (Paramount, 1350 min., $74.99), the legal/mystery series Matlock: Season 8 (Parmount, 1037 min., $49.99), and The Loretta Young Show: 100th Birthday Edition—Best of Complete Series (Timeless Media, 3780 min., $99.99).
Anime
This week's top release is
Inuyasha: The Final Act, Part 2
(Viz Media, "13+," 325 min., $44.82, BD $54.97), which collects the final 13 episodes (#14-26) of the final portion of the anime series based on the popular manga by Rumiko Takahashi. Released in Japan in 2009 these final 26 episodes are based on the last 21 volumes of Takahashi's 56-volume series. The earlier portion of the
InuYasha
anime series ran from 2000-2004 on Japanese TV and encompassed 167 episodes.
Also new this week is Waiting in the Summer (Sentai Filmworks, "14+," 300 min., $49.98), a 12-episode series from 2012 produced by J.C. Staff. Waiting in the Summer is a dramatic romantic comedy about the strange relationship between a beautiful alien and a high school freshman.
Re-priced reissues include the Fushigi Yugi Season 2 Collection (Media Blasters, "13+," 650 min., $49.99), which contains episodes 27-52 of the anime based on Yu Watase's popular shojo manga series, and the New Fist of the North Star Collection (Section 23, "17+," 175 min., $14.98), which includes 3 OVAs that were previously released here in 2004 by ADV.
Classics on Blu-ray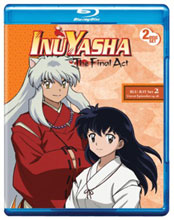 The independently produced 1932 horror film
White Zombie
(Kino, "Not Rated," BD $29.95) has long been in the public domain, which means that there are plenty of fuzzy DVD versions mastered from poor TV prints. While beloved by some original horror aficionados like Forrest J. Ackermann who saw the film when it first came out,
White Zombie's
reputation has suffered in part because of the poor visual quality of the existing prints. Kino's new remastered Blu-ray solves those problems with a clear, sharp re-mastered version that restores the film's atmospheric and occasionally brilliant visuals. Produced and directed by the brothers Edward and Victor Halperin,
White Zombie
was shot on the Universal lot in just 11 days. While some of the glass shots are less than state-of-the-art even for 1932,
White Zombie
remains an interesting film, though modern zombie fans should be prepared—the zombies in
White Zombie
don't eat brains (or human flesh of any kind) rather they are automatons, slaves that wordlessly do the bidding of their master, who is played with great style by Bela Lugosi. Unfortunately his is about the only decent performance in the film. The subpar performances of the supporting cast, some clunky dialogue scenes, and a few weak transitions keep
White Zombie
from the pantheon of classic horror films, but in Kino's restored version
White Zombie
has atmosphere galore, and is definitely "required viewing" for any horror movie fan.
Tom Flinn
The opinions expressed in this column do not necessarily reflect those of the editorial staff of ICv2.com.