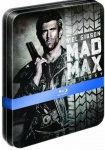 This week brings us spiffy Blu-ray editions of action movie classics, the
Mad Max Trilogy
and
Enter the Dragon
, plus the first release of two very different (and yet fascinating) politically-themed TV series, plus more vintage
Doctor Who
, and a full slate of anime releases including a series about a teenage boy who is addicted to the drool of a teenage girl who transfers to his high school.
Classics on Blu-ray
The advent of Father's Day typically means that the studios have taken a long look in their vaults to see what goodies they can bring out that might please papa, and this year they came up with a bumper crop led by the
Mad Max Trilogy
(Warner Bros. "R," BD $49.99). While the first two films in the set have previously been released on Blu-ray,
Beyond Thunderdome
makes its Blu-ray debut here. Those who have already purchased the first two films on Blu-ray, may want to purchase
Beyond Thunderdome
by itself, but for everyone else this set is an excellent value. While the visual quality of these 30-year-old films is not the equal of today's movies shot in high def, these BD versions mark a real improvement in both picture quality and sound over the previously released DVD versions.
As for the films themselves, with the current vogue for post-apocalyptic dystopian science fiction, it is good to go back to one of the genre's original sources. Inspired by the effects of the first oil embargos, the
Mad Max
films still have the ability to hold our interest. In fact viewing these films makes most of today's post-apocalyptic films look hopelessly derivative. The original
Mad Max
film marked the debut of director George Miller and was the first Australian film ever shot in widescreen. It was shown in the U.S. with a really bad American dub, but is presented here with a much better Australian track (you can still access the "American" dub if you get really nostalgic).
Max Max 2: The Road Warrior
, a sort of post-apocalyptic
Seven Samurai
, is an even better film, and the third film,
Beyond Thunderdome
is visually flamboyant and its eponymous gladiatorial arena has one archetypal rule, "Two men enter, one man leaves," that echoes through the fight-to-the-death struggles depicted in dozens of subsequent dystopian sagas.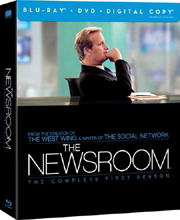 Another Father's Day release that should be of great interest to those who don't already own the film on Blu-ray is the
Enter the Dragon 40th Anniversary Edition
(Warner Bros., "R," $49.98). In addition to a solid hi-def transfer of the last film that Bruce Lee ever made, this special edition comes with a 1973 documentary "Location: Hong Kong with Enter the Dragon", a new documentary "Bruce Lee in His Own Words," plus a new interview with Linda Lee Cadwell, and audio commentaries by producer Paul Heller and Michael Allin. The
40th Anniversary Edition
also comes with a booklet of rare photos, an embroidered patch, a set of picture postcards, and a lenticular postcard of Lee in action, all packaged in a deluxe case. Once again this is a solid, if not spectacular hi-def transfer that is clearly a great improvement over the DVD editions of the film. This is a great gift for martial arts movie fans who don't already own
Enter the Dragon
on Blu-ray.
Theatrical Movies
Although it wasn't considered much of a success by the standards of its star Dwayne "The Rock" Johnson,
Snitch
(Summit, "PG-13," $29.95, BD $39.99) is a tough little genre movie about an ordinary citizen who is forced to work as a police undercover informant in order to save his son from a lengthy prison sentence. Along with plenty of gritty action, this film delivers a strong message about the injustice of the long sentences handed out for drug crimes in this country compared with far lesser penalties for serious violent offenses like manslaughter and rape.
Hansel and Gretel Witch Hunters
(Paramount, "not rated" BD/Combo $39.99) is a by-the-numbers dark fantasy featuring Jeremy Renner and Gemma Atherton dressed in black leather and armed to the teeth. The duo take on some classic Brothers Grimm witches in what was a surprisingly successful ($225 million worldwide gross) movie in spite of its mind-numbing dumbness. With all the classic fantasy and science fiction texts out there, they had to make this 3-D "dog's breakfast" of a film?
Also due this week is
Killing Lincoln
(Fox, 120 min., BD $29.98), a docu-drama about the assassination of the President narrated by Tom Hanks. While this film is better than the average History Channel production, it still has the "lifeless look" that characterizes so many historical reenactments.
Those who like indie movies might want to check out Quentin Dupieux's
Wrong
(Image Entertainment, "Not Rated," 93 min., $27.95, BD $29.95), a wryly absurd comedy about a man who is trying to recover the love of his life—his dog. Dupieux is a composer who fills his movies with music that many will find fascinating, but those who are expecting linear narratives should take a pass on this film.
TV on DVD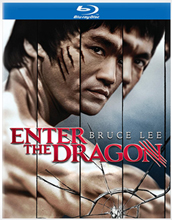 There's something for nearly everybody in the TV category this week. For liberals (and independents) there is
The Newsroom: The Complete First Season
(HBO, 725 min., $59.98, BD/DVD Combo $79.98), the latest series from Aaron Sorkin, creator
of The West Wing
, who brings his progressive views to bear on this saga of a highly rated cable news show host (played by Jeff Daniels), who decides to switch to a hard news format with an idealistic charge to inform the American public about the things that are really important. The political side of the show is balanced by the tangled personal lives of those who work behind-the-scenes to create the news show including Emily Mortimer, as a producer (and former lover) who returns to retool the popular show after the typically affable Daniels loses it at a journalism seminar and commits what is political heresy in today's world of "gotcha journalism" by contradicting a questioner's assertion that the U.S. is the greatest country in the world. Mortimer brings in her own team of aggressive young journalists including John Gallagher, Jr., who is soon butting heads with the previous chief-of-staff and romancing Alison Pill, who plays one of the few staffers who didn't desert Daniels' show in the wake of his high profile gaff.
Sorkin gets the hustle and bustle of the newsroom just right and anchors the show firmly in the world of real political events of 2010 and 2011 (the BP oil spill, the anti-union campaign of Wisconsin governor Scott Walker, the killing of Osama Bin Laden, the Koch brothers, and Citizens United etc.). Fans of
The West Wing
will find plenty of Sorkin's idealistic speechifying and more than a few of the writer's trademark scenes in which the constantly moving camera follows characters sashaying through the corridors of the cable channel with the same rapid fire speed with which they are delivering Sorkin's trademark dialogue. Each episode begins with shots of the news icons of the past, Edward R. Murrow, Walter Cronkite, Chet Huntley, a strong indication that is a series that does look back to a less purely partisan past where the news was filtered through a controlling intelligence that was more worried about getting things right than making sure each side's view of every dispute was given equal air time. This is not a show for everyone. Some will be put off by all the speechifying, and contemporary conservatives should probably stay with Fox News, but for those who liked
The West Wing
, the first season of
The Newsroom
delivers a similar mixture of intellectual engagement with the serious issues of the day, idealism, and good old-fashioned soap opera.
Also due this week is another political drama,
House of Cards: The Complete First Season
(Sony, 674 min., $55.99, BD $64.99), but this series produced by NetFlix takes a much different tack. Rather than the idealism of
The Newsroom
, this series, which is based on a British original, is totally cynical in its portrayal of government. Kevin Spacey plays a prominent U.S. Congressman, a Machiavellian manipulator who cynically pulls all the strings of power in Washington D.C. in a grand scheme to reach the presidency. This series isn't tied to actual political events, but it does tap into the public's natural disdain for politicians and their outsized ambitions. David Fincher directed the first two episodes of the show and they have that blue-green neo-noir tonality that typifies the director's work (
The Girl With the Dragon Tattoo
). Well-acted and well-produced
House of Cards
nevertheless lacks some of the relevance of its British progenitor—and may move too slowly for some.
Among current shows with new releases is
Burn Notice: Season 6
(Fox, $49.98). The 7th and final season of this espionage series debuted last week on the USA cable network. Let's hope the plight of "burned" spy Michael Weston (Jeffrey Donovan) is finally resolved, but through six seasons Weston and his posse that includes Sam Axe (Bruce Campbell) and Fiona (Gabrielle Anwar) have provided solid entertainment set against a colorful South Florida background. This is a great show for summer viewing when network TV is dominated by increasingly idiotic "reality" TV.
A similar argument could be made for the TNT series
Rizzoli & Isles: The Complete Third Season
(Warner Bros., 645 min., $39.98), an "odd couple" police procedural featuring Angie Harmon as police detective Jane Rizzoli and Sasha Alexander as medical examiner Dr. Maura Isles in a series based on the novels of Tess Gerritsen.
Comedy series due on Tuesday include the Comedy Central series
Tosh.0 Vol.3: Cardigans Plus Casual Jackets
(Comedy Central, 330 min., $16.99), a sampler of 15 of the show's best episodes, and the short-lived TNT show
Wedding Band: The Complete Series
(Fox, 425 min., $39.98).
Other contemporary series include
Fairly Legal: Season 2
(Universal, 557 min., $34.98), the final season of the USA legal drama, and the behind-the-scenes pro football drama
Necessary Roughness: Season 2
(Universal, 688 min., $34.98).
Vintage TV releases include the classic legal drama
Perry Mason: The 9th and Final Season, Pt.1
(Paramount, 776 min., $45.98), the Blu-ray debut of
The Dick Van Dyke Show: The Complete Third Season
(Image Entertainment, 811 min., BD $59.98), the classic western
Wagon Train: The 8th and Final Season
(Shout Factory, 1300 min., $59.97), and the sitcom
Becker: The 5th Season
(Paramount, 480 min., $34.95).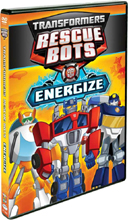 Kids animation series due this week include
Transformers: Rescue Bots, Vol.2: Energize
(Shout Factory, 110 min., $14.93), a nice collection of five episodes of the 2012 animated series that is broadcast on Hasbro's The Hub cable network. This series is designed for younger kids and does a good job of stressing teamwork and heroic action in the face of disasters.
Tom and Jerry: In Space
(Warner Bros. 52 min., $9.97) collects 7 episodes of the
Tom and Jerry Tales
episodes that were broadcast in 2006 and 2007, while
The Wild Thornberrys Season 3
(Shout Factory, 440 min., $19.93) collects the third season of the popular Nickelodeon series.
A real value in terms of "kids" entertainment on DVD are the live action shows based on the Japanese super
sentai
franchise
Zyurange
r.
The Mighty Morphin Power Rangers Season 2, Vol. 2
(Shout Factory, 510 min., $19.95) contains 30 episodes of action-filled fun that, while not anywhere near the height of its popularity in the 1990s, still has the ability to keep kids (especially young boys) entertained for hours.
The Mighty Morphin Power Rangers Season 3
(Shout Factory, 600 min., $19.95) contains 33 episodes of colorful Power Rangers action for the same low price.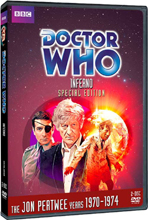 For fans of the vintage
Doctor Who
series there is
Doctor Who-Story 054: Inferno Special Edition
(BBC, 166 min., $34.98), the fourth and final serial from the seventh season of the long-running TV series, which feature the last regular appearance of Caroline John as the Third Doctor's (Jon Pertwee) companion Liz Shaw, and
Doctor Who-Story 056: The Mind of Evil
(BBC, 150 min, $34.98), gripping saga from 1971 about a machine that supposedly drains evil from the minds of criminals, but could actually have a different effect on the Third Doctor.
Since this is the 50th anniversary of the first episodes of the
Doctor Who
TV show, the BBC is putting together retrospective sets that will highlight all 11 incarnations of the Doctor.
Doctor Who: The Doctors Revisited 1-4
(BBC, $39.98) is a four-disc collection with a disc dedicated to each of the first four Doctors (William Hartnell, Patrick Troughton, Jon Pertwee, and Tom Baker), who carried the show from 1963 to 1981. Each Doctor gets some extra features plus one classic serial story (
The Aztecs, Tomb of the Cyberman, Spearhead from Space
, and
Pyramids of Mars
).
Anime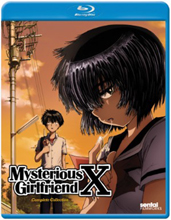 There are a number of strong releases this week. For those who like bloody samurai/ninja action there is
Sengoku Basara: Samurai Kings Complete Series
(Funimation, "14+," 650 min., BD/DVD Combo $69.98), the 2009-2010 Production I.G. series based on the Capcom videogame. This bloody samurai action series set during the Warring States period, looks great on blu-ray and this box set collection includes both the 12-episode
Samurai Kings
series as well as two OVA releases.
Also from Production I.G. (and Xebec) is
Lagrange: The Flower of Rin-ne Set I
(Viz Media, "17+," 300 min., $44.82, BD $54.97), which includes all 12 episodes of the first season of the mecha science fiction anime series from 2012, which is based on the seinen manga series by Shotaro Suga. Young girls pilot giant mecha to fend off alien invaders in yet another series that follows in the grand tradition of mecha anime.
Viz is also releasing
Bleach Box Set 17
(Viz Media, "13+," 310 min., $44.82), which contains episodes 243-255 of the long-running anime based on Tite Kubo's popular supernatural manga series. Bleach remains a top manga and anime property in the U.S. market thanks in part to exposure on the Cartoon Network's Adult Swim.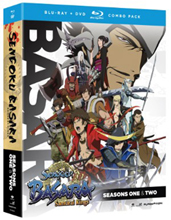 Also new (to the U.S.) this week is the
Mysterious Girlfriend X Complete Collection
(Sentai Filmworks, "17+," 325 min., $59.98, BD $69.98), which collects the 13-episode series produced by Hoods Entertainment that aired in Japan in 2012. This is a "strange attraction" series with its saga of an average teenage boy who becomes addicted to the drool of an attractive female student who transfers to his school. It's hard to imagine a saga like this on the Disney channel, which is one of the reasons that many of us love anime.
Tom Flinn
The opinions expressed in this column do not necessarily reflect those of the editorial staff of ICv2.com.