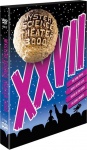 The mid-summer doldrums in the home entertainment industry continue though there are some offerings with considerable appeal including one of the strongest
Mystery Science Theater 3000
releases in years as well as a handful of interesting art house and genre movies.
TV on DVD
It's a light week for TV releases. The best live-action bet for geek viewers is
Mystery Science Theater 3000: XXVII
(Shout Factory, 480 min., $59.97), in which a quartet of schlock movies including
The Slime People
(which is making its DVD debut in this collection),
Rocket Attack USA, Village of the Giants
, and
The Deadly Mantis
gets the sarcastic MST3K treatment.
The best animated geekcentric release is
Superjail: Season 3
(Warner Bros., 230 min., $19.97), which contains all 10 episodes of the third season of the outrageous Adult Swim animated series. Be forewarned, the Warden is back and the body count is on the rise.
Other animated offerings this week include
Dragon Riders of Berk: Part I
(Fox, 242 min., $19.98) and
Dragon Riders of Berk: Part 2
(Fox, 203 min., $19.98), which together collect the first season of the TV series based on the popular animated feature
How To Train Your Dragon
, the vintage cartoon series
Teenage Mutant Ninja Turtles: Season 3
(Lionsgate, 1081 min., $19.98),
Duck Dodgers Season 2: Deep Space Duck
(Warner Bros. 286 min., $19.97), which collects 13 episodes of the contemporary TV series based on the classic Warner Bros cartoon, and the similar offering
The World's Greatest Super Friends, Season 5: A Dangerous Fate
(Warner Bros., 180 min., $19.97).
Fans of vintage TV series have just one offering this week, but it's a good one, a collection of
The Jack Benny Program: The Lost Episodes
(Shout Factory, 540 min., $29.93), which collects 26 episodes of the 1950s series featuring the understated comedian who managed to wring copious amounts of humor from the clueless, miserly character he created for himself.
Theatrical Movies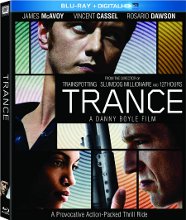 The top earner among this week's movies heading to disc made just $2.2 million at the box office, so it is obvious that we are not dealing with top drawer titles. In fact the only audience segment that has much to cheer about this week would be art house movie fans, and their joy should be subdued. Perhaps the best choice is Danny Boyle's
Trance
(Fox, "R," $22.98, BD $29.99), a nearly opaque thriller from the director
Slumdog Millionaire
and
Trainspotting
. The line between reality and dreams is difficult to determine in this convoluted film, which features excellent performances from a strong cast including James McAvoy, Rosario Dawson, and Vincent Cassel.
McAvoy also stars in
Welcome to the Punch
(MPI, "R," $22.98, BD $29.99), a taut crime thriller that will please those who enjoy British crime dramas. Mark Strong is really quite good playing McAvoy's antagonist, and some crime movie fans will revel in the over-the-top John Woo-style violence, though others will no doubt be put off by it.
For those who like arty coming-of-age films there is
Ginger and Rosa
(Lionsgate, "PG-13," $22.98), which is set in the early 1960s and stars Elle Fanning who is excellent in this tender and often intense personal story that was both written and directed by Sally Potter.
Fanning also stars in Francis Ford Coppola's
Twixt
(Fox, "R," $22.98, BD $29.99), a vampire saga that hardcore horror fans may want to check out. But in spite of the director's reputation, this film could only muster a 38% positive rating on Rotten Tomatoes. Still if anyone is interested in checking out one of Val Kilmer's better performances in recent years, this is the movie to see.
This week's other vampire film,
Kiss of the Damned
(Magnolia, "R," $26.98, BD $29.99) may actually have more appeal to horror movie fans. This is a different sort of vampire movie that demonstrates a strong influence from both the classic Hammer Horror films and the Italian horror movies of the 1970s with their patented combination of blood and sex. Critics liked the film, which got a 63% positive rating on Rotten Tomatoes, but the movie only made $14,000 in theaters, so it will have to find its audience on disc.
This week's other offerings include
The Silence
(Music Box Films, "Not Rated" $29.95) a gritty German crime drama, which found favor with the critics (87% positive on RT), but not with audiences,
Starbuck
(eOne Entertainment, "R" $24.98), a French comedy about a middle-aged slacker who learns that he has fathered 142 children anonymously as a long time sperm donor, and
Graceland
(Image Entertainment, "Not Rated," $27.97 BD $29.97), a very good Filipino film about a kidnapping that manage to be both a powerful tension-filled crime drama as well as an unvarnished portrait of contemporary life in the Philippines.
Anime
The top anime release this week is
One Piece Season 5 Part I
(Funimation, "14+," 320 min., $39.98), which collects episodes 264-275 of the long-running series that follows the exploits of Monkey D. Luffy and his rollicking gang of pirates.
One Piece
remains the top manga/anime property in Japan and continues to remain a top 10 franchise in North America as well.
Also of great interest is
Phi Brain: Puzzle of God Season 2: Orpheus Order Part I
(Sentai Filmworks, "14+," 325 min., BD $69.98), which collects the first 13 episodes of the second season of the 2012 anime TV series produced by Sunrise about a keen puzzle-loving high school freshman who finds the unsolvable life-threatening "Philosopher's Puzzle." When he solves the puzzle, he becomes a "Solver" and travels the world solving other puzzles created by the nefarious P.O.G. (Puzzle of God) group.
Re-priced anime re-releases due this week include the mecha-heavy 2010 series from OLM,
Super Robot Wars: Original Generation Divine Wars Complete Collection
(Media Blasters, "13+," 780 min. $39.99), and the superb anime detective series
Case Closed Season 2 Box Set
(Funimation, "13+," 600 min., $29.98), which collects episodes 27 to 52 of the
Detective Conan
anime series, which is a huge hit in Japan where the show's brain-teasing mysteries are held in high esteem.
Tom Flinn
The opinions expressed in this column do not necessarily reflect those of the editorial staff of ICv2.com.