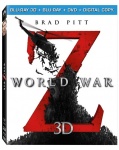 This week's home entertainment releases include the summer blockbuster
World War Z
, the first season of the DC Comics-based TV series
Arrow
, a new
Adventure Time
release, a reconstructed "lost"
Doctor Who
saga, and full slate of cool anime releases including one with an exclusive playable CCG card.
Theatrical Movies
This week's biggest release is
World War Z
(Paramount, "PG-13," $29.99, BD/Combo $39.99, 3-D BD/Combo $54.99), which earned a whopping $201 million in the U.S. and $526.8 million worldwide, though it probably hasn't made any money for the studio yet. How's that possible you say? Well take a production budget bloated to $190 million by extensive retakes and add tens of millions more for marketing and it probably just about balances the studio's take of the film's box office (less than 50%). Many analysts predicted that because of the retakes,
World War Z
was a good candidate to become the biggest "bomb" of the summer movie season, but the critics largely liked the film with its hordes of CGI zombies and documentary style approach, giving it a 67% positive rating on Rotten Tomatoes. While it breaks no new ground in the zombie genre,
World War Z
manages to be impressive just from the huge scale provided by its ample effects budget.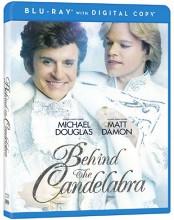 One of this week's most interesting releases is Steven Soderbergh's
Behind the Candelabra
(HBO, $19.97, BD $24.99), which features an uncanny performance by Michael Douglas as a late-in-his career Liberace and Matt Damon as the pianist's lover. This is not a film for everyone, but it is an interesting look at the messy later life of the flamboyant pianist based on the memoir of the character played by Damon, and the performances are superbly detailed.
Another interesting film based on a "true" story is Sofia Coppola's
The Bling Ring
(Lionsgate, "R," $19.95, BD $24.99), which stars Emma Watson in a film about a group of movieland teenagers who get the keen idea of using today's 24-hour celebrity tracking culture to "liberate" certain gaudy valuables from some of today's most vapid celebrities (Paris Hilton gives her most realistic performance yet as you guessed it, one of the ring's victims, Paris Hilton).
Those who enjoy social dramas might like
Disconnect
(Lionsgate, "R," $19.98, BD $24.98), an ensemble drama about a group of disparate people affected in different ways by the Internet. The narrative model here is
Crash
with a number of separate storylines that come together as the film reaches its climax. Critics love this stuff and gave the film a 67% positive rating, but your mileage may vary with this cautionary Internet tale that recycles a lot of netphobic clichés.
Josh Duhamel gives a solid performance in
Scenic Route
(Vertical Entertainment, "R," $20.98, BD $24.98), a savage "buddy" film about two old friends who turn on each other when they are stranded in the desert. This is not a pleasant movie, but those who appreciate this sort of confined slow-deveoping two-person drama will not be disappointed.
TV on DVD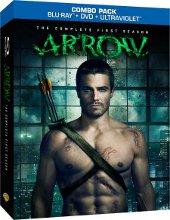 With more than 128 TV on DVD releases in September, it is clear that this is the key releasing period for the category with a list this week that includes some major geekcentric releases led by
Arrow: The Complete 1st Season
(Warner Bros., 900 min., $59.98, BD $69.97), which collects all 23 episodes of the first season of the hit CW series based on the DC Comics character
Green Arrow. Arrow
has been key to getting comic book characters back in prime time on over-the-air network TV, and the CW and Warners plan to spin off a
Flash
series in 2014. While introducing a number of familiar DC Comics character during its first season, the producers of
Arrow
downplayed the superheroics in favor a tough hard-hitting
Batman
-like crime drama about a vigilante battling criminal forces in a corrupt urban environment.
Another interesting new series is also due on Tuesday--
Bates Motel: The Complete 1st Season
(Universal, 435 min., $44.98, BD $49.98), which collects the first ten episodes of the A&E series that is a contemporary "re-imagining" prequel to the classic Hitchcock horror film
Psycho
. The setting was changed from California to the Pacific Northwest, and the
Bates Motel
series is bathed in the moody nourish glow of David Lynch's
Twin Peaks
, which serves as much of an inspiration for the series as
Psycho
does. Vera Famiglia is nothing less than brilliant as Norman Bates' mother Norma.
Equally interesting in its own way is
Grimm Season 2
(Universal, $59.98, BD $69.98), the NBC series that mixes the structure of a police procedural with a fantasy world in which the characters from
Grimm's Fairy Tales
exist. The protagonist of Grimm is a Portland police detective who learns he is descended from a long line of "Grimms," guardians of humanity who are forced to deal with the creatures of myth who threaten to upset the delicate balance between the opposing forces of the
wesen
and humanity.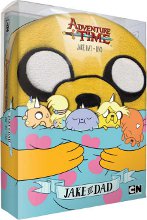 There are some animated TV on DVD releases that also should appeal to the geek audience, especially
Adventure Time: Vol. 5--Jake the Dad
(Warner Bros., 176 min., $24.98), which collects sixteen wonderful episodes from the Cartoon Network series that has spawned a very successful line of graphic novels. This DVD comes packaged with a "Jake Hat" that fans of the series will definitely covet (especially if they nabbed a "Finn Hat" that was released last year). The only problem with this release is that it pulls its episodes from seasons 4 & 5, so it's a "Best Of" collection rather than the more complete season sets that many hardcore fans would prefer.
This week's other TV animation release is the polarizing
High Fructose Adventures of Annoying Orange, Vol. 3
(Salient Media, 110 min., $14.93), a single disc collection of the provocative Cartoon Network series that viewers tend to either hate or love.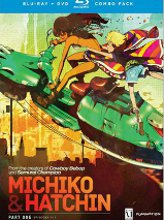 One of the more interesting series to debut in 2012 was the ABC drama
Nashville
.
Nashville: The Complete 1st Season
(Disney, 903 min., $45.99) contains all 21 episodes of the drama series created by Callie Khouri, who won an Oscar for writing
Thelma & Louise
, and whose feminist perspective keeps this large scale soap opera on an even keel. The basic template for the series is the classic 1950 film
All About Eve
with Connie Britton (
Friday Night Lights
) continuing her outstanding dramatic work in the creation of the show's central character, the fading country music superstar Reyna Jaymes. Hayden Panettiere plays Anne Baxter to Britton's Bettie Davis in her role as the red hot teenage country sensation Juliette Barnes, a girl from the wrong side of the tracks with a drug-addled mother, who brings some class consciousness to her fierce competition with the fading Jaymes, who was born into Nashville royalty with a father who is a ruthless power broker. While not for everyone,
Nashville
is a slickly-produced series with a panoply of richly conceived characters, and excellent music supervision by T-Bone Burnett that includes prime examples of the best and worst trends in contemporary country. But the point here is, you don't have to be a country music fan to enjoy this show, just as you didn't have to enjoy going to high school football games to appreciate
Friday Night Lights
.
Other contemporary series due this week include venerable forensics-themed prodcedural
C.S.I.: The Complete 13th Season
(Paramount, $69.99),
Leverage: The 5th Season
(Fox, 635 min., $39.98), the final season of the TNT drama, and
The Mentalist: The Complete 5th Season
(Warner Bros., $59.98), the well-cast CBS police procedural set in Sacramento.
Shows from the U.K. getting their stateside releases include
The Hollow Crown: The Complete Series
(Universal, 528 min., $44.98), which collects the entire miniseries that will begin airing here on PBS on September 20th,and which includes sterling new adaptations of four of Shakespeare's "historical" plays,
Richard II, Henry IV, Pt. 1, Henry IV, Pt.2
, and
Henry V
.
For those who enjoy "odd couple" police dramas there is
Dalziel & Pascoe: Season 8
(BBC, 360 min., $34.98), but perhaps the most interesting UK releases for many will be a couple of vintage
Doctor Who
sagas, led by
Doctor Who--Story 039: The Ice Warriors
(BBC, 145 min., $34.98), the third "lost"
Doctor Who
serial to be restored with animated sequences filling in for the missing parts 2 and 3 of the six-part saga starring the Second Doctor (Patrick Troughton). This is an ingenious reconstruction of the first episode to feature the Ice Warriors who appeared in four subsequent Doctor Who sagas including 2013's "Cold War."
The other
Doctor Who
release is also a rare bird,
Doctor Who: The Scream of Shalka
(BBC, 100 min., $24.98), a flash-animated
Doctor Who
series that was produced for the BBC Website as part of the celebration of the show's 40th Anniversary in 2003, with Richard E. Grant, who had been rumored to be in the running to be the next Doctor for years, providing the voice for the ninth Doctor.
Anime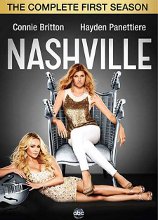 It's another great week for anime releases, which are led by
Michiko & Hatchin Part I
(Funimation, "17+," 300 min., BD/DVD $64.98, Limited Ed. $69.98, Part 2 BD/Combo $64.98), which collects the 22-episode 2008 Manglobe-produced series directed by Sayo Yamamoto, one of the few prominent female anime helmers, who also directed the recently-released Lupin the Third: The Woman Called Fujiko Mine (see "
DVD Round-Up: Justice League
"). In the earlier
Michiko & Hatchin
series Yamamoto takes a Tarantino-like approach to a wild road saga about a tough, savvy young woman who escapes from a maximum security prison rescues a little girl from her abusive foster home, and takes her on an extended (and often bloody) search for her lost love (the young girl's father). This series was produced by
Cowboy Bebop's
Shinichiro Watanabe and features character designs that fans of Watanabe-san will surely recognize. This original property (it is not based on a manga, light novel series, or game) and its fast-paced ever-changing "road movie" will likely please fans of
Cowboy Bebop
and
Samurai Champloo
. Michiko & Hatchin is set a fictional South American country, but sun-drenched visuals and the score by the Brazilian musician Alexandre Kassin are strong indications that the emerging economic powerhouse of Brazil is indeed the setting. Funimation is making
Part 2
(each part contains 11 episodes) available at the same time along with a
Limited Edition
that includes a decorated slipcase that will contain both parts of this fascinating series.
Also due this week is
Sword Art Online Set 2: Aincrad Pt. 2
(Aniplex of America, "13+," 175 min.,$49.98, BD $112.98), the second installment in the popular series about an entrapping online game that began airing on the Adult Swim's Toonami block in late July. With its prime TV exposure, this series has breakout potential and this set includes episodes 8-14 (of the 25-episode 2012 production). The
Limited Edition
Blu-ray comes with a playable card for Bushirod's
Weiss Schwarz Collectible Card Game
(see "
Exclusive Weiss Schwarz Promo Card in Sword Art Online BD
"). In addition to the exclusive card, the BD
Limited Edition
includes a separate disc of interviews with Japanese and English cast members, a 16-page illustrated booklet, pin-ups, and box decorated with designs by the show's character designer abec.
Another very interesting release is
Naruto: Shippuden Movie 4: The Lost Tower
(Viz Media, "16+," 94 min., $19.98, BD $24.98). Produced in 2010,
The Lost Tower
was the seventh stand-alone
Naruto
movie and the fourth in the more mature "Shippuden" vein. Naruto remains the most popular manga property in North America, and these anime features remain popular both here and in Japan.
For fans of classic manga characters there is the
Golgo13 Complete Collection
(Sentai Filmworks, "17+," 1250 min., $99.98, BD $129.98), which collects all 50 episodes of the 2008 anime TV series based on the long-running manga (the oldest manga still in publication it began in 1969, though it is only third in the number of volumes produced) by Takao Saito about a ruthless professional assassin.
Also due on Tuesday is
Future Diary, Part 2
(Funimation, "17+," 325 min., $59.98), which collects the second half of the 2012 series from Asread based on the shonen manga by Sakae Esuno about a young loner who discovers that his cellphone "diary" can actually foretell the future. Not only is his smartphone highly predictive, the young hero of this interesting saga discovers that there are 11 other individuals with similarly-endowed cellphones and that only one will survive in this
Hunger Games
-like contest.
--
Tom Flinn
The opinions expressed in this column do not necessarily reflect those of the editorial staff of ICv2.com.