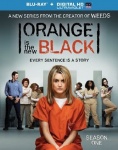 Spring is not necessarily known for its home entertainment releases, but this week will see the debut of the popular Netflix series
Orange Is the New Black
,
Her,
Spike Jonze's heady meditation on what it means to be human, another low-cost release from the revived
Doctor Who
series featuring David Tennant, and the latest film from
Underworld
director Kevin Grevioux.
TV on DVD
There are some very interesting releases in this category this week including
Orange Is the New Black: Season One
(Lionsgate, 730 min., $39.97, BD $39.98), the latest series from Weeds creator Jenji Kohan, a fascinating fish-out-of-water comedy drama about a privileged woman who is sent to prison that quickly becomes a vehicle for exploring the lives of a number of disparate characters from all ranks of society. Note, this series is not recommended for the excessively genteel as it renders its prison setting with considerable verisimilitude.
Doctor Who
fans who haven't purchased DVDs of the second season of the revived series starring David Tennant might be interested in the new low-priced
Doctor Who: The Second Series, Part 2
(BBC, 315 min., $19.98).
The Complete Second Series
was released in late 2012 with an MSRP of $79.98, which means that fans can buy both halves of the 2-part editions for about half the cost of the original version.
Also of interest is
Eastbound & Down: The Complete 4th Season
(HBO, 240 min., $29.98, BD $39.98), which contains all 8 episodes of the final season of the HBO comedy series about a former major league pitching ace, who struggled to get back to the show and then decided to give it all up. This series is basically a showcase for the considerable comic talents of Danny McBride (
Tropic Thunder
), and his performance makes this sometimes raunchy, sometimes touching comedy work.
Mystery fans will enjoy
Longmire: The Complete Second Season
(Warner Bros., 561 min., $39.98), which collects 13 episodes featuring Sheriff Walt Longmire of Absaroka County, Wyoming in powerful standalone mysteries. Well-mounted and beautifully photographed, this is one of the best modern American crime dramas as it faithfully recreates the milieu and characters in Craig Johnson's well-wrought mysteries.
And then there is
Magic City: The Complete Series
(Starz, 830 min., $59.99), which lasted two seasons on the Starz network (2012 and 2013).
Magic City
takes place in Miami in 1959 just after the Cuban revolution. This stylish series never quite caught on, but it has it charms, especially for those who love the period.
Animated releases include
The League of Super-Evil: Season 2
(New Video, 288 min., $19.95), the Canadian-produced series that aired in 2011;
The League of Super-Evil: Season 3
(New Video, 288 min., $19.95), which was broadcast in 2012; the 3-disc
The Adventures of Raggedy Ann and Andy
(New Video, 300 min., $19.95);
The Jetsons: Season 3
(Warner Bros., 220 min., $21.99), the 10-episode final season of the classic space cartoon; the 2-disc
Scooby-Doo: 13 Spooky Tales; Field of Screams
(Warner Bros., 286 min., $19.98); plus the 30-cartoon collection
, The Bugs Bunny/Looney Tunes Comedy Hour: Spotlight Collection 8
(Warner Bros., 210 min., $19.98).
Vintage live-action TV releases include the classic cop comedy series,
Barney Miller: The Complete 5th Season
(Shout Factory, 488 min., $24.97), and
The Perry Mason Movie Collection Vol. 2
(Paramount, 572 min., $58.98), though fans of the series know that the
Perry Mason
TV movies, while not without their charms, are vastly inferior to the classic hour-long
Perry Mason
TV series.
Theatrical Movies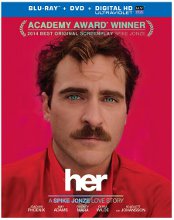 For those who like art movies there is Spike Jonze'
Her
(Warner Bros., "R," 126 min., $29.98, DVD/Combo $34.99), which stars Joaquin Phoenix as a withdrawn writer who develops a relationship with his phone's advanced Siri-like operating system, which is sexily-voiced by Scarlett Johansson. While this film is not for everyone, it earned an excellent 94% positive rating on review aggregator Rotten Tomatoes.
R-rated comedies have been extremely successful in recent years (including this weekend during which
Neighbors
unceremoniously dumped
Spider-Man
, see "
Neighbors Surprises Amazing Spider-Man 2
"), but they haven't all fared well. Case in point
That Awkward Moment
(Sony, "R," 94 min., $30.99, BD $35.99), a raunchy comedy about that moment in every relationship where one or both of the partners starts wondering "where is this thing going?" Too bad the filmmakers didn't ask themselves the same question about the script for this film, which in spite of its attractive stars (Zac Effron, Michael B. Jordan, Miles Teller, Imogen Poots, and Jessica Lucas) received only a pitiful 22% positive rating on Rotten Tomatoes.
But this week's lowest critical rating goes to Kevin Grevioux's
I, Frankenstein
(Lionsgate, "PG-13," 29.95, BD $39.99), a real dog's breakfast of a horror film in which Frankenstein's monster defends humanity from a horde of demons.
I, Frankenstein
was able to muster only a pathetic 4% positive rating on Rotten Tomatoes, but critics are disposed to this sort of fantasy adventure film anyway. Audiences were a bit more positive about the film, which did end up making nearly $20 million at the domestic box office, so folks who loved Grevioux's
Underworld
films might want to give it a chance, but others should avoid this dank fantasy.
For those who enjoy controversial documentaries there is
God Loves Uganda
(First Run Features, "Not Rated, 83 min., $24.95) a film by Roger Ross Williams that explores the role of American Evangelicals in financing and supporting the fundamentalist movement in Uganda that has imposed the death penalty for homosexual acts. Using hidden cameras Williams catches some of these proselytizers explaining their positions. If the film has a flaw it is not making clear enough that not all denominations of missionaries working in Africa are intent on imposing this draconian laws on gay people.
Anime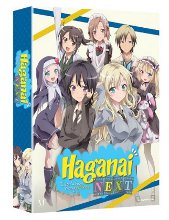 This week's top release is
Haganai: I Don't Have Many Friends NEXT
(Funimation, "17+," 300 min., BD/DVD Combo $64.98, Ltd. Ed $69.98), which collects all 12 episodes from the second series from AIC Build based on the harem comedy-themed light novels by Yomi Hirasaki. This second series began its first run in Japan in Q1 of 2013.
Haganai
revolves around the comic exploits of Kodaka Hasegawa, a friendless transfer student who forms an afterschool Neighbor's Club for lonely students.
Also due this week is
Dragon Ball Z Season 4 Blu-ray
(Funimation, "13+," 755 min., $44.98), which includes episodes 108-139 of the popular martial arts series. Unlike
DBZ Kai
, which is also a hi-def version of the same series, this set contains the "filler" material produced by the creators of the anime series when they had used up all the storylines from the popular
DBZ
manga by Akira Toriyama. So this set presents a hi-def version (and it does indeed look and sound great) of the series as it was originally aired in Japan and the U.S. The one difference is that the new Blu-ray version has gone through a painstaking shot-by-shot reframing to create a more modern HD aspect ratio—something that some purists object to, but which most viewers won't notice.
This week's re-priced reissues include the
Yu-Gi-Oh! Season 5 Complete Collection
(New Video, "10+," 1020 min., $59.95), which contains the final season of the original
YGO
series in which Yugi travels 5,000 years back in time for his final battle with Alem, and the fantasy-themed
Deltora Quest Complete Series
(New Video, "10+," 1096 min., $79.95), which contains all 52 episodes of the anime series based on the children's books written by Emily Rodda. The
Deltora Quest
anime series aired in the U.S. on The Hub.
Tom Flinn
The opinions expressed in this column do not necessarily reflect those of the editorial staff of ICv2.com.