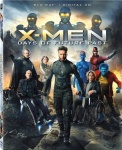 This week offers a plethora of home entertainment delights including Bryan Singer's X-Men: Days of Future Past, the whip-smart Mr. Peabody & Sherman, a very promising first Star Wars Rebels release, a 40th Anniversary Collector's Edition of the Texas Chainsaw Massacre, the second Robot Chicken DC Comics Special, the first season of spooky Fargo TV series, and the second season of the Cartoon Network's surreal horror comedy Courage the Cowardly Dog.

Theatrical Movies

This week's top movie release is X-Men: Days of Future Past (Fox, "PG," 132 min., $29.98, BD $39.98), Bryan Singer's best X-Men film yet with a time-traveling plot that allows the sterling cast of X-Men: First Class to appear in the same film with the stalwarts from Singer's first X-Men Trilogy. The only possible reason that an X-Men fan wouldn't want this film would be the rumor that an "extended edition" will be available in the future.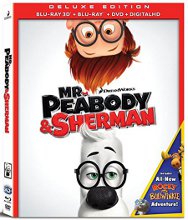 Also due this week is the best feature film adaptation of the Rocky and Bullwinkle Show so far,
Mr. Peabody & Sherman
(Fox, "PG," 93 min., $29.98, BD $39.99), a clever completely animated adaptation that earned a solid 79% positive rating on Rotten Tomatoes and an "A" CinemaScore from audiences. There is a modern overlay of emotions that wasn't present in the original shorts, which might put some off, but it would have been hard (if not impossible) to sustain the zaniness of the original shorts through 90 minutes.
For horror movie fans there is the
The Texas Chain Saw Massacre: 40th Anniversary Collector's Edition
(MPI, "R," 83 min., BD/DVD Combo $49.98), which presents an all new 4K scan of the original 1974 slasher film as well as a host of extras including 3 different commentary tracks, blooper reels, outtakes, five behind-the-scenes features. This saga has been remade and sequel-ized nearly to death, but none of its progeny has the power of the original.
TV on DVD
Lots of geek friendly titles this week led by
Star Wars Rebels: Spark of Rebellion
(Disney, 43 min., $12.95), the "pilot" movie that kicked off the new
Star Wars Rebels
TV series, which starts its regular run on Disney XD on Monday.
Spark of Rebellion
is a fun romp set five years before the events of
Star Wars IV: A New Hope.
The animation and backgrounds are very well done (the characters' hair and the Wookies suffer from budgetary limitations) and the story indicates that Disney's efforts to channel the spirit of the original
Star Wars
trilogy have succeeded, at least so far.
Spark of Rebellion
is solid start to the new series that should even please
Clone Wars
fans, who were sad to see that series end because it didn't fit into the new Disney
Star Wars
timeline.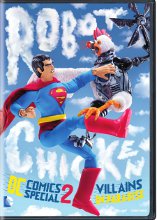 Also of great interest is the
Robot Chicken—DC Comics Special 2: Villains in Paradise
(Warner Bros., 23 min., $14.98), which puts the villains in charge and is filled with guest stars and a wildly unpredictable narrative that will sure to delight and amuse fans of DC Comics.
Neo-noir fans should rejoice with the release of
Fargo: The Complete First Season
(Fox, $49.98, BD $59.98), that captures dark comedy of the Coen Brothers original but adds an extra malevolent hit man played with gusto by Billy Bob Thornton.
If you are looking for cartoon noir, then check out
Courage the Cowardly Dog: Season 2
(Warner Bros., 286 min., $24.98), a surreal horror comedy created by John R. Dilworth, which numbers
Futurama's
David S. Cohen among its writers.
For lovers of raunchy TV comedy there is a choice between the callow raunch of
Two Broke Girls: The Complete Third Season
(Warner Bros., 528 min., $38.99) and the senescent raunch of
Two and a Half Men: The Complete 11th Season
(Warner Bros., $38.98).
This week's only vintage TV release is
The Bullwinkle Show: The Best of Rocky and Bullwinkle, Vol.3
(Classic Media, 530 min., $16.99), which includes lots of really great stuff, and is perfect for the casual fan.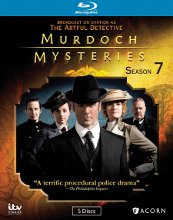 The best foreign release this week is
Murdoch Mysteries: Season 7
(Acorn Media, 792 min., $59.99), the Canadian mystery series set in Victorian Era Toronto. While the period setting here might not be quite as good as in the
Poirot
series for example, it is still well done. Detective William Murdoch brings forensic science to early 20th Century Canada in a series of fascinating mysteries including one involving the undead.
Another Canadian series of note is the
Republic of Doyle: Season 2
(Acorn Media, 573 min., $39.99), which collects 13 episode of the hit mystery that features a father and son sleuthing team based in Newfoundland. This series is now syndicated in parts of the U.S., so more people will become aware of the solid acting by Allan Hawco and Sean McGinley and the picturesque Newfoundland setting.
Anime
The week's interesting new titles include the
Meganebu! Complete Collection
(Sentai Filmworks, 300 min., $49.99, $59.99), which contains 12 episodes of the 2013 anime from Studio Deen about five teens who belong to the Glasses Club at their high school. In this subtitles-only slice-of-life comedy the humor comes from the crazy lengths these guys will go to secure their favorite eyewear.
Just as word arrives that the
Naruto
manga is finally ending in Japan, Viz Media readies two releases featuring the teenage ninja. The first is
Naruto Shippuden: Set 20
(Viz Media, 300 min., $44.82), which includes Episodes 245-257 as the action builds toward the hoke war, that will be included in Set 21. The second is a bargain repackaging of the first three
Naruto
movies,
Naruto Movies 1-3
Triple Feature (Viz Media, 250 min., $19.97).
The popular
Yu-Gi-Oh! GX
anime (the second
YGO
anime series) is now available in season sets.
Yu-Gi-Oh! GX Season 1
(Cinedigm,800 min., $44.99) includes the 4K dub that aired on U.S TV, while
Yu-Gi-Oh!
GX Complete Series
(Cinedigm, 4000 min., $229.64) contains all 5 seasons (180 episodes) of the
YGO GX
anime that aired in Japan from 2004 to 2008.
New on Blu-ray is the
Kill Me Baby: Complete Collection
(Sentai Filmworks, BD $69.99), which was issued on DVD last year. Re-priced re-releases include the
Black Butler Season 2 Collection
(Funimation, BD/DVD Combo $39.98) that was released in 2012 at $54.98,
The Princess Jellyfish Complete Collection
(Funimation, 275 min., $29.98), which had been previously released in 2012, and the
Fate Stay Night TV Complete Collection
(Sentai Filmworks, BD $99.98), which include
Seasons 1 & 2,
which had been previously released for $69.98 each.
--
Tom Flinn
The opinions expressed in this column do not necessarily reflect those of the editorial staff of ICv2.com.