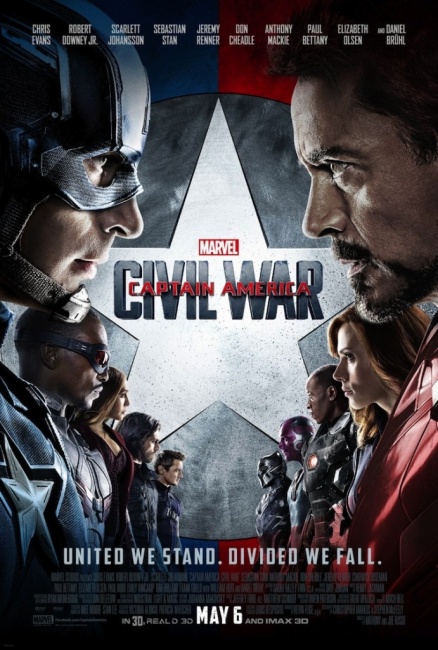 The Russo Brothers
Captain America: Civil War
cruised to the top of the box office for the second weekend in a row. Facing no new direct competition, the Marvel/Disney tentpole slipped a decent (for a huge blockbuster) 59% as it earned an estimated $72.5 million, driving its domestic total to $295.8 million. In spite of
Civil War's
solid hold, the continued strong performance of
The Jungle Book
, and a better than expected debut for Jodie Foster's
Money Monster
, the total box office was down nearly 30% from the same weekend last year when
Pitch Perfect 2
opened with $69.2 million followed by
Mad Max: Fury Road
with $45.5 million and
Age of Ultron
in its third weekend with $38.9 million.
Ten days in,
Captain America: Civil War
is performing pretty much like a Marvel summer movie kick-off film should.
Civil War's
second weekend drop is very similar to those experienced by
Avengers: Age of Ultron
(-59.4%) and
Iron Man 3
(-58.4%), and the film's 2nd frame total is the eighth best all time (not adjusted for inflation). It will be interesting to see if
Civil War's
excellent reviews and the buzz created by the first screen appearance of the
Black Panther
(and the new screen Spider-Man) will translate into a slightly better showing at the box office over the long run, but don't expect
Civil War
to challenge the original
Avengers
massive $623 million domestic take--something over $400 million (like
Age of Ultron's
$459 million total) is much more likely, which would put
Deadpool's
best-in-2016 total of $362 million in definite jeopardy.
Overseas
Civil War
grossed another $156 million outside of North America for a total of $645 million and a global haul of $941 million, well ahead of the now dead-in-the water
Batman v. Superman
($870 million), which dropped out of the top ten this week. While
Civil War
won't face direct superhero movie competition next weekend (that comes on the 27th with the release of
X-Men: Apocalypse
), there will be three new potentially successful challengers at the box office including the well-reviewed (88% positive on review aggregator Rotten Tomatoes)
The Nice Guys,
a battling buddies cop drama featuring Ryan Gosling and Russel Crowe written and directed by Shane Black (
Lethal Weapon, Iron Man 3
), the raunchy R-rated comedy
Neighbors 2
, which not only has the success of the first
Neighbors
film going for it, it actually managed to get a 66% positive rating on RT (no mean feat for a comedy sequel), plus the
Angry Birds
movie.
Jon Favreau's live-action adaptation of
The Jungle Book
continued its impressive run, finishing second in its fifth weekend of release as it earned $17.8 million and brought its domestic total to $311.8 million. It's only a matter of time before
The Jungle Book
outdistances Disney's 2010 adaptation of
Alice in Wonderland
($334 million), and it's doing even better overseas where it has earned $516.3 million for a worldwide total of $828 million. Soon
The Jungle Book
will brachiate
past Batman v. Superman
on both the domestic and foreign fronts, giving Disney three out of the top five releases so far in 2016. By the way,
Civil War's
current gross brings the overall total of all 13 Marvel Studios films to $10 billion—Warner Bros. has a long way to go before the modern DC Extended Universe can match that total.
Weekend Box Office (Studio Estimates): May 13-15, 2016

Film

Weekend Gross

Screens

Avg./Screen

Total Gross

Wk#

1

Captain America: Civil War

$72,563,000

4,226

$17,171

$295,892,078

2

2

The Jungle Book

$17,764,000

3,970

$4,475

$311,760,110

5

3

Money Monster

$15,000,000

3,104

$4,832

$15,000,000

1

4

The Darkness

$5,180,000

1,755

$2,952

$5,180,000

1

5

Mother's Day

$3,259,205

3,291

$990

$28,757,325

3

6

Zootopia

$2,816,000

1,935

$1,455

$331,831,439

11

7

The Huntsman: Winter's War

$2,580,000

2,518

$1,025

$44,539,250

4

8

Keanu

$1,900,000

2,120

$896

$18,612,503

3

9

Barbershop: The Next Cut

$1,675,000

1,333

$1,257

$51,355,702

5

10

The Boss

$1,180,000

1,350

$874

$61,141,700

6


Jodie Foster's Money Monster in which George Clooney plays a motor-mouthed TV financial pundit (ala Jim Kramer) is perhaps the only adult-skewing drama with more than just art house ambitions that is launching this month, and the film did a bit better than expected with a $15 million opening with an OK $4,832 per-venue average. This sort of adult drama is becoming something of an endangered species at the box office (though the same type of dramatic material is flourishing on cable and Netflix), so it's good news that Money Monster managed an opening on par with that of Steven Spielberg's Bridge of Spies, but the real test for this $28 million drama will come in the weeks ahead.

The micro-budgeted horror film The Darkness, which cost about $4 million to produce and which opened in just 1,755 theaters earned $5.2 million, a strong performance considering the film has a rare 0% positive rating on Rotten Tomatoes, and received only a lousy "C" CinemaScore from genre movie fans. Expect The Darkness to fade fast.

The ensemble comedy Mother's Day, which got a big holiday bounce last weekend, dropped 70.6%, as it earned $3.3 million, bringing its domestic total to $28.8 million. Expect this seasonal film to drop out of the top ten quickly.

The same cannot be said for the number six film, Zootopia, which has been in the top ten for 11 straight weekends. This weekend the animated feature earned $2.8 million bringing the film's domestic total to $331.8 million, as it moved past Batman v. Superman to take the #2 spot among films released so far in 2016. Worldwide Zootopia has earned $969.8 million, which means it still has a shot at passing The Lion King ($987) million and gaining second place on the list of "original" films that were not based on a property from another medium, but created especially for the screen.

The rest of the top ten, The Huntsman: Winter's War (-34.7%), Keanu (-42.2%), Barbershop: The Next Cut (-40.2%), and The Boss (-38.3%) all suffered small percentage losses, but their totals last weekend were so small that the small percentage declines really don't matter--the bottom half of the top ten was very weak in this session. Keanu, in particular, deserved a better fate, which it may find in the aftermarket.

Be sure and check back here next week when the well-reviewed cop buddy movie The Nice Guys opens along with the R-rated comedy sequel Neighbors 2, and the Angry Birds movie, which is produced by David Meisel, the money man behind the rise of Marvel Studios (see "The Secret Origin of Marvel Studios").