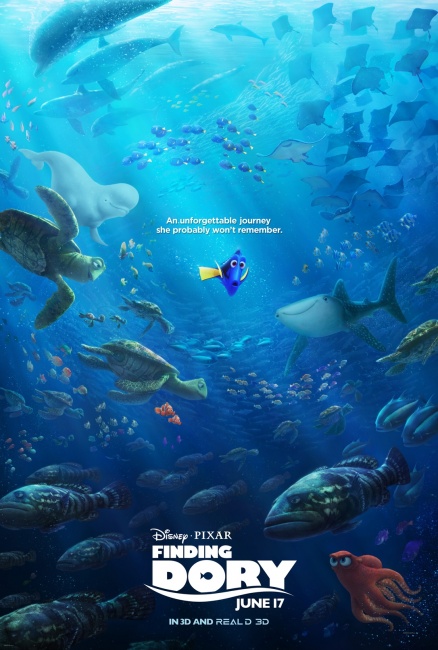 Roland Emmerich's
Independence Day: Resurgence
became the latest high-priced Hollywood sequel to fall short at the box office, opening below expectations with an estimated $41 million. While the historical drama
Free State of Jones
also flopped, the modestly-budgeted horror film
The Shallows
performed above expectations and last week's winner, Pixar's
Finding Dory
, appears to have set a new second weekend record for an animated film, earning $72.3 million and helping the box office post a modest 2% game over the same frame last year when
Jurassic World
topped the charts for a third week in a row with $54.5 million.
Whether or not
Finding Dory
will manage to top the record $72.2 million second weekend haul of
Shrek 2
will not be determined definitively until final numbers are out on Monday, but it is clear that Pixar has a major hit with this
Finding Nemo
sequel, 2016's big exception to the outbreak of "sequelitis" that is sending shivers of dread up what passes for the spines of those paragons of artistic expression and originality known as studio executives. It will take some time to determine how big a hit that
Finding Dory
will become, since Pixar's international rollout of the film is slower and more methodical than those of many movies in the current digital era that manage to open simultaneously in most of the world's major movie markets.
Independence Day: Resurgence
is an example of the extent of what is possible in terms of a global debut.
Resurgence
opened in 57 key markets overseas (including China) and earned $102 million over the past five days, so there is some hope that overseas earnings can reduce the losses that Fox will suffer from the $165 million patriotic science fiction film. The original
Independence Day
managed to capture the zeitgeist back in 1996, but so far the sequel appears to be a poor fit for 2016. The 1996 film earned $104 million over during a six-day July 4 opening, including $50.4 million over the 3-day Friday-to-Sunday period, an amount that would translate to over $100 million at today's ticket prices, which are roughly double what they were in 1996.
Independence Day: Resurgence
could still make some domestic box office inroads next week when it will have the patriotic Fourth of July celebrations to reinforce its upbeat, us versus aliens plot, but opening weekend audiences gave the film a mediocre "B" CinemaScore, which coupled with the film's poor 33% positive rating on review aggregator Rotten Tomatoes, does not inspire much confidence about a second weekend comeback, but we will have to wait and see.
Third place went to the Kevin Hart/Dwayne Johnson action comedy
Central Intelligence
, which dropped 48.3% in its second frame while bringing in $18.4 million and bringing its domestic total to $69.3 million.
Central Intelligence
should remain the top action comedy film alternative until
Ghostbusters
opens on July 15.
Fourth place went to the one new film that outperformed expectations, Jaume Collet-Serra's
The Shallows
, a surfer versus shark horror adventure film that stars Blake Lively, which cost just $17 million to produce. With a 75% positive rating on Rotten Tomatoes, and a "B+" CinemaScore from audiences,
The Shallows
was also the best-reviewed new film of the week, and appears to stand a pretty good chance of staying around for a while and providing Sony with a much needed hit.
The Free State of Jones
, which stars Matthew McConaughey, is a revisionist historical drama that takes place in the Civil War and Reconstruction eras, and which attempts to undue 100 years of phony Hollywood history, which presented a version of American history that was calculated not to upset the segregationist sympathies of the ruling elites in Southern states. Though it is based on the latest Reconstruction era scholarship, the
Free State of Jones
has been attacked as inaccurate, in part because the traditional (and highly mythological) interpretation of the period has become so ingrained in the American consciousness, due in part to films like
Birth of a Nation
and
Gone With the Wind
.
Weekend Box Office (Studio Estimates): June 24-26, 2016

Film

Weekend Gross

Screens

Avg./Screen

Total Gross

Wk#

1

Finding Dory

$73,234,746

4,305

$17,012

$286,552,649

2

2

Independence Day: Resurgence

$41,600,000

4,068

$10,226

$41,600,000

1

3

Central Intelligence

$18,370,000

3,508

$5,237

$69,302,458

2

4

The Shallows

$16,700,000

2,962

$5,638

$16,700,000

1

5

Free State of Jones

$7,772,000

2,815

$2,761

$7,772,000

1

6

The Conjuring 2

$7,705,000

3,033

$2,540

$86,906,434

3

7

Now You See Me 2

$5,650,000

2,745

$2,058

$52,054,214

3

8

X-Men: Apocalypse

$2,475,000

1,679

$1,474

$151,126,991

5

9

Teenage Mutant Ninja Turtles: Out of the Shadows

$2,400,000

1,947

$1,233

$77,117,555

4

10

Alice Through the Looking Glass

$2,147,144

495

$4,338

$74,574,007

5

Given that The Free State of Jones has such an ambitious agenda, it is not surprising that the film has its dramatic shortcomings, largely because of some extended speeches that provide historical context and justification. Perhaps a TV miniseries format, which proved so successful for Roots, would have been better way to tell the story of a Confederate Army deserter who found common cause with runaway slaves, and would have enabled director Gary Ross to avoid the more didactic portions of the film that can give it an "Afterschool Special" aura at times.

With an opening weekend total of just $7.7 million, Free State of Jones, which cost $50 million to produce, is already in major financial hot water. Still, if nothing else, it appears unlikely that any future films set in the Civil War or Reconstruction eras will return to the kind of bogus historical notions that Hollywood peddled shamelessly from 1915 through the 1960s.

Along with Finding Dory, The Conjuring 2 has to rank as one of this summer season's most successful sequels. Though it will not reach the heights of the first Conjuring, the sequel stabilized things in its third frame, dropping just 48% while earning $7.7 million and bringing its domestic total to $86.9 million.

The last four spots in the top ten are populated this week by underperforming sequels. The best of the lot is Now You See Me 2, which dropped just 40% in its third frame, earning $5.6 million to bring its domestic total to $52 million. Next comes Bryan Singer's X-Men: Apocalypse, which is now in its fifth week of release. Apocalypse earned $2.7 million to bring its domestic total to $151.1 million, and it has done even better overseas where it has brought in $372.7 million for a worldwide haul of $523.8 million. The problem is, that with a production cost of $178 million, and given the lower percentage of foreign earnings that the studios receive, Apocalypse, which is near the end of its global run, has only barely made its costs back.

The situation is worse for the live-action Teenage Mutant Ninja Turtles: Out of the Shadows, which earned just $2.4 million in its fourth weekend, bringing its domestic total to $77.1 million. With foreign earnings that are still just a little bit less (there are some territories out there where the film has not opened yet), this $135 million production is in dire need a more earnings from overseas to avoid red ink.

Also in deep trouble is the even more expensive Disney production, Alice Through the Looking Glass, which has earned just $75 million here and $174.5 overseas for a global total of $249 million, which doesn't even cover half the costs of the film, which took $170 million to produce, and millions more for marketing and distribution.

Amazon Studio's The Neon Demon, which stars Elle Fanning in an expose of the modeling industry directed by Nicholas Winding Refn (who now goes by the rap-like acronym NWR) flickered out quickly earning just $783 per theater in a miserable debut in 783 venues.

There were a number of debuts in very limited release of interest including the Paul Dano/Daniel Radcliffe offbeat indie Swiss Army Man, which brought in $38,000 each from three theaters, the New Zealand comedy Hunt for the Wilderpeople, which was directed by Taika Waititi, who will helm the next Thor movie for Marvel Studios, which managed an average of $17,000 from five theaters, and Wiener-Dog, the latest expression of cinematic misanthropy from director Todd Solondz.

Be sure to check back here next weekend to see what happens a trio of new films including Steven Spielberg's Big Friendly Giant, a new big-budget Tarzan film starring Alexander Skarsgard, and the third installment of the sensationalistic "horror" film series The Purge all open in what is already a crowded marketplace.