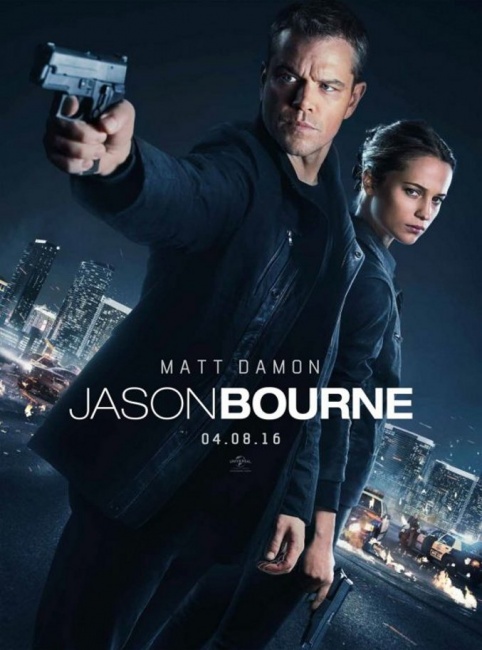 This is as busy a late summer box office season as we have seen in quite some time, and this week's winner was
Jason Bourne
, which earned an estimated $60 million and easily won the box office derby over last week's champion
Star Trek Beyond
, which dropped 60%. The R-rated comedy
Bad Moms
had a solid $23.4 million bow, while Lionsgate's thriller
Nerve
showed some appeal to young viewers, and in conjunction with some solid holdovers, the overall the box office was up a healthy 27% from the same frame a year ago when
Mission: Impossible-- Rogue Nation
opened with $55.5 million.
Jason Bourne's
solid opening demonstrates how stars matter. Matt Damon, who returned to the
Bourne
franchise in
Jason Bourne
, was replaced by Jeremy Renner in
The Bourne Legacy
in 2012 and
Legacy
, debuted with just $38 million, 22 million less than
Jason Bourne
. When compared with Damon's last
Bourne
film,
The Bourne Ultimatum
in 2007,
Jason Bourne's
opening was down 13.4%, which is very close to the 14.4% average drop that sequels have been suffering so far in 2016. Perhaps audiences have finally tired a bit of Robert Ludlum's memory-deprived CIA hitman, who has become a tiresome template for way too many modern "espionage" films, which then become 2-hours of chase scenes ignited by a mammoth and extremely unlike conspiracy focused on ridding the world of an amnesiac assassin.
Evidently the
Bourne
formula still works for the older (a whopping 60% over 35) males (55%), who made up the majority of first weekend viewers for
Jason Bourne
. With a solid A- CinemaScore one might think that
Jason Bourne
will demonstrate some great "legs," but that is not a given thanks to a host of new competitors starting next weekend with
Suicide Squad
, which might not leave a lot on the table for
Bourne
and the other holdovers. In fact
Jason Bourne
appears unlikely to match
Rogue Nation's
$195 million domestic cumulative, but at this point that's just a guess based on how this very competitive summer has gone so far.
Overseas
Jason Bourne
earned $50.1 million from 46 territories. It finished at #1 in 27 of those markets, and does have a chance to make up any domestic shortfall overseas, though we won't know how well it will do until it bows in China (Aug. 23), Russia (Sept. 1), and Mexico (Aug.26).
As of now it appears that
Star Trek Beyond
will end up in second place with $23.5 million, a drop of nearly 60%, which gave it a ten-day total of $105 million, well below the previous two films in the rebooted franchise, which had both earned at least $146 million at this point. J.J. Abrams' rebooted
Star Trek
fell just 42% in its second weekend in 2009, while
Star Trek: Into Darkness
slipped 46% in 2013. The 2009
Star Trek
made $257 million domestically, while
Into Darkness
ended up with $228 million in North America. Right now, in spite of excellent reviews (83% positive on review aggregator Rotten Tomatoes) and a solid CinemaScore, it doesn't appear that
Star Trek Beyond
, which cost an enormous $185 million to produce, will even make it close to $200 million domestic by the end of its run.
Weekend Box Office (Studio Estimates): July 29-31, 2016

Film

Weekend Gross

Screens

Avg./Screen

Total Gross

Wk#

1

Jason Bourne

$60,000,000

4,026

$14,903

$60,000,000

1

2

Star Trek Beyond

$24,000,000

3,928

$6,110

$105,720,378

2

3

Bad Moms

$23,400,000

3,215

$7,278

$23,400,000

1

4

The Secret Life of Pets

$18,210,000

3,677

$4,952

$296,177,745

4

5

Lights Out

$10,810,000

2,835

$3,813

$42,877,032

2

6

Ice Age: Collision Course

$10,500,000

3,997

$2,627

$42,109,623

2

7

Ghostbusters

$9,800,000

3,052

$3,211

$106,171,471

3

8

Nerve

$9,000,000

2,538

$3,546

$15,051,287

1

9

Finding Dory

$4,220,000

1,733

$2,435

$469,012,930

7

10

The Legend of Tarzan

$2,405,000

1,503

$1,600

$121,856,210

5

True, it might be able to make up some of that domestic shortfall overseas, but the studio gets a smaller cut of the overseas box office (only 33% in China versus 50% from domestic showings). The old formula, which held that a film has to earn twice its production cost to break even, doesn't apply any more with many blockbusters earning more overseas than here in North America—and the old formula did not account for marketing expenses, which can be considerable. So you can see that Star Trek Beyond, which has so far brought in $160 million worldwide, has a long way to go—and judging by the performance so far of Star Trek Beyond, which has great reviews and solid word-of-mouth, Star Trek, though it does have a large devoted fan following, is just not a "top-tier" mass market property like that Disney franchise that also uses "star" as an adjective.

It is hard to tell what films will have "legs," but Bad Moms, the R-rated comedy from Jon Lucas and Scott Moore, who wrote The Hangover, would appear to be a possibility thanks to its solid reviews (63% positive on RT, which is pretty good for a comedy) and its excellent "A" CinemaScore from opening weekend audiences, which were overwhelmingly female (80%) and a bit older (48% over 35). While it may not have demonstrated overall gender appeal, Bad Moms could hang around quite some time as the "girls night out" movie of choice.

Fourth place went to Illumination Entertainment's animated hit The Secret Life of Pets, which earned $18.2 million to bring its domestic total to $296.2 million. While it won't catch Finding Dory ($469 million), it does have a shot at The Jungle Book ($362 million) in the domestic market. Pets, which has been in theaters for four weeks, once again humiliated Fox's Ice Age: Collision Course, which just debuted last weekend, and has yet to come close to matching Pets. Collision Course dropped 51% and earned $10.5 million to bring its domestic total to $42.1 million. Yes the Ice Age franchise has been steadily weakening here in the U.S., but it is hard to believe that Collision Course wouldn't have done better, had it been released when there was less direct competition from animated features (Pets & Dory).

The micro-budgeted horror film Lights Out dropped 50% and added $10 million to its domestic total of $42.9 million, which is higher than Collision Course's total—and Lights Out cost $4.9 million versus $105 million for Ice Age: Collision Course.

Paul Feig's Ghostbusters isn't showing much in the way of "legs," dropping 53% in its third frame and earning just $9.8 million to bring its domestic total to $106.2 million. With a $144 million production cost, Ghostbusters' domestic performance isn't going to cut it.

Lionsgate's Nerve, which stars Emma Roberts and James Franco as a couple that gets caught up in a highly consequential modern version of "Truth or Dare" debuted in eighth place with just $9 million, but the film did earn a solid "A-" grade from opening weekend audiences, which were predominantly female (63%) and very young, with 78% of the crowd under 25. It also opened on Wednesday, so its weekend total was down a bit. While $30-40 million appears to be the limit for Nerve, it definitely found a way to reach the youthful demographic that Hollywood has had trouble attracting to its conventional offerings this summer.

Pixar's Finding Dory earned $4.2 million as it brought its 2016-leading box office total to $469 million. With a global total of $830.5 million Finding Dory is already Pixar's third highest performer at the worldwide box office behind only Inside Out and Toy Story 3.

Coming in at #10 was Warner Bros. The Legend of Tarzan, which earned $2.4 million to bring its domestic total to $121.9 million. The new Tarzan film has earned $187.2 million overseas, but remains well short of the $450-500 global total it will need to offset its enormous $180 million production cost. As is the case with Star Trek Beyond, The Legend of Tarzan demonstrates that ERB's Lord of the Jungle remains a viable cinematic franchise, it's just not the kind of top-tier property that can justify spending $200 million on production and marketing.

Next weekend will be all about Warner Bros. Suicide Squad, which appears to be poised to reverse the fortunes of WB/DC superhero films and post the first $100 million August opening in movie history. With over 4150 venues already secured, Suicide Squad will definitely have the widest August release ever, and should produce an opening that is many multiples bigger than that of the only other film opening next weekend, Kevin Spacey's talking cat movie, Nine Lives.