This week's home entertainment offerings include two of the very best films of 2016 so far, the visually stunning, stop motion animated Kubo and the Two Strings, and the gritty western heist film, Hell or High Water, the best modern neo-noir since No Country For Old Men.
Theatrical Movies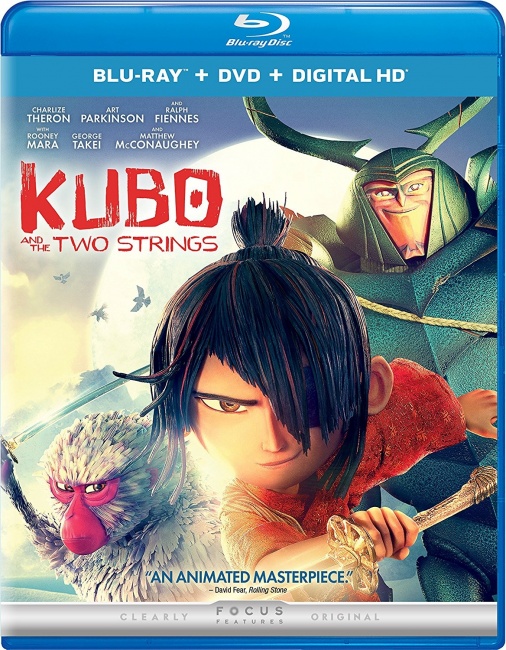 This week's top release is
Kubo and the Two Strings
(Universal, "PG," 204 min., $29.98, BD $34.98, 3DBD $44.98), the visually stunning stop motion animated film from Laika Studios. This is one animated feature that doesn't patronize young viewers or insult the intelligence of adults with bathroom humor.
Kubo's
critical rating of 97% positive on review aggregator Rotten Tomatoes provides some suggestion of how good a film this is—and anyone who really cares about the future of animated movie production here in the U.S. should support Laika's endeavor
. Kubo
earned almost $70 million worldwide, but with a production cost of $60 million, it needed to make twice that much just to break even. Here's hoping that
Kubo
will find on disc (and download) the success it should have enjoyed in the theaters. This reviewer urges all cinephiles to consider giving
Kubo
as a gift during the coming holiday season.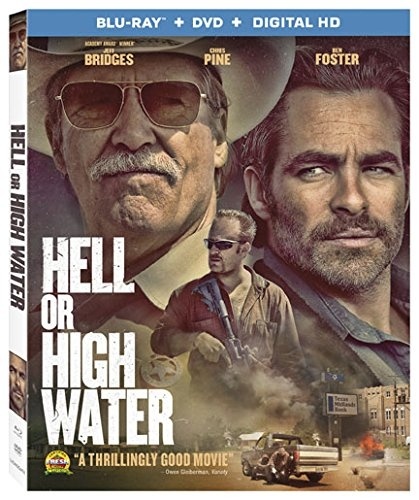 Those who love crime films also have a gem of a film coming out on Tuesday,
Hell or High Water
(Lionsgate, "R," 122 min., $29.95, BD $34.98), a gritty modern film noir that tracks its doomed protagonists, two brothers, exceptionally well-played by Ben Foster and Chris Pine in a familiar, but exceedingly well done heist film set in dry and dusty west Texas. Like the classic noir of the 1940s and 1950s,
Hell or High Water
builds smoothly to its climax, and though it never lags, it also never stints on the characterizations, or goes for the cheap action film gimmick.
Hell or High Water
may not be quite the all-time classic that its 98% positive rating on Rotten Tomatoes would suggest, but it's a damn good film, certainly one of the best of 2016 so far.
A much more conventional action film is Mechanic: Resurrection (Lionsgate, "R," 105 min., $29.95, BD $39.99), a French/American co-production that is a sequel to the 2011 film The Mechanic, which itself was a remake of the 1972 film starring Charles Bronson. The critics hated Mechanic Resurrection giving it only a 26% positive rating, but, while it's no classic, it's a bit better than that rating suggests. Folks who like the "balls-to-the-walls" approach of the 2011 film will not be disappointed here as Jason Statham, who returns in Mechanic: Resurrection, is clearly at home with the over-the-top fight scenes that are this film's selling points.
Considerably more problematic is Todd (The Hangover) Phillips' comedy drama War Dogs (Warner Bros., "R," $28.98, BD $29.99), which is based on a Rolling Stone article about two young war profiteers, who got in a bit over their heads when they took advantage of the Bush Administration's response to 9/11 to sell outmoded Cold War surplus weapons to the Afghan National Army. There is undoubtedly material enough for ten movies (or novels) in the collective adventures of the cynical young Bushites, some of whom worked for the government and some for civilian contractors, who descended on Afghanistan and Iraq in the wake of the American invasions and profited handsomely at the expense of all the governments involved, but based on War Dogs, Todd Phillips is not exactly Evelyn Waugh.
While Mechanic: Resurrection earned over $100 million at the worldwide box office, Hands of Stone (Anchor Bay, "R," $29.95, BD $34.95), a biopic based on the life of Panamanian pugilist Roberto Duran, made just $4.5 million, more evidence that the once proud boxing genre film is going the way of the western. In spite of the presence of Robert DeNiro, Hands of Stone is no Raging Bull, but fans of the boxing film genre (if there are any left) might still want to check this one out.
TV on DVD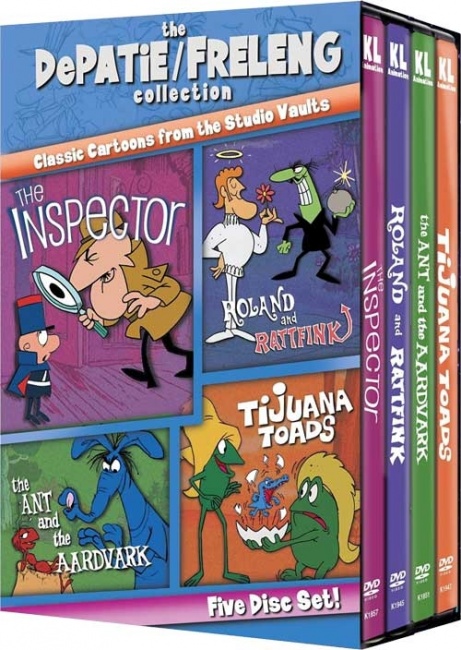 This week's top release is
The Pink Panther Show: The DePatie-Freleng Collection
(Kino, 560 min., $49.95, BD $79.98), which collects four of the different "sister" cartoon series from
The Pink Panther Show
featuring
Roland and Ratfink
,
The Inspector
,
The Ant and the Aardvark
, and
Tijuana Toads
. These particular series have all been released individually (along with
Crazylegs Crane
), but are now available in a slick "gift" box.
Also of interest is Mystery Science Theater 3000: XXXVII (Shout Factory, 480 min., $59.97) in which the MST3K crew makes merciless fun of four hapless films, The Human Duplicators, Escape 2000, The Horror of Party Beach, and Invasion of the Neptune Men.
Vintage TV releases include the investigative journalism series Lou Grant: The Complete Third Season (Shout Factory, 1,215 min., $39.97), and the 1962-63 legal series Sam Benedict (Warner Bros., DVD-R, $53.99) that starred Edmund O'Brien.
The top overseas series this week is the period drama Poldark: The Complete 2nd Season (PBS, 600 min., $44.99, BD $54.99), which is currently airing on most PBS' Masterpiece Theater.
Anime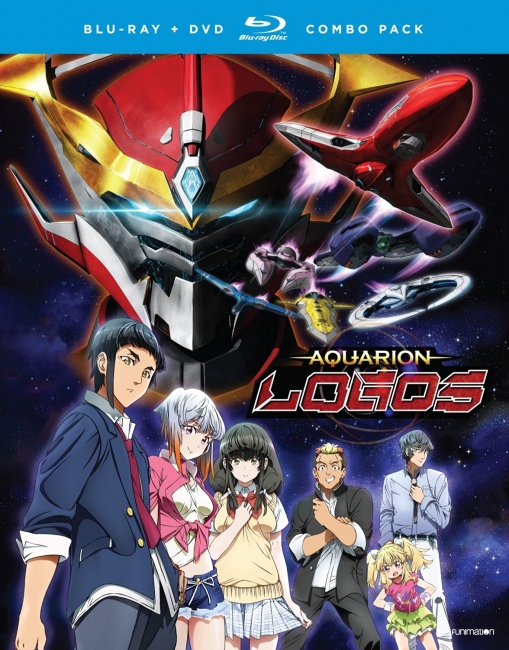 This week's top release for mecha anime fans is
Aquarion Logos: Season 3, Part 1
(Funimation, 325 min., BD/DVD Combo, $64.98), the third series in the
Aquarion
franchise. This set includes the first 13 episodes of the 26-episode 2015 series from Satelight that features an entirely new cast of characters in an entirely new adventure.
Those who enjoy romantic comedies with lots of sexy "fan service" will find two series to their liking this week, especially the Prison School Complete Collection (Funimation, 300 min., BD/DVD Combo $64.98, LE $84.98), the 12-episode 2015 series from J.C. Staff adapting Akira Hiramoto's seinen manga (published here by Yen Press) about five guys who "integrate" an all-girl school, and then are caught "peeping" and forced to endure months of confinement at the school under the (stiletto) heel of the Underground Student Council. The Limited Edition comes in a special art box and includes a fabric poster.
An older example of the genre is the 2007 Good Luck! Ninomiya-kun Complete Collection (Funimation, 300 min., Subtitles Only, $34.98), which was produced by AIC Spirits and is based on a fan service-filled light novel (and manga) series about a boy who is living in a house with a young succubus, who is having problems controlling her impulses.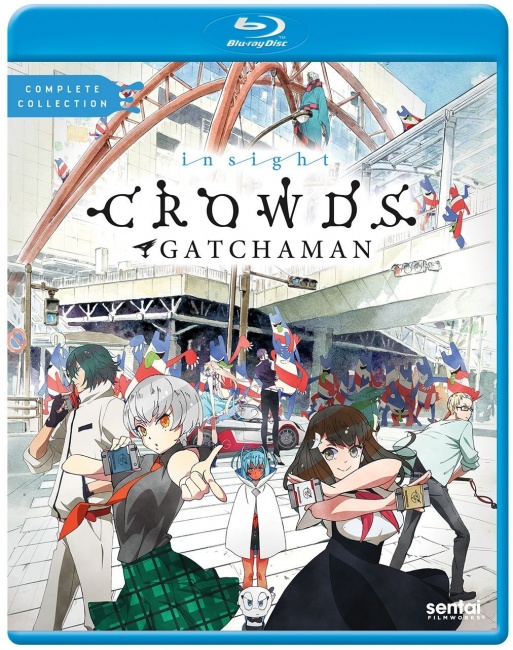 For fans of more action-packed, sci-fi superhero kinds of anime there is the
Gatchaman Crowds Insight Complete Collection
(Sentai Filmworks, 325 min., $59.98, BD $69.98), which includes the 13-episode 2015 series from Tatsunoko Productions that is basically a reboot of the classic 1972 anime series
Science Team Gotchaman
, which was adapted into a syndicated Americanized version known as
Battle of the Planets.
Re-priced re-releases include Anime Classics editions of the Haganai NEXT: Complete Collection (Funimation, $49.98), the Lastexile-fam: The Silver Wing: Complete Collection (Funimation, $49.98), and Tales of Vesperia: The First Strike (Funimation, $24.98).